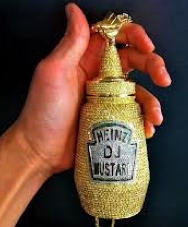 The guy who produced "Rack City" is brilliant, trust us.
2012 has served as a breakout year for a handful of ultra-talented producers. One is pretty obviously Harry Fraud, who more and more it looks like is the new sonic architect of New York hip-hop in much the same way that DJ Premier or The Heatmakerz were. The second is Mike Will, who made it by helping Future bring MDMA to Atlanta (and outer space, I suppose). The third, slightly more under-the-radar producer, is L.A.'s DJ Mustard, who created a sound he termed "Ratchet."
You can tell you're listening to a Mustard beat because all of his songs start with a deep-voiced dude yelling, "Mustard on the beat, ho!" and also he produced Tyga's "Rack City" which is the best song. The good people at Passion Of The Weiss took it upon themselves to create a badly-needed "Best Of DJ Mustard" mix entitled Full Grainz. The mix was done by Son Raw and the art was done by Shea Serrano, and they are equally excellent. Stream the mix below, download it here, and check below the mix for the tracklist. Prepare yourself for names you already love like 2 Chainz, Freddie Gibbs, Souljah Boy and E-40, names you should already love like Iamsu! and TY$.
1. Pink Dollaz – Bad Bitch
2. Tyga ft. Y.G. – Bitch Betta Have my Money
3. Iamsu! ft. Kool John – Facetime
4. Problem – TO
5. Kid Ink – Last Time
6. 2 Chainz – I'm Different
7. Freddie Gibbs – Every City
8. TY$ – All Star
9. Souljah Boy – FAN
10. E-40 – Over here
11. TY$ – Weekend
12. Joe Moses – I Do it For the Ratchets
13. Red Cafe – Game Over
14. Tyga – Rack City
15. Meek Mill – I'm Rolling
16. YG – I Like Money
17. Dom Kennedy – When I Come Around
18. TY$ – Overtime