More Heart Than Brains: The History of Punk in Brandon, Manitoba
What better place to find good punk music than the icy piss pot of Canada?
If Winnipeg is a frozen shithole, then the city of Brandon, Manitoba is but an icy piss spot 200 kilometers to the west. And just as Winnipeg's underground music scene grew and thrived over the course of the 90s, unleashing the likes of Kittens, Propagandhi, The Weakerthans, and many more before the turn of the 21st century, so too grew a loud, angry, and creative scene in Brandon. And while none of the acts that emerged from the much smaller scene would ever be as recognized or influential as their Pegcity contemporaries, the Wheat City could no doubt hold its own in the punk rock game.
"There's no denying that Brandon, at that time, had a sound that was its own," says Ryan Teney. Teney, a proud Brandonite, started playing drums in Ripper as a high school student in 1996. "You wouldn't call it hardcore, you wouldn't call it punk. It's kind of thrashy, but you wouldn't call it metal. Brandon's always been more heart than brains. The scene was really about being blindly angry at everything, drinking beer, and who cares."
From its greasy genesis in 1990 through to the legendary 2001 Raised Fist show-that-never-was, Brandon's scene grew from a few disenchanted, skateboarding freaks to a community of hundreds of like minded weirdos who would pack community centres well past the legal limit on a regular basis.
Not bad for a city of less than 40,000 "fuckin' cowboys and rich hockey players," as one former resident described it. "The first 'underground' show in Brandon was at the old Spine and Grind Skatepark," recalls Ken Jaworski, whose band at the time, Methias Red, was one of the local openers. Jaworski would go on to drum for scene stalwarts Swiller (and many, many other Brandon bands over the years), and play an instrumental part in bringing bands in from out of town. "[Winnipeg's] Red Fisher played. It was sparsely attended, but it was the start of something bigger. You could feel that in the air. After that first one, it wasn't long before shows were happening all the time."
"At the time, no one in Brandon was booking original bands at all," confirms Jason "Woody" Bull (Swiller and One Trick Pony). "We found out pretty quickly there was definitely a demand for what we were doing." "Back then, Brandon was dangerous if you were weird," explains Farm Fresh's Patrick Skene (aka Pip Skid). "You wanted to create your own environment in a small community centre, where it was specifically underground." Early on, shows in Brandon would happen every couple months, usually involving a Winnipeg band like Red Fisher, Propagandhi, Meatrack, 12 Eyes or Guy Smiley, along with a local opener, of which there were few to begin with. But that would change quickly, as bands began to form and more and more bands learned of the intensity the kids in the Wheat City brought to an all ages show.
Before long, Ken Jaworski and other enterprising ne'erdowells were booking shows at the Park Community Center, which quickly became the epicenter of the Brandon scene, with Swiller as the de facto house band. "The Park was kind of like our own CBGBs," Jeff Koensgen tells Noisey. Koensgen has played guitar in Brandon bands (Ripper, Spitting Image, Greyskull, the Car Stealers, etc.) since the mid-90s, after seeing his first show at Park CC in 1996 at the tender age of 14.
"Park CC was the spot, basically," Tyler Sneesby explains. Sneesby (aka DJ Hunnicutt) formed Brandon's first rap group, Farm Fresh, with Pat Skene in 1991. Seeing as there was no rap scene in Brandon at the time ("We were the rap scene," Sneesby says, with a laugh), Farm Fresh played on community centre bills with punk bands regularly before—and after—their successful move to Winnipeg later on in the 90s.
One early collaboration between Sneesby and Jaworski, on May 7, 1993, saw Farm Fresh and Swiller opening up for Face to Face and NOFX, just as California's punk wave was rising. Punks and skaters from Westman (now, mostly middle-aged and with kids) still talk about that packed, sweaty evening at Valleyview Community Center (the Park CC was booked) and the effect it had on the burgeoning Brandon scene. "That changed the whole scene," Mike Braconnier (Punkinhead, AFPS, Greyskull) maintains. "It really did."
For the locals, it seemed amazing that bands from California, whose music was featured in skate vids and who were profiled in Thrasher magazine, would play a community center in a small city in the middle of fuckin' nowhere. "To have all these bands," Ken Jaworski says today, "who were literally my favorite bands in the world, playing with my band in these little community centers. That these bands were actually coming to our little town, it was unreal." For touring bands, all of whom were booking their tours DIY via Book Your Own Fucking Life, Brandon became not just another piss-spot across the empty prairie, but a date where you could count on a couple hundred hungry kids showing up ready to rage.
At those early shows, the seeds to what would become one of Brandon's pre-eminent original acts were sown. At the NOFX show, John O'Halloran, Ron Graham, and Steve Merko, buddies who had played together in an earlier band (the Weed Kings) decided to form a band called No One. After playing a bunch of shows, No One got a gig opening for Dayglo Abortions. "That was crazy," O'Halloran tells Noisey. "Steve was so messed up he couldn't play. We decided Steve, who played bass and sung, should just play bass. He agreed."
To fill to vocalist position, No One brought in Mitch Chambers, and changed their name to Somebody Else. "I can't say enough about Somebody Else," says Ryan Teney. "Somebody Else had it. You saw them play and your jaw was just like, dropped. It was so over the top, so visceral. They were scary. You were actually scared. Like, I gotta drink enough beer to be brave enough to go into the pit and stage dive."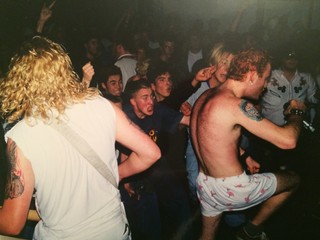 "The band lived in a house together," Steve Merko tells Noisey of the soon legendary punk house. "We called it the Castle and it was a wild place. The Ripcordz from Montreal actually wrote a song ["Brandon Rocks," from the Is That A Squeegee in Your Pocket… album] about us and that house."
The Ripcordz also named checked another Wheat City group in that tune: New Quadro. Formed in 1994, the four-piece quickly became a mainstay of the local scene, and featured one of the most notorious prairie punk frontmen to come out of the 90s, Henry Hansen. "We basically started from scratch, just learning songs and making up songs as we went, eh," Hansen told Noisey. The band, featuring Doug Thickett on drums, Chris McDuffe on guitar, and Riley Smith on bass, would become one of Brandon's most popular punk bands, playing their fair share of shows in Winnipeg, and touring across the prairies.
"New Quadro, to me, was the epitome of that scene," recalls Derek Marvin, a local farm-boy who went on to front regional prog-punks Spitting Image and conceptual rockers Johnny Upstairs & the Basements. "A lot of that was Henry," adds Koensgen, who later played with Hansen in Greasy Demon. "He might not be the greatest singer on the planet, but neither is Ozzy Osbourne. But they can sure work a crowd."
"Usually someone got naked," Ken Jaworski says of New Quadro's live show. "We were young and didn't have too many worries," Doug Thickett, New Quadro's drummer, tells Noisey. "We worked, partied and played in a band." With a constant stream of Winnipeg bands, and those from further afield--which included international acts like Strung Out, Satanic Surfers, Good Riddance, Lagwagon, and others--the scene in the Wheat City continued to grow. Prairie punk bands like Layaway Plan, Choke, and Field Day, along with emerging national acts like Gob, made Brandon a regular stop. The scene benefited from the general explosion of punk that was going on around the world, with more and more kids coming out to shows, so that by the mid-late 90s, promoters could expect 150 people to turn up at almost any event.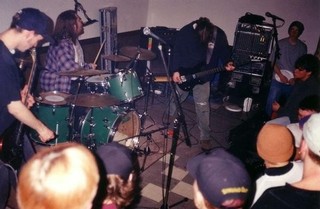 Scene stalwarts like Swiller, Somebody Else, and New Quadro were soon playing shows nearly every month at the Park CC, North End CC, or SUDS. Events like Thrash Fest were organized by the local skateshop that brought local and out of town bands together for a weekend of music and skating, while at the same time other local bands like MDK (which featured the male dominated scene's first prominent female player), Pokey Reddick, Ripper, and AFPS (among others) began to populate the handbills and posters plastered around town.
"When AFPS formed, we needed a singer," Braconnier recalls. Inspired by Ken Jaworski's drumming-and-singing style, Braconnier felt he could handle both roles in the new band. "I was like, 'Fuck that. I'm gonna sing!' But we should have got a singer [right away], because I was terrible." As a three-piece AFPS, would go on to establish themselves as the fastest band in Brandon. "They were the fastest band I'd ever seen," Ryan Teney testifies. The boys in AFPS moved into a punk house together not far from the Castle, and loaded it up with stray dogs and cats and kept the party going through all hours (until one day it burned down).
"We became poster boys for the most politically incorrect punk," Braconnier said with a laugh. "Our schtick was we were the out of town guys who had all the fucking pets who were just constantly wasted." At about that same time, the politically charged punk rock that was coming out of Winnipeg -- bands like Propagandhi, I Spy, Painted Thin, and others—began to rub off on some of their western neighbors. A couple bands, most notably Cannonfodder and Crutch Boy, adhered strictly to the PC platform.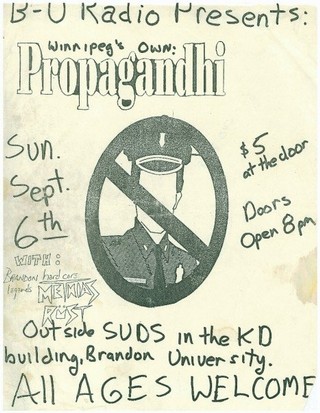 "Crutch Boy was fucking amazingly melodically talented," Brian Campbell (Pokey Reddick, Poppa Woody) told Noisey. "Crutch Boy was definitely PC. They were vegan, and really smart guys who didn't shy away from political discourse. They were good bands, especially Crutch Boy," Koensgen recalls. "But very short-lived." While for the most part, the kids coming to see the shows didn't care too much about whether the bill was a PC bill or decidedly un-PC, the splinter in the small punk community did take its toll on the scene.
"This was bad news for a music scene that was barely large enough to live in the first place," laments Ken Jaworski, who at one point found himself drumming on both sides of the political divide, with Somebody Else and Cannonfodder. "Numbers at shows severely dwindled and promoters just gave up putting them on—for fear of losing money, but also for fear of fights and hassles."
"It seems silly now but the two sides just didn't get along," says John O'Halloran. "Twenty years later I see where they were coming from, but back then I was just a drunk punk." "It was like, 'Guys, there's only 50,000 people in this town'," Koensgen says with a laugh. "And all the shows are at Park CC. It didn't make a lot of sense."
"To be brutally honest all of this schism was really fucking petty," Brian Campbell says in hindsight. "I take solace that fact that the people involved in that are friends today." Towards the end of the 90s, the scene began to unravel. People moved away, or started families, or just got sick of playing the same set of songs show after show. First fell Swiller, though out of its ashes rose the short-lived but much loved One Trick Pony. Then, in short order, New Quadro and Somebody Else threw in the towel. Shortly after his bandmates moved west, Henry Hansen joined AFPS as the vocalist.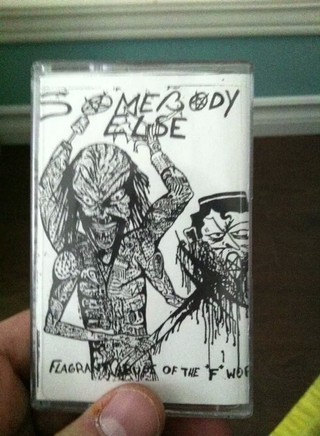 "Braconnier approached me," Hansen says. "I wasn't really doing too much at the time, and I'd watched AFPS play a lot of times, too. I didn't quite fit in with them. They were always blazing, while I was always a big beer drinker. But we made it work." The scene soldiered on, despite a drop in attendance at shows and the attrition that "moving west" had on the early bands. That is, until February 2001, when Raised Fist was booked to play the Park Community Center alongside AFPS, Fast Offensive and "this band called Indignance from Regina."
"The Raised Fist show was too much of a good thing," Teney says. "Brandon couldn't handle it. And Raised Fist didn't even get to play." "Indignance fucking tore the roof off Park CC," Braconnier recalls. "They whipped the kids into a frenzy, in anticipation of Raised Fist being there. Up next was us, and the kids were pulling the ceiling down, fucking smashing the suspended tiles down."
"It was insane," Teney confirms. "I'll never forget the feeling of being in that room. It was electric. You could tell something really bad was going to happen, regardless of whether they played or not." In short order, the cops showed up, and a classic story—venue over capacity, underage drinking and drugs, unbridled teen angst clashing with authority—unfolded. According the Brandon Sun's front page coverage (under the headline "Near riot at concert"), "Brandon police placed 11 people in custody late Thursday night after a hard-core punk concert at Park Community Centre erupted into near riot."
"I saw a cop car window get kicked in by Brandon's punkest chick," Teney says. "She was dragged by two cops, trying to throw her in the cop car. She kicked the car door closed, because they had it open, and she started hammering on the back window, kicking it in."
"The cost for police, ambulance, and fire crews at the scene," the Brandon Sun reported on Saturday, January 24, 2001, "including damage to police cruisers, is estimated to be more than $10,000." Tyler Stephens, the local all ages promoter who booked the show, maintains he only printed enough tickets for the hall's capacity and lays the blame on the OBO security that he'd had to hire.
"It was security that called the cops to get the show shut down. They couldn't handle the crowd," Stephens tells Noisey. He also maintains that the extent of the damage from the show has been exaggerated. "Only two things broke in the hall [were] a chair and a window screen." Still, as Ryan Teney and others saw it, "that was the end of a certain chapter in Brandon's history."
"The scene went kind of quiet for a while," Braconnier confirms. Community centres put a freeze on doing all ages shows, and promoters like Stephens were reluctant to stick their necks out… at least for the meantime. With no other venues, the once mighty Brandon punk rock scene went down for the count.
In the coming years, a new crop of young promoters and bands would emerge, making the Wheat City a place where Winnipeg bands could come out for a weekend, or touring bands could count on a decent draw. But, wild as those early '00 years themselves were, the scene was never again as strong and creative as when Swiller, Somebody Else, New Quadro, and all the other Wheat City black-outs put Brandon on the punk rock map. "It was just great being in a thriving scene at the time and getting tons of support from the local community," recalls Crutchboy and Cannonfodder's Ted Crowston.
"It was just kind of crazy," says John O'Halloran. "Brandon was small so it's really weird now that I think about it that there were so many [local] punk bands." Unfortunately, not much exists to document it. Most of the bands released their music on cassette, if at all, though a few managed to release short run CDs or CDRs. When many of the old guard moved away, they left boxes of old photos and posters in various parents' basements, much of which have been destroyed by Brandon's seemingly annual flooding events. But for anyone who was ever there, as an impressionable youth, it left a serious bruise on the body and the mind.
"It was an exciting thing to be a part of," agrees Ryan Teney, who today drums for Toronto's Jealous Gods. "I didn't want to do anything else after that, that's for sure."