Introducing Betsy and Her Heart Crushing Debut Tune "Fair"
The Welsh singer made her first splash on a collaboration with Hot Chip's Joe Goddard, but now she's striking out on her own.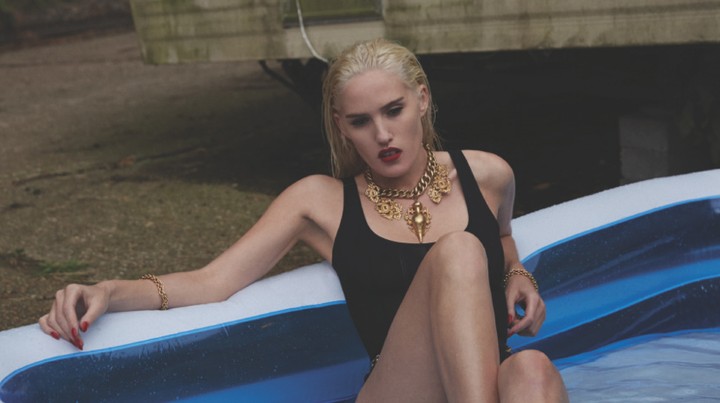 A couple years back
we premiered Hot Chip dude Joe Goddard's solo single "Endless Love"—
a track that smacked of synthy 90s soul-house grooves. Part of what made it such an ear tickler was the featured vocalist
Betsy
, whose tones roll around in the same dimly lit bedroom as
Alpine's Catherine Pockson
and
ANOHNI
(formerly Anthony Hegarty). Except Betsy isn't just a featured singer: in fact "Endless Love" was a demo of hers which she reworked with Goddard and resulted in a cut for his EP.
Now the 24-year-old Welsh singer (she grew up on goose farm!) is making her first foray as a singer under her own moniker, snapped up by Columbia in the States and Warners in the UK. Although she's always been a huge fan of artists like Massive Attack, Annie Lennox, and Billie Holiday, her route to making music of her own was somewhat circuitous, having first moved to London to study fashion at Central St. Martins. Post-university she even spent some time in Paris designing for Balenciaga. But she soon decided this high fashion world wasn't for her, flying back from Paris to take up residence in her brother's rundown caravan (she's pictured outside it in the self-described "trashy-opulent" shot above).
In those close confines she taught herself Garageband, laying down intimate sonic snapshots like "Fair" which details the slow asphyxiation people can feel as a relationship crumbles to dust. Of course the key here is her voice, rising over the encroaching tide of strings, cracking and beautifully quavering over the sparsest of piano lines.
The perfect song to sob yourself to sleep to because sometimes feeling sad feels really good.