Masked Intruder's 'M.I.,' Reviewed by a Cop
An investigative report on the album released by the four particular individuals known as Masked Intruder.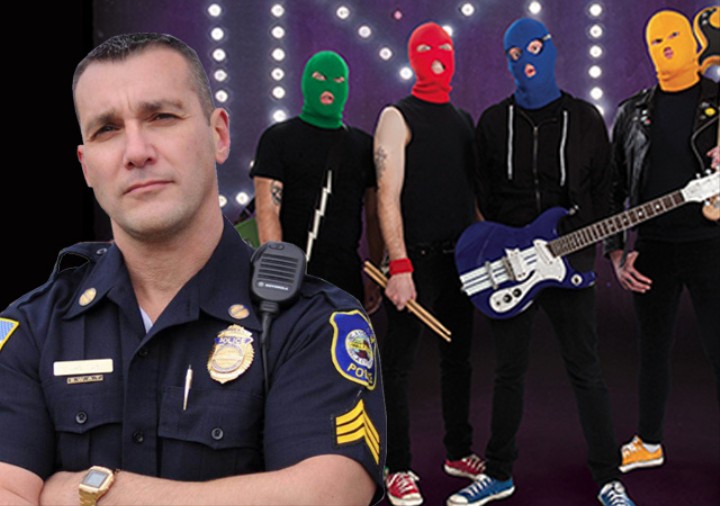 On the morning of Tuesday, May 27, the four particular individuals known collectively as Masked Intruder released an album under the title M.I. At this particular time, the web organization Noisey has requested a written report from this officer of said album. The aforementioned report can be found in full below.
M.I. was delivered to this officer's residence on Monday, May 26 at approximately 2:40 PM EST. It was received in a padded envelope approximately five ounces in weight. Upon inspection of the envelope in question, this officer was able to ascertain that the sender of said envelope was Fat Wreck Chords, which our research confirms is a record label based in San Francisco, California and owned by an individual named Michael Burkett (alias: Fat Mike), a member of the band NOFX, who were noted as having recorded several unsuccessful songs against former President George W. Bush.
After all items in the aforementioned package were sufficiently inspected by this officer, the album was subjected to audio observation. While audio observation was in progress, this officer observed that the first song on this particular album is entitled "I Fought the Law," a take on the song of the same name by the individuals formerly known as the Clash. The first lyrics recorded on this particular song are as follows: "It's a Saturday night, the police are trying to ruin my good time." These lyrics provided reasonable cause for suspicion. The titles of several other songs aroused suspicion in this officer such as, but not limited to, "Crime Spree" and "Locked Up and Lonely."
A full album stream of the particular album in question.
A background check turned up information that the four particular individuals in Masked Intruder remain anonymous and purport to have extensive criminal backgrounds. Also reported in said background check were several outstanding warrants for criminal activity, including breaking and entering, grand theft auto, stalking, and indecent exposure.
As part of research, this officer monitored the website "Punk News" between the hours of 1400 hours and 1600 hours on Wednesday, May 28. Many users of the site remarked that Masked Intruder's "schtick was wearing thin" and "were about as punk as Sum 41" and that this particular band was "pretty frigging gay." But upon cross-examinations of the two albums in question, M.I. and the band's self-titled first album, this officer found no evidence to suggest that M.I. was a decrease in quality from the subjects' previous material or that the band, as Punk News user StoneColdSteveAutism182 suggests, "sucks a huge pair of balls." A thorough search found no evidence of ball-sucking by the subjects in question.
This officer found this particular album to contain levels of enjoyment as high as—if not higher than—the subjects' previously released material. M.I. was noted as capturing elements of sugary pop punk similar to other subjects such as the Queers and the Riverdales. However, Masked Intruder distinguish themselves from the aforementioned bands with their unique criminal persona and incorporation of musical elements uncharacteristic to their contemporaries. For example, the album in question contains a song entitled "Almost Like We're Already in Love," an a capella doo wop song, similar to those found in the 1950s. The song accounted for two minutes and fourteen seconds of said album.
In conclusion, despite the inclusion of many elements this officer found troubling, including references a planned escape from prison which will soon be subject to a full investigation, this officer found M.I. to be very enjoyable on a purely subjective level.
Did this officer enjoy M.I.? That's affirmative.