This Modern Love: Shocking Pinks
New Zealand's Shocking Pinks releases a triple album next week. So we made him fill out this OkCupid cribbed questionnaire to find out if he was suitable lover material.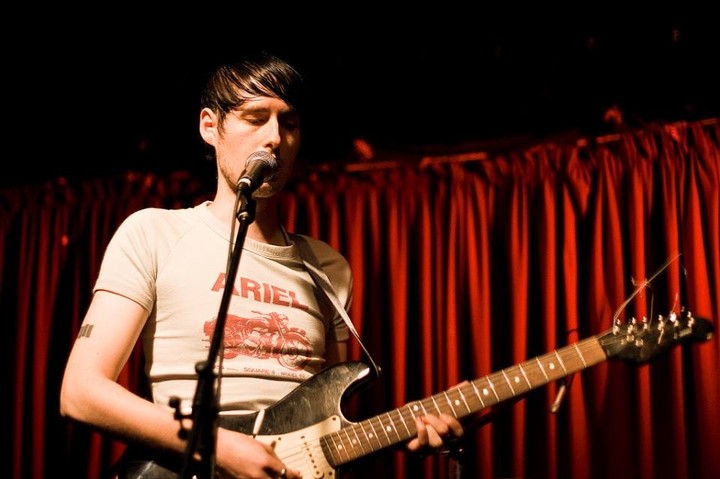 Screw a double album, who wants a triple? Bold move Shocking Pinks, bold move. But isn't that what we all look for in a lover? BOLD MOVES. New Zealand's Shocking Pinks—that's one man called Nick Harte—drops Guilt Mirrors on 2/18 (via Stars and Letters Records), a collection of bedroom intimate songs. His compostions zoom between woozy vocals married to funked up basslines and hypnotic synth wave grooves. Programmed beats hit and click one minute, only in the next song you'll find Nick favoring skins and snares smacked and seemingly captured in his parent's basement.
A DIY aesthetic looms large across his fifth album, which is, also what you look for in a partner, right? Someone who can step the fuck up and do it themselves. Guess what we're leading up to? It's only an OkCupid-cribbed questionnaire! It's This Modern Love…
Age/sex/location/sexual preference:
34/male/Wellington, New Zealand/heterosexual.

My self-summary:
My name is Nick and I'm from Christchurch, New Zealand. I'm Currently living in Lyall Bay, Wellington, New Zealand. Beautiful weather here—especially down at the beach near to where I live. I've directed a lot of films in the past (six shorts, one documentary, one feature) and have played drums in many other bands, before I realized that writing music was my true calling. My friends and family are the most important things in my life, along with music. I'm a good listener and a loyal friend/lover.

What I'm doing with my life:
I write music as Shocking Pinks, DJ, and perform live. At the moment, I'm rehearsing a lot, as I have a new Shocking Pinks line-up in the works, featuring two new pals. I'm also doing a fair bit of promotional work from home (for my new Shocking Pinks record
Guilt Mirrors
), which affords me the luxury of watching lots of films while typing away.

I'm really good at:
Procrastinating—just ask my good friend Mark, who runs my label, Stars & Letters Records.
The first thing people usually notice about me are:
Lately my friends have been saying that I've lost weight. I don't know about that...
Favorite books:
Hell
by Henri Barbusse,
Jealousy
by Alain Robbe-Grillet,
Novel with Cocaine
by M Ageyev. (I thought I would co-ordinate the titles with aspects of my personality... bad joke?)
Favorite films:
Currently I'm loving the following films to bits:
Le Mepris, The Wolf of Wall Street, 3epkajio, To the Wonder, A Woman under the Influence, Last Year at Marienbad, Scorpio Rising, American Hustle,

Midnight

in Paris, Enter The Void, Do The Right Thing.
Favorite music:
Currently spinning:
Yeezus
by Kanye West, Arthur Russell, Serge Gainsbourg/Brigitte Bardot,
Rival Dealer
ep by Burial, Scott Walker,
Patty Waters Sings
by Patty Waters, Ennio Morricone, Larry Levan, Buckingham Nicks, late Talk Talk, Secret Knives,
Red House Painters (Rollercoaster)
by Red House Painters,
Forever Changes
by Love.

Favorite TV shows:
I don't watch TV. I can't do the whole advertising thing.

Favorite Food:
Mexican.

Six things I could never do without:
Friends, family, music, love, sex, traveling.

The most private thing I'm willing to admit is:
I sing Britney Spears songs in the shower.

On a typical Friday night I am:
DJing, performing, or just hanging with my homies.
You should message me if you like:
Early Boyz II Men and good company.
Stream Guilt Mirrors in full album here.