Scrapbook: Little Boots Flips Through Her Old Photo Albums
Little Boots is not afraid to work a metallic puffer jacket. She's not afraid to audition for 'Pop Idol,' and if she wants to wear a unicorn horn on her head, then for the love of fashion, she will. Here Boots gives us an insight into what she was thinkin
Little Boots' new video for "Broken Record."
Remember when Little Boots, aka Victoria Hesketh, used to sit in her bedroom, in front of a webcam, playing stripped down piano renditions of tunes by Kid Cudi, The Human League, and Hot Chip? No? Well you should revisit them, STAT. It's cool to remember that even though Boots looks glossy and gorgeous and gets invited to play store openings by labels like Chloe, she actually comes from a background that's pretty DIY. On these old YouTube videos she's just messing around with a Tenori-on and testing out demo versions of songs that would end up on her 2008 debut album, Hands. Back then the Blackpool-born singer—who's been playing piano since she was four—had dark hair, wore Paul Frank pajamas and was obsessed with Italo disco. Now she's back with her new, second record, Nocturnes, which leaves behind the glittery pop of her debut, replacing it with a seductive, dark disco sheen. If you want to know more about what Boots has been up to since Hands, her views on DJing, EDM, and working with DFA's Tim Goldsworthy, check out our recent interview. Right here, however, we decided it would be a good idea to make Vic go through her old photo albums and talk about what she was thinking when she decided a unicorn horn hat would make a sweet fashion statement.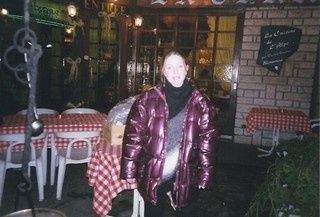 Little Boots: I think I was wearing a poncho under that puffer jacket. I've always had challenges with clothes fitting me. Over the years I've just become accustomed to everything being too big. I shopped at this place called Tammy Girl and I had to go there way later than everyone else because it was the only place that fit! Everybody else had graduated to Topshop and I was still in Tammy Girl! That puffer jacket is particularly disgusting. Around that time I knew I wanted to stand out and not just be like everyone else, but I had no idea what I wanted to be. Fashion-wise, I was just very confused. It was before discovering music and the only thing I listened to was happy hardcore and Celine Dion.
This was around the time that I auditioned for Pop Idol when I was 15 or 16. It's embarrassing, but I think it's funny too! I look so horrendous. I used to think you had to be generically sexy to be a singer and you couldn't be weird or original—you just had to wear a white t-shirt and get your legs out.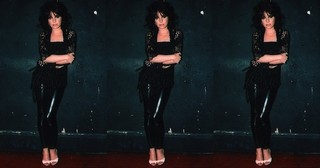 This one doesn't even look like me. It was when I was in my old band Dead Disco. That was the first time I had hair extensions and I remember hating it at first. It was only afterwards that I thought these photos looked really good. It was my first experience of people telling me what to wear. It takes a while to understand what you should take on board and when you should tell people to shut up because it's your hair and your face. At the time I was at university in Leeds and I was obsessed with indie bands. I wanted to be a female Brandon Flowers for a while. I wore a lot of black and white and red back then—very much that 2005, indie disco-era. I had so many vintage clothes and shoes and when I moved, my mum was like, "Everything smells like a grandma." She threw out loads of it and I went mental. Once I figured out that my music and fashion could go together, it made things a lot easier. Since then, what I wear has always been tied to what I've been listening to or what music I've been making.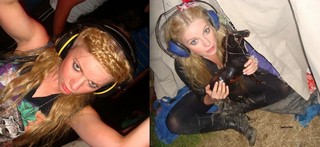 I had my hair every color under the sun when I was a teenager. Alex Brownsell who now runs [the salon] Bleach dyed me blonde. This was way before Bleach and I remember leaning over her bath in Shoreditch [London] and being really scared. Whenever I have big changes in my life, it's always accompanied by a hair change. I'd just invented Little Boots and I needed to do something drastic to mark it. Going solo was quite scary. It was like, if I do something drastic like dye my hair, I've got to follow it through. This picture was when I was DJing at Glastonbury in 2008. I'd had my first Little Boots photoshoot and I had long hair extensions put in. I was really into fantasy t-shirts of animals, but before they got into Urban Outfitters!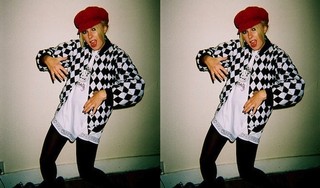 This was when I just moved to London and that's probably what I thought East London hipsters wore. I'm scared basically! I'm trying to fit in and be like, "I'm not Northern, honestly! I've never even been past Birmingham!" I think this was around the era of me DJing in the Old Blue Last a lot and wearing Versace t-shirts.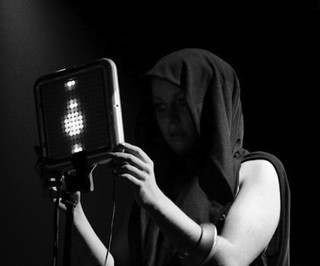 This was pretty early on. The top was by Antipodium, who are a really cool, young brand that I love. I'm not even sure this was intended to be a hood. My band and I used to come out with big black hoods on, like some scary electro warriors. I'd wear a big black cloak and then we'd disrobe. Onstage you have to have drama. When it's all smoky and everyone's in hoods and it looks like a scary film, instead you burst into silly, camp electropop—that's fun. You've got to make a show a show.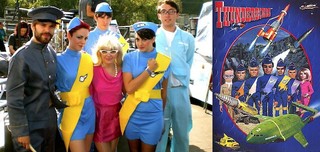 Here's a shot of me and my band at Bestival dressed as characters from [60s TV show] Thunderbirds. The theme that year was space. But the Thunderbirds aren't really space. One of them goes into space, but none of the others do! We came onstage to the Thunderbirds countdown and I drove in on a pink child's Barbie car. I didn't realize how big the stage was or how slow the car was. I'm not even sure if I look like Lady Penelope, I just look like a mad Barbie woman! I would get my band to dress up more if I could. At the minute I'm making them wear lots of 70s roll-necks and suit jackets.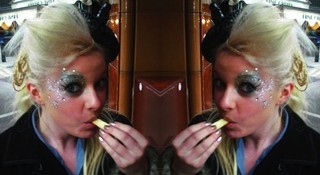 This was the era when I thought crystals on the face were a really good idea. I remember it going a bit too far. I think this was a shoot for i-D magazine, but I've just nipped out to get some chips [fries] with a side hat on and some braids. I was big into braids. I just thought it was linked to fantasy, like I was a fantasy warrior with the hoods and the space stuff. I thought I was on one of the other planets in Star Wars where all the braid people lived.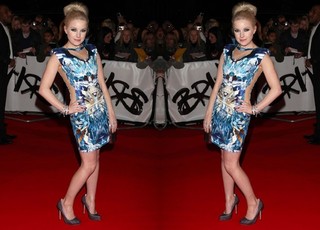 This Alexander McQueen is one of my favorite dresses. Although you can see how big my shoes were. They stuffed the front of them with tissue paper and my feet were bleeding by the end of the night. I'm a [British] size 3 and most sample shoes are a size 5 or 6. Because it was one of my first red carpets, I didn't really question it. I just thought this is what people must do: go to the Brit Awards with shoes three sizes too big. I got a lot of comments that I looked like an ice skater, but I really loved it. The jewelry was Bvlgari and a security guard had to come with the diamonds to put them on me and then take them off me the next day. You can't actually see the fear in my eyes, but I was so scared. When I opened the door of the car to step out onto the red carpet, it was like emerging from the inside of a vacuum and there was just screaming! It was intense.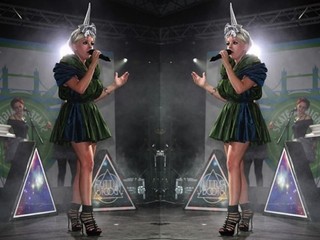 How I thought this was a good idea, again, I don't know! I was really obsessed with space and unicorns and someone was like, "Oh this designer's just made these cute hats and one of them is a unicorn." I knew it looked stupid and I still thought it would be good and funny. When I was looking through pictures, I was like, "Oh my God. I actually wore that onstage! Not even in a fancy dress situation." But it was Lady Gaga time and everyone was doing stuff like that. It's pretty silly. But what's the point of being a pop star if you can't wear a unicorn horn on your head!


Fashion week gets pretty hairy. Sometimes I think it's really not for me, this world of people actually drawing blood to try and get into a show. But it's great if you can collaborate with people and you can have something bespoke. I'll have a few key expensive things and then mix them with other stuff, rather than being head-to-toe in designer gear. For Glastonbury 2009 I did a collaboration with Henry Holland on this purple striped dress. It was from his collection, but he put all those crystals on it. At the time he was tweeting about being stuck to the iron and the glue gun putting on all these Swarovski crystals. But you need it when you're onstage, because it pops so much better.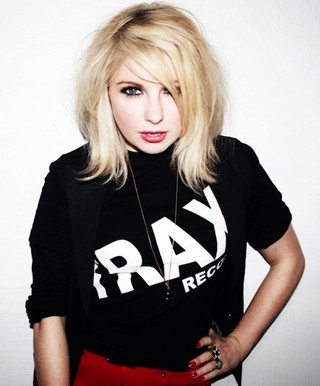 This was backstage when I was DJing a lot last year. This Trax records t-shirt is a label I released a single on. Recently it's been more about being comfortable and not feeling like I have to dress up like a fairy on top of a Christmas tree. The first album was so done up with lots of jewelry and shiny dresses and this was just jeans and a t-shirt and it'll be cool. I don't want to be boring, I still want to do cool stuff and collaborations, but a lot of it is how you pull it off and not how much flesh you're showing.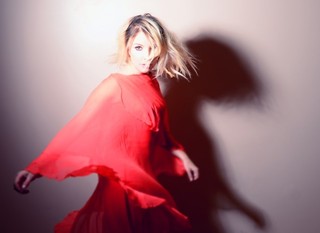 That's an old 70s epic wing dress. Very Donna Summer. It's got a lot of movement which is good for live shows. I'm starting to not be scared of wearing long stuff. Because I'm so short, I generally only ever wear skirts and shorts. You have to get a lot of altering done, but apart from that, it's nice not to be scared of something long.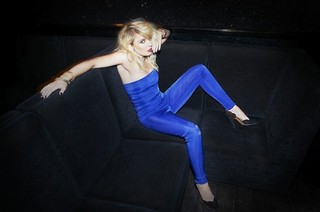 This is obviously very Debbie Harry inspired. It just got so crazy for a while, like if you were a female artist, you had to be as bonkers as possible. I mean you can't out-meat Lady Gaga's meat dress.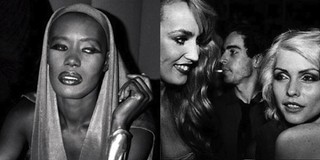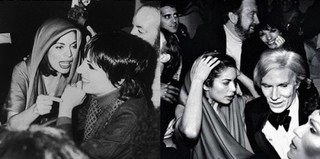 In terms of style icons, like Debbie Harry, it's not about trying really hard. It's all about the attitude and how you carry it off. To be a creative, out-there, strong artist, I don't think you have to look like a mental case. Not that I have a problem with that! I guess it's a reaction to getting a lot of comparisons to Lady Gaga because we both like shiny stuff with big shoulders. For my new video for "Broken Record" I was looking at a lot of old pictures of Studio 54, Grace Jones, and Bianca Jagger on a horse. They all look really cool and the shapes of the dresses are really drapey and beautiful. For "Broken Record" I'm wearing an ABBA-esque dress with all this fringing. I'm having a big disco-fest because the whole album is really disco-y and it's just fun. I love dressing up! Give me a theme and I'll dress to it.
Little Boots' new album, Nocturnes, is out on May 6 and she's on tour.
5.2 – Los Angeles, CA – Echoplex
5.3 – San Francisco, CA – Rickshaw Stop
5.4 – Philadelphia, PA – Voyeur (Making Time)
5.5 – Cambridge, MA – The Sinclair
5.7 – Brooklyn, NY – Music Hall of Williamsburg
5.8 – Chicago, IL – Lincoln Hall
Style Stage is an ongoing partnership between Noisey & Garnier Fructis celebrating music, hair, and style.