How The Spice Girls Taught Me To Be a Riot Grrl
The Spice Girls musical opened in London last night. It bombed completely, but it got me thinking about 1996.

The author, second from the left, "Spicing Up Her Life" in 1995.
Most girls in their twenties today remember how much of an impact the Spice Girls were to their pre-adolescence. The Spice Girls franchise infected our lives almost immediately. The dolls, the movie, the songs, the hair, the looks, the Girl Power.
Now, after almost a decade of Spice silence, comes the Spice Girl's musical, "Viva Forever".
I blame ABBA and Green Day for this. Or at least the people who thought that it was a genius idea to turn every Billboard-topping band into a musical, loosely-based on said artist's career. "Viva Forever" premiered last night at the Piccadilly Theatre in London. The Spice Girls were in attendance (along with their husbands and children). Created by Judy Craymer (the one we hold responsible for Mama Mia!) and penned out by British comedian Jennifer Saunders, Viva flopped. I guess a "charmless" musical about a teenager who rises to fame on a TV singing contest with a full soundtrack of Spice Girl hits doesn't scream Tony Awards. But then, there was a part of me that felt completely nostalgic for this. I started thinking about 1996.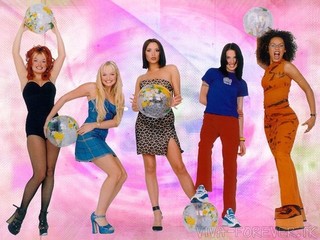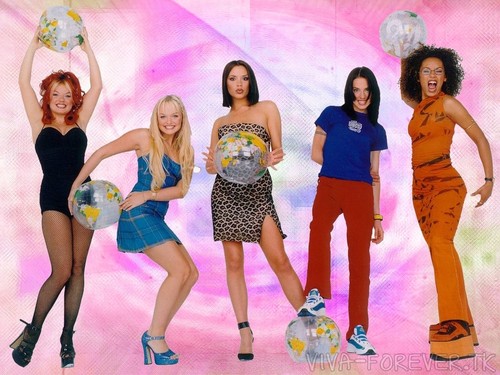 I imagine being a young boy who had to endure recess with us wanna-be Spice Girls was kind of hell or, perhaps, kind of awesome. I mean, the Spice Girls taught us nothing about subverting the male gaze and deconstructing our gender roles. Instead, they taught us how to dance, have fun, scream and sing. We were obsessed with being just like the Spice Girls and trying on their glamorous, sexy lifestyle by playing pop star in our mother's make-up, hand-me-downs and costume jewelry. We would chant "Spice Up Your Life" at the top of our lungs while running around the jungle gym pretending to be too mature for the playground. "Hi Ci Ya Hold Tight!" We were drunk on the Spice Girls. Scary, Sporty, Baby, Ginger and Posh. We didn't know that Victoria would end up marrying a Beckham and make ugly, bedazzled jeans. We didn't know that Melanie C. would merge with Bryan Adams. We didn't know that Ginger would let it rain men. We wanted to be just like the Spice Girls. It was a ritualistic game we all played. School Talent Shows often showcased multiple Spice Girl routines. We were competing for Spice skills.
I always had to play Ginger and, though I wanted to Scary, I didn't mind. Ginger was out-spoken and fun and wild and she was a woman. The girls who wanted to be Baby were lame. I remember my rich friend always wanted to be Posh. Why did my friends think I should be Ginger? Was I loud? Slutty? Curvy? Impossible. But whatever Spice you were determined what your friends thought about you. Everyone knew that.
The Spice Girls were important. They fucked with our heads and shaped our concept of womanhood. We were not old enough to be critical yet, so, in retrospect, the message was slightly dangerous. The Spice Girls' "Girl Power" was a watered-down version of feminism because it never asked us to critically engage with gender and structure. It revamped the feminist (something the Riot Grrl's had tried to teach us in the early 90's, but we were far too young to have accessed it yet) and made it feminine. The Spice Girls taught us how to turn capitalism and femininity into one. "Girl Power" was about not passively consuming, but actively consuming make-up and clothing. We were diligently constructing ourselves for the male gaze and believing this to be powerful. Sexuality was still being taught as the female's main form as cultural currency. Having Girl Power meant looking like a Spice Girl and not just acting like one. Besides, what were the actions of a Spice Girl anyway? It wasn't about asking questions and that's kind of why the whole thing sucked.
I remember watching the special "Girl Power A-Z" hosted by the Spice Girls. They named Courtney Love for C and showed a clip of the "Doll Parts" video. The Spice Girls commended Courtney for her anger, "Yeah Courtney! Throw that chair! Yeah! Raw! Courtney!" They clearly had no understanding of feminist politics, post-structural analysis or the fact that the inversion of gender roles is counter-productive and binary. But did I? Fuck no. That's something I figured out third year university. Deconstructing Spice was something I would do as a woman, not a girl.
But, I still loved the Spice Girls. I loved dressing up and putting on fake performances in my friend's basement. Our audience was only each other, but we fucking loved it. We had fun. It was a process: the deciding of the roles, the dance routines, the spandex, the lipstick, the hair crimping. Sure, we weren't creating anything. We were participating in the exact femininity carved out for us. But we were too young to think about that just yet. I would find Riot Grrl later. I'd find punk. I'd find feminism. Things would be okay for me. At the time, though, all I needed was a little crimper and some Girl Power.
Mish is in White Lung, but she's also our Senior Women's Correspondent. You should follow her on Twitter - @myszkaway