CFM Sparks Triumphant Psych-Rock in His New Track "Purple Spine"
The long time Ty Segall collaborator gives a taste of his first ever solo LP.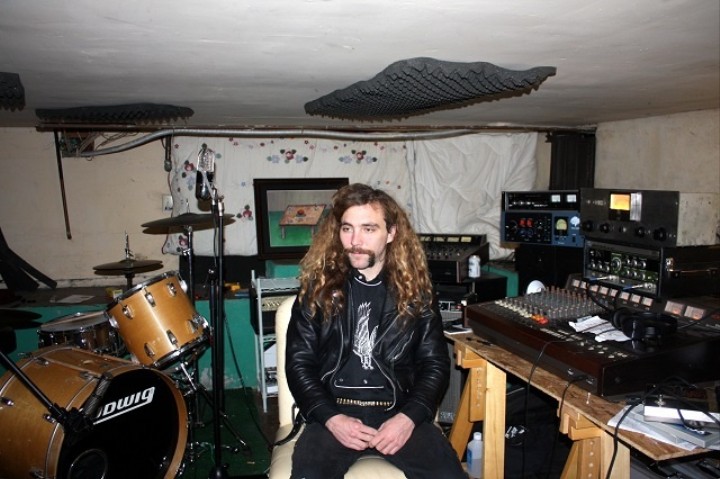 Photo by Denee Petracek
CFM is the new project from longtime Ty Segall collaborator, Charles Francis Moothart. The new project represents an experiment and challenge Moothart set for himself to create songs by without collaborating with others. One of these said creations is his newest song "Purple Spine," off of his upcoming record Still Life of Citrus and Slime. The song will leave you in awe of how solid Moothart's self experiments are, seeing as how rich and beautifully textured a song he produces. "Purple Spine" creates an upward rising composition of psychedelia and spaciness. It begins with sparse, reverbed vocals and guitar from Moothart before it expands into a larger, triumphant piece. The song is huge and beautiful, giving a good sign of things to come when he drops the full-length.
Still Life of Citrus and Slime comes out April 8 via In The Red, and you can catch him on tour with Ty Segall and more:
CFM TOUR DATES:
02/26 - Philadelphia, PA @ Trocadero Theatre *
02/27 – New York, NY @ Webster Hall *
02/29 - Brooklyn, NY @ Silent Barn
03/01 - Boston, MA @ Royale *
03/02 - Montreal, QB @ Theatre Rialto *
03/03 - Montreal, QB @ Theatre Rialto *
03/04 - Toronto, ON @ Danforth Music Hall *
03/05 - Detroit, MI @ Majestic Theater *
03/06 - Columbus, OH @ Bourbon Street ^
03/07 - Indianapolis, IN @ State Street Pub $
03/08 – Chicago, IL @ Thalia Hall *
03/09 – Milwaukee, WI @ The Lucky Cat !
03/11 – Nashville, TN @ The End
03/12 – Memphis, TN @ Murphy's &
03/14 - Dallas, TX @ Crown and Harp
03/17 - Tempe, AZ @ Time Out Lounge
* = w/ Ty Segall & The Muggers
^ = w/ Nervosas
$ = w/ Creeping Pink
! = w/ Holy Shit
& = w/ Ex Cult