Annie and Artist Bjarne Melgaard on Their Anti-Putin Video: "Russian Kiss"
Norwegian electro-pop princess Annie gets political in her video for "Russian Kiss." Here she talks with collaborator and acclaimed artist Bjarne Melgaard, about the anti-LGBT legislative laws that inspired their art, her music, and what's to come.

Annie - "Russian Kiss."
Anne Lilia Berger Strand has a regal ring to it, so to see her quietly sipping a cappuccino and talking with one of the most infamous visual artists from Norway in a Midtown hotel is a jolt back to reality. Although she's blessed with this royal train of a name, the woman behind it chooses to go simply by Annie. As Norway's premier pop princess, it was her work with Richard X in the early 2000s that helped pave the way for the likes of Icona Pop and Charli XCX. Even when she disappears for years at a time, Annie can re-emerge with an EP, like last year's The A&R EP, and recapture our attention in a split second.
Still, when Annie wasn't making music she was far from idle, instead using her time off to tackle other art forms: in 2011 she collaborated with one of Norway's most infamous visual artists, Bjarne Melgaard, for his exhibition The Night Within Us! Here Annie served as muse and centerpiece for the show. In part, this led to work on the 2012 film The Night Within, in which she acted and contributed music. As the parameters of her art broadened, Annie found a more political muse: Putin and Russia's horrifying, anti-human rights legislation. Spurred into action, combined with her desire to continue her partnership with Bjarne, the two created "Russian Kiss," a song that confronts and protests Russia's latest, hateful laws against the LGBT community. Check out the video for "Russian Kiss" above: essentially a big fat visual middle finger to Russia's anti-gay legislation.
Annie and Richard X recorded the song in London late last November, and the song was then sent to Bjarne for additional vocals. Based on "French Kiss"—a sexually charged Euro club hit from the 90s—for their song, Annie recruited two Russian men to groan wildly in the build up to the climax. Just in case the lyrics aren't explicit enough. Noisey talked to Annie and Bjarne the day after they shot the video (in Bushwick, Brooklyn). Aside from the song, Annie and Bjarne both talked openly about the future of their art and what draws them to interdisciplinary projects like this one.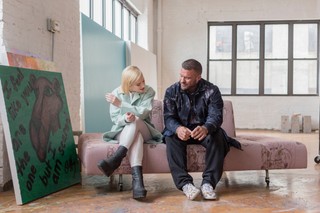 Noisey: Let's start with the new song and its inspiration.
Annie: This project itself is based on the whole political thing that's happening in Russia. I saw the developments there and it's strange that in 2012 it wasn't even like this—it just suddenly came. The law makes people unable to tell young children about gays, and that's worrying. I've been doing music for over ten years and I have a lot of gay fans. I think it was important for me to say something. When I finished this song I immediately thought of Bjarne and I sent it to him. And after our other project, The Night Within Us! we were talking about how we wanted to do a short film or a video.
So there's a film that's going to accompany the song? What's the concept for that?
Bjarne: We are doing a short film for the song and that's directed from Richard Kern, who you probably know from VICE! I'm doing vocals on the track and in the video. We shot the video yesterday, in my studio in Bushwick. There's a lot of making out.
Annie: Yeah there is!
Bjarne: I'm making out with my boyfriend.
Annie: I'm actually not making out with anyone! [To Bjarne] You and everyone else are taking care of that for me.
I was especially excited to talk to you, Bjarne, about the image of the chair that caused an uproar (above). Was that a current project?
Bjarne: What's kind of funny with the whole thing is that chair is from a show I did one and half years ago! It's been touring in Rome, Paris, it was at the Empire State show which was curated by Norman Rosenthal, and it was reviewed in New York. And nobody really said anything!

It was also connected to a show I curated about how this 50s and 60s male gaze of desire was superimposed on different female figures, and how, at the same time it was lacking a lot of complexity. So it was very specific, it came from a very marginalized idea from a show that was very small. I mean, I'm not a big Allen Jones fan either, so it was a way to address about this way of relating to that whole time.
So do you have any idea why it struck a nerve right now?
Bjarne: Well I think it stuck so much because of that woman sitting on the sculpture.
So that's not how it is in your show?
Bjarne: It's in an ensemble of sculptures that was curated with original William Copley pieces and copies of Copley. It was a time when a lot of artists were doing this "art about art" and remaking artas art and I was a bit sick of it. So I wanted to do a remake of a remake of a remake as a critique on that.
Back to you Annie, are you doing another EP or album? Will Bjarne be involved?
Annie: I'm going to do another EP, I'm going to do two more EPs after this and then an album, and I'm not sure exactly when. I'm not sure when the next EP will come out. And I hope Bjarne will be involved! We had the greatest time.
When you returned with The A&R EP, what was your goal for that project? And do you feel like you achieved it?
When I start making music I don't really think about exactly where I want to go because I keep having ideas and it comes to me quite spontaneously. But I definitely wanted to do something more dancey and something more club related. The reason I want to do three EPs is because I've been writing so many songs, but they all have slightly different feelings about them. So I didn't want to do just an album. Because I feel like when you do an album it has to be a little bit like a book—the chapters need to fit together, and it just didn't. So the next one is probably going to be slightly different from A&R, but it's going to be quite danceable.
It seems like there's a lot of this electronic dance pop that comes from Scandinavia. Why do you think that's the thing that people gravitate toward there?
Annie: Sweden has a long culture of really good producers. Norway, it's in a way quite new. You have Lindstrom and really good musicians. I mean—it's really bad weather. People like to sit in. In the north of Norway it will sometimes be dark 24/7. If you can't get the light yourself you kind of have to create it.
Bjarne: I think it has something to do with the darkness. The country is so dark so many months of the year and I think that maybe the lightness of this pop dance music, people gravitate toward it because it reminds you of something else than this heavy depressive dark. It gets dark at 3 o'clock in the afternoon, for months! You become almost crazy from it.
You have had some issues with labels in the past. I think a lot of fans initially didn't realize there was this dark side of the industry. You have your own label now with Totally Records. Do you think self-releasing will do away with labels altogether?
Annie: Mm, it is dark. Definitely working with labels has always been difficult for me. From the very beginning it was always a bit of an issue because I always had one foot underground and I had a really strong vision of how I wanted everything to be around my own concept. But then on the other hand I've always been writing pop-related music. So obviously a couple of labels wanted to sign me because it sounded like something that maybe would sell.

But then they were always telling me how great it was that I was doing things on my own and that I had my own vision. But when it really comes to it I don't think the labels want the artist to have too much vision, because it doesn't really sell. And that's not something they're very interested in. For me it was always hard. There was this song called "I Know Your Girlfriend Hates Me." And I knew immediately that this would never a single and I said to the label that we can't realize it as the main single because it's catchy, but it's not really maybe a Number One if that's what you want. First they said yeah we understand that and then without really telling me they decided that it's going to be the single. This was when I was on Island's label. I remember sitting on a double decker bus in London, and I saw a huge poster of myself and that's how I found out. And then they just decided that this is going to be the single, and of course it didn't turn out to be a number one. I knew that it never would.
Annie - I Know Your Boyfriend Hates Me
from
James Hatt
on
Vimeo
.
A lot of songs like that on 2009's Don't Stop were kind of meta. Like, I don't like your music even if I like you as a person on "I Don't Like Your Band." Was there someone that heard that song and knew it was about them? Were these very specific?
Well, I can tell you that "I Know Your Girlfriend Hates Me" was. That was actually about my friend's girlfriend. [To Bjarne] I think you know that friend of mine. She heard it and she knew it was about her.
How did she react?
Annie: I don't know but I still don't talk to her. [Laughs]
You've been very interdisciplinary, especially lately. Maybe for both of you, what draws you to experiment with all these different mediums? It seems like some people almost can't do that.
Annie: Since I did "The Night Within" I thought it was very interesting to create music and think more of the visual side with it. When I do music it's basically just like… washing a floor. I've done it many times and I know how it's done. It's like washing the same floor so many times, you've done it so much that you know all the corners. So I like to go into different rooms, to think differently. And that's why I think it's so great with this specific project. Collaborating with Bjarne, the whole Russian angle and how everything is about that.
Do you think you plan to have more political elements?
Annie: I might do! There's a lot of things that worry me these days.
This year is basically 15 years for you that you've been making music. So the industry has changed so much, do you think it's for the better?
Annie: No, I think for me everything can be good in different ways. But I definitely think that now it's maybe easier for an artist to develop everything the way they want. They don't have to make compromises. You can do it exactly the way you want it and you don't have to think too much about the label side of things. But for some of the really commercial artists it can be harder. But at the same time, you really have the chance to do both. So I think it is getting more and more interesting.
Caitlin rules and you should follow her on Twitter - @harmonicait.