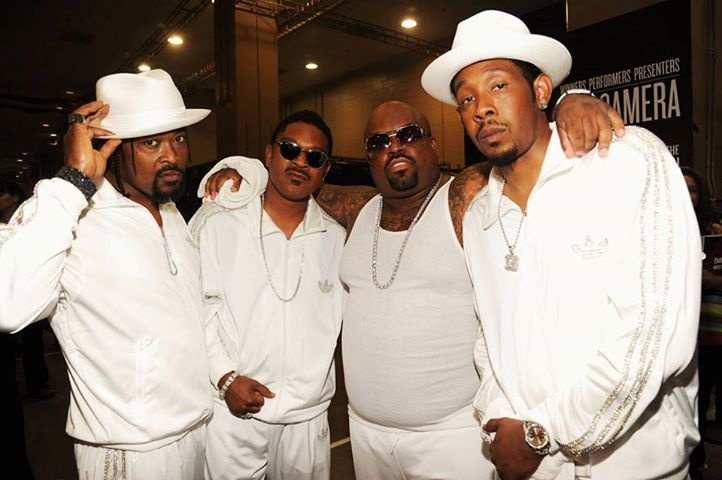 Goodie Mob has returned. But, like, why?
Brooklyn Bowl, a bedazzled entertainment complex arguably more suited to the gaudy glitz of Las Vegas than its home in the northern reaches of Williamsburg (Context: They may or may not have housed a recent gig by the in-name-only Guns N' Roses), seems like an odd place to mount a rap reunion. However, when talking about that eternal outlier Cee-Lo Green, one might suspect the sprawling building—a maze of bars, video screens, and cooly lit bowling lanes—had been erected especially for him.
Unfortunately, for the resurrected Atlanta hip-hop crew Goodie Mob, the space must've felt cavernous and oppressive. With roughly twenty-four hours to go before the release of their fifth studio album Age Against The Machine, Big Gipp, Khujo Goodie, T-Mo, and Cee-Lo certainly must have hoped for something more than a half-empty dancefloor within earshot of a few twilight pin pals. Adding to the sting, that same night the MTV Video Music Awards commandeered the Barclays Center, a short cab ride away and teeming with the sort of celebrities and popstars whose unannounced presence would've made the night one to remember. Earlier, Gipp tweeted that none other than Prince would join them onstage, though that ultimately proved untrue. Whether a bizarre Twitter bit only funny to his followers or some cringeworthy attempt to sell the remaining tickets, the stunt flat out failed.
As Goodie Mob took the stage decked out in black robes and gold chains, not even their sunglasses could fully mask their disappointment upon peering out into the sparse Sunday crowd of roughly two hundred, a mix of world-weary ex-backpackers, Cee-Lo lookie-loos, and longstanding fans who'd presumably secured babysitters for the occasion. Not long into the set, which mixed adored classics like "Black Ice (Sky High)" and "Soul Food" in with lesser newer tracks, a noticeably displeased Khujo held a brief aside with Cee-Lo, who quickly shrugged him off. After a few opening numbers, they dismissed themselves to the wings as Cee-Lo stayed on as the center of attention for some crowd work, cunnilingus jokes, and a couple of his own songs. Then, as if adding insult to injury, Cee-Lo gave his otherwise unknown female protege V. Bozeman her very own portion of the show, with a couple bonus appearances alongside the quartet replete with elaborate, form-fitting costume changes. For some time, Khujo sat defiantly at the foot of a DJ booth onstage and watched her stone-faced through his shades as she strutted her stuff. Whether intentionally or not, he seemed altogether unimpressed and irritated. This was not what he signed up for. This is not what any of us signed up for.
Then again, it appears Goodie Mob have spent the last few weeks bracing themselves for a disaster of cosmic proportions. No less than two different Groupon offers (one for a Chicago gig at the House Of Blues, another for 40% off the album on CD) have emerged recently, as if the seminal southern rap group were some struggling Asian fusion restaurant in the Best Western down by the airport. Even Ciara, peddling her own brand of "Goodies," waited until after her record dropped like a stone before resorting to the unglamorous world of online couponing. Still, such preemptive measures couldn't hurt, as Age Against The Machine ultimately amounts to a compilation rather than the cohesive, acommercial return-to-form it could have been. Chances are good you haven't even heard their Janelle Monae-assisted single "Special Education," singsong and saccharine not unlike Barney The Dinosaur holed up in a bando. Though Goodie Mob surely began this reunion with good intentions and in good faith, nobody could fault them asking why they got back together in the first place and why Cee-Lo, a prime time reality TV star even your grandparents recognize—and, lest we forget, is a solo artist with two multi-Platinum singles under his belt—went along with it.
Assuredly, Goodie Mob has known commercial success, with three consecutive Gold records (a fourth without Cee-Lo, 2004's One Monkey Don't Stop No Show, both charted and sold poorly by comparison). But short-sightedness and long memories make for terrible companions. Take Soul Food, the heralded 1995 debut that followed their Dungeon Family brethren Outkast's Southernplayalisticadillacmuzik. Bolstered by Top-40 hit "Cell Therapy," it passed that RIAA-certification threshold after about 8 months. Yet that was almost twenty years ago, a time before ringtone charts, Spotify streams, and digital piracy, back when a good hip-hop single with major label muscle and radio appeal could conceivably shift 500,000 units. In that same period, artists like E-40, 8 Ball & MJG, and Luniz each earned Gold album status. Even Kris Kross, then several critical years removed from "Jump," managed to sell that well, as did such one-hit wonders like Deep Blue Something and Primitive Radio Gods. Christian contemporaries DC Talk and Jars Of Clay fared even better and went Platinum.
Not to diminish Goodie Mob's accomplishments, but the music industry has undeniably changed, with sales expectations for all but the biggest artists comparatively low. Though the industry standard bars haven't lowered to account for this, the definition of success has adjusted. In 2013 terms, J. Cole and Kanye West selling around 300,000 units apiece in one week is on par with going instantly Platinum back in the Nineties, by extension making the Atlanta act historically on a popularity level with Wale (but thank Christ not artistically). Even hip-hop artists with consistent radio play like French Montana and Tyga find their first week numbers somewhere around the 50,000 mark. Legacy rapper LL Cool J's latest album Authentic only did about half that, surely a poor omen of Goodie Mob's impending fate.
Since 1999's World Party, only Cee-Lo has scored real 21st century wins. He's done so on his own with the 5x Platinum "Fuck You / Forget You" and also alongside producer Danger Mouse in Gnarls Barkley with 2006's "Crazy" as well as the duo's corresponding album St. Elsewhere. Though both tunes seem ubiquitous and overplayed earworms to many of us, none of his solo albums have actually achieved RIAA certification or matched the sales of his old Goodie Mob records, something that could have factored into expanding his reconciliation with the guys beyond a handful of live appearances. With 2010's The Lady Killer still scraping below Gold, he did manage to secure a plum judgeship on chair-spinning singing competition The Voice. For Real America, this is the Cee-Lo they know, his time with Goodie Mob amounting to little more than a few Wikipedia factoids.
One of the kindest things that can be said about the Goodie Mob reunion, both as a performing quartet and on record, is that it was unanticipated. So without name recognition among Cee-Lo's current admirers, it relies then on so-called "real hip-hop" fans to carry the weight. Unfortunately, such anticipation comes with expectations, and their new release consistently fails that litmus test. For starters, Age Against The Machine marks their first outing without contributions from Organized Noize, the production trio rightly credited for the slightly askew grooviness of Soul Food and its follow-up Still Standing. Instead, Cee-Lo and a handful of lesser beatmakers from his solo discography like The Grey Area and Jack Splash get behind the boards, with mixed results. From the community theatrics of "Ghost Of Gloria Goodchild to the laughing, slashing B-movie strings of "State Of The Art," these eighteen songs are a far cry from those records' deep luscious soul.
Gone too are the insular A-Town guest appearances from artists like Andre 3000, Big Boi, Cool Breeze, Sleepy Brown and Witchdoctor. Bound to unnerve old school devotees and comparatively newer followers, these conspicuous absences suggest not only a lack of buy-in from the rest of the once-united Dungeon Family collective, but also intimates a tighter grip of creative control as a likely stipulation of their once-estranged, now most popular member's return. In fact, the only member that shows up at all is the poetic Big Rube, and even then only briefly on the record's minute-long intro. Amid all the cheerleading positivity and celebrating of uniqueness we've come to expect from Cee-Lo, it's easy to forget that Goodie Mob used to be a socially conscious and even political force. Songs like "Come As You Are" and the insipid "Amy" feel light as feathers by comparison. Fittingly, the message of "Power" finds poignant encapsulation in one tragic, ironic lyric: "it's not about black and white / it's about Cee-Lo Green."
Age Against The Machine, no matter whose names and faces are on the cover, is yet another tired episode of the Cee-Lo show, ping-ponging between the plodding pop of his bizarre solo material and third-rate digital southern fried funk facsimiles. But given the fullness of his plate and the plethora of needless "interludes," it becomes clear that this reunion suffers from his success. The beats feel like unfinished throwaways from his last album, table scraps for his boys and a chance to burn off a few lackluster B-sides. By the time glorified solo track "Nexperiance" rolls around, the de facto frontman has all but done away with pretense and started giving his aforementioned protege V. back-to-back features to the detriment of the remaining Mobsters.
Given the lack of better options, however, it's hard to imagine how Gipp, Kujo, and T-Mo could have resisted. Without Cee-Lo, a Goodie Mob reunion would've been critically asterisked, his void inescapable, black-hole like in its totality, in whatever interviews and journalistic assessments they'd be lucky enough to secure. On the other hand, with his involvement, they become, as when they appeared on Late Night With Jimmy Fallon, secondary to a larger-than-life boss. (During the show, Fallon inadvertently and inaccurately whitewashed from the record their one album without Cee-Lo by stating it had been 14 years since the last Goodie Mob album.) If only they'd had the foresight to realize that their erstwhile cohort lacked the star power to reboot their careers rather than create another footnote to his own.
Indeed, he couldn't even muster the selling power to fill a 414 person capacity room in New York City. As such, the three men were left clamoring for time at their concert as they were on their own damn comeback album. Notably, when Gipp returned in pimptastic attire for "Steppin Out," a solo cut of his own off 2003's Mutant Mindframe, his bald-headed benefactor stayed on to mug for the audience, at one point using some kind of binaca breath spray as a Carrot Top style prop. As the crowd slowly but steadily thinned, Goodie Mob appeared crushed, a understandably maddening fate for what was once one of the South's brightest lights. They departed humbly, never bothering to return for an encore, and probably wishing they hadn't shown up again in the first place.
Gary Suarez is Music Twitter's conscience. See for yourself - @noyokono