The Noisey Guide To Hip-Hop In 2012
Lots of things happened in rap this year. Here is literally all of them.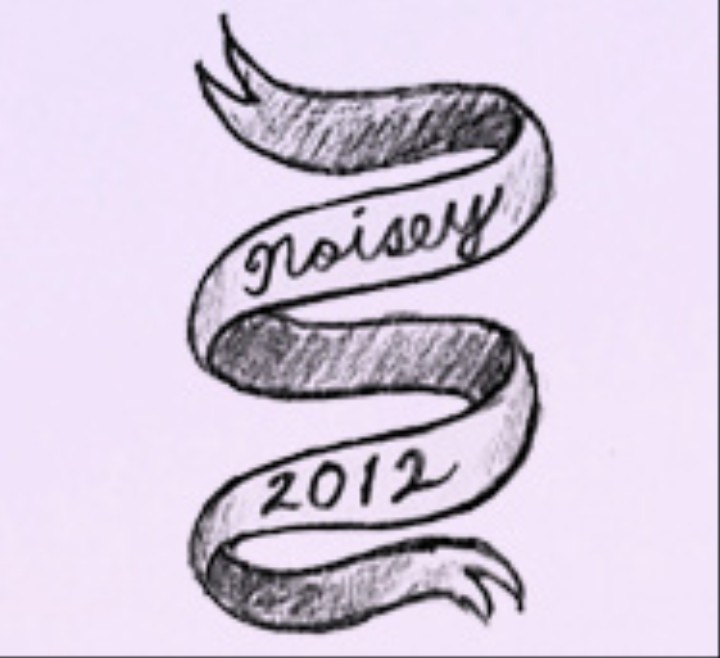 [Portraiture By Meaghan Garvey]
2012 may very well go down as the year rap broke. I mean yeah, rap's "broken" a bunch of other times in other years too, but this feels like hip-hop's 1978 moment, the year in which everything changed and through the scorched earth emerged something new, different and weirdly, beautifully peaceful, even though everybody's saying "fuck" as often as they ever have. After a few false starts (Thank You Based God), the internet fully realized itself as a viable method with which artists broke themselves, rather than just a single arm of octopus-like takeover strategy. Guys like 2 Chainz, Meek Mill, and Future, meanwhile, proved that the that hard work, dedication, and being radically unique can still make it happen for you. Everyone took more drugs, and it was awesome (except if you had a bad time, in which case it wasn't awesome).

Every generation thinks theirs is the most important and vital of any that has come before it. Living in the present tense is an intensely subjective experience, and so everything you do feels young and radical. Which is to say that Cronkite and 'em might have have been the Greatest Generation and won World War II for us, but they didn't have rap music, and living in the world today makes you think about one more than the other. So with that in mind, here's all of the most important stuff that happened in the most important year for rap ever. I don't doubt that we'll look back on 2013 with the same certitude of having reached a high-water mark. And just like this year, it'll probably be true. Be sure to stream the awesome mix our own Skinny Friedman made for the occasion, complete with drops from The Kid Mero, who is literally the best shit-talker of all time.
[Mix And General Wisdom From Skinny Friedman, Drops By The Kid Mero]
A - A$AP Rocky
This year, Rocky headlined his sold-out Long Live A$AP tour playing the same venues as heavyweights like Rick Ross and 2 Chainz without having a single album in stores. This is tantamount to the 12-year-old kid from Rookie of the Year (and A Kid in King Arthur's Court NEVER 4GET) pitching those like, burning fastballs for the major leagues except A$AP probably didn't break his arm and suddenly get signed? (Or did he?). Either way, it begs a few questions as well as that dreaded phrase "line-skipper." Is he really that great, or is it just that NYC rap fans grade the local shit on a curve?
Nah, he's just that great. And we're certain that Long.Live.A$AP is going to make 2013 Rocky's year. -Wilbert Cooper
Honorable Mentions: Adam Yauch, Azealia Banks, Aesop Rock, All Gold Everything, America Is The Best Country For Rap But That One's Kinda Obvious, Admittedly I Just Like Saying The Name A$AP Yams Aloud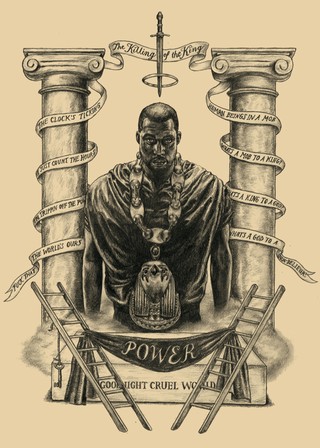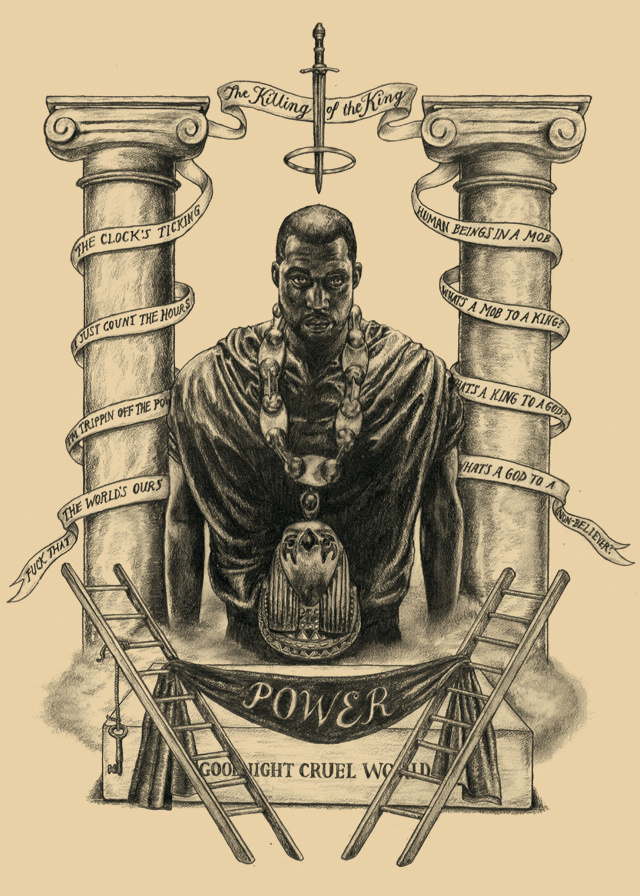 B - Bass, Used In New, Exciting And Sometimes Annoying Ways
In 2012, hip-hop sounded differently than it ever had before. That's totally what everyone says about every year, but just go with us on this one. The big movements in production this year mainly focused on compelling asses to shake as well as motivating people to put special parts of their bodies into special parts of other people's bodies. The main dudes who felt important were Mike Will Made It, who gave Future the sonic clouds that allowed him to blast off into outer space, Hit-Boy, who continued to make good on his name by following up "Niggas In Paris" with "Clique," and DJ Mustard, who produced "Rack City" and several other very good and very similar-sounding songs. The unsung hero of the whole dealio was TNGHT, whose five-song EP managed to convince everybody that making wordless, stadium-sized bangers was not only a good idea but actually the best idea. 2012 is also the year that dubstep died only to be pretty much immediately replaced with the stuttering Chimera that is Trap. -Drew Millard
Honorable Mentions: Butts, Benjamins (Still All About Them), Busta Rhymes Didn't Really Do Anything This Year
C - C is for Death Grips Because D is for Drake
I remember falling to the bottom of a mosh pit during Death Grips' performance of "Takyon (Death Yob)" at Pitchfork's CMJ showcase this year. I freaked out for a split second because I was caught under trampling feet with no air. Then the teenaged rapper Haleek Maul, who put out the excellent Chrome Lips this year, helped lift me up, and I jumped right back into the fray. There were a lot of other familiar Mishka-clad kids raging in the crowd that night who I'd seen bouncing around at A$AP Rocky and Danny Brown shows, and they're the rap fans I think about when I hear people claim that Death Grips is something "real hip-hop heads" can't get into.
Hip-hop is going through a revolution right now. Since the rise of the idea that rap music is actually punk as fuck, stagediving and slam-dancing at a rap show is almost as expected as it was at hardcore show back in the '80s. And Death Grips are probably the furthest extension of that exuberant energy and aggression that has taken hold of hip-hop, drawing young people in because of their simplicity and brute force over complex metaphors or glamorous back up dancers. When it's all said and done, Death Grips won't be remembered for their stunt with the record label or that dong on their album cover (even though that shit was dope), they'll be remembered for creating a sound that was almost as much of ahead of its time as it was reflection the exact things that characterize this moment in hip-hop. -WC
Honorable Mentions: Counting down to Long.Live.A$AP, Coachella Had A Hologram Tupac, Chris Brown Brawled With Drake Lol
D - Drake
When 2012 hit, Take Care was still lodged in my brain as firmly as cocaine particles are affixed to Gunplay's mucus membrane. At this point I've probably listened to the fucking thing 200 times, and even though the album came out last November, Drake kinda-sorta dominated 2012. Not saying he's bigger than Jay-Z—he's still a second-tier superstar, the Rihanna to Jay's Beyoncé if you will—but Drake definitely headlined the best tour of the summer and everything he touched this year turned to gold. Gold, Jerry! Except for that Aaliyah thing he did which sucked. But Drake was the best part of 2 Chainz's "No Lie," French Montana's "Pop That," Meek Mill's "Amen," Rick Ross's "Stay Schemin'," and A$AP Rocky's "Fuckin' Problems." That, plus "HYFR" and "Take Care" (his actual singles that got released in 2012) would make up a way better EP than anything you put out this year. -DM
Honorable Mentions: Dallas As Second Rap City In Texas, Drugs, "Dope Boy" As Pronounced By French Montana, Danny Brown
E - Ecstasy
I've been trying to figure out why rappers are getting off on molly so much. Do drugs follow a trend cycle just like fashion? If so, does that mean heroin is going to come back in a big way? I really want to be ahead of the curve with this, because I was embarrassed the last time I did molly with my friends—I tried to put on a Pretty Lights song and got laughed out of a house party. Everybody shitted on my music taste and then they kept repeating that one line from the Trinidad James song. Man. I can't wait until horse comes back around again and they start selling Supreme syringes. I'm trying to be the first in line. -WC
Honorable Mentions: Elvis Was Passed By Lil Wayne For The Most Appearances On The Billboard Hot 100, Eminem Put Out A Greatest-Hits Record That We Didn't Listen To, El-P Made White People Care About Killer Mike
F - Fashion
It seems that with super-macho rap guys like A$AP Rocky and Kanye West boldly wearing kilts/skirts/whatever you want to call it, hip hop is in love with avant-garde fashion. This is a good thing and a bit of a throwback to the early days of hip-hop, when the music was still intertwined with the weirdo art, disco, and punk scenes of downtown New York in the late-'70s. Part of the reason MCs are name-checking hilariously over-the-top designers and wearing clothes that would probably get them jumped in many hoods across this country is that it signals that they're part of the cultural elite. The aspirational aspect of rap has gone from not just wanting to simply have money and spend it on whatever expensive bullshit you can get your hands on, but wanting to have actually have refined taste. The Internet also plays a major part in this connection between avant-garde drape for Rick Owens and Ann Demulester and rap, because thanks largely to the web this new crop of MCs coming up have a much wider array of influences than the artists that preceded them. When you see the Flatbush Zombies wearing a Grateful Dead t-shirt, it screams something very particular about the age we live in. -WC
Honorable Mentions: Fanutation, Yeah I Like To Fuck I Got A Fuckin' Problem, No Really I Keep Getting Robbed On Car Dates :/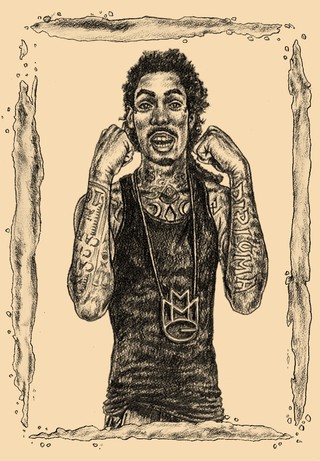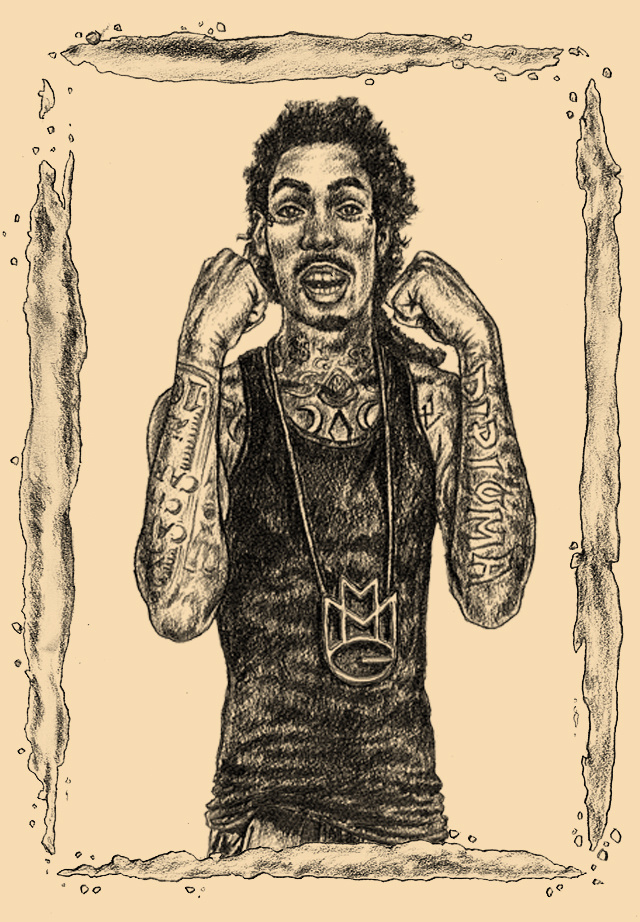 G - Gunplay
It's unlikely that Gunplay will ever actually blow up like we all want him to. He's essentially rap's Hunter S. Thompson: Too weird to live, too rare to die, and talented as all fuck. This year saw Gunplay continuing to burn the candle at both ends, releasing three mixtapes and doing tracks with pretty much anybody who'd have him including A$AP Rocky, Trina and his kindred spirit N.O.R.E. Plus he was on camera more than you were on anything—dude did eleven music videos (including two he directed), and maintained a hilarious vlog in which he very enthusiastically acquired Reeboks, went fishing and visited Six Flags. But if you cut through the lulz, Gunplay is, of course, kinda dark. He's literally zero percent afraid of doing hard drugs on camera, and he's now on house arrest for pulling a gun on his accountant. Which fucking sucks, but whatever. The point is Gunplay still walks the earth (sorta, for now), and that's good for Gunplay. And the Earth, really. -DM
Honorable Mentions: Guns (Regular), Gucci Mane Is Back, "Gangnam Style" And Its Sociopolitical Implications Especially Considering That PSY One Made A Song About Hating America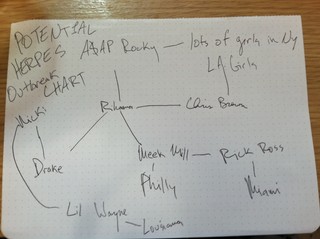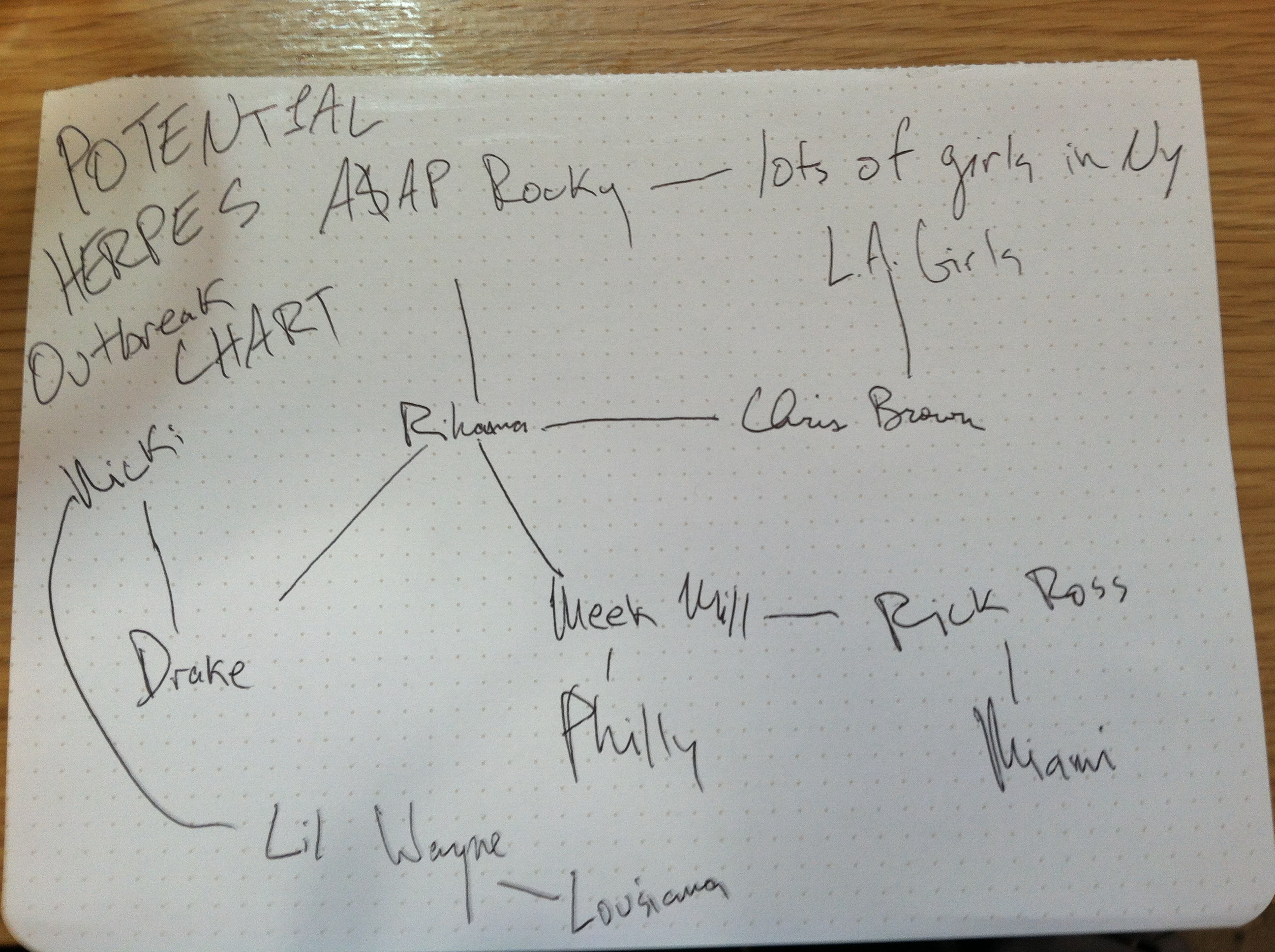 H - Herpes
OK, so I'm not actually accusing anybody of having the dreaded herp. But hip-hop is like high school in that everybody is boning everybody else and if one super-famous rapper were to catch "The Happies" from some injudicious soul and for some reason nobody used condoms, pretttttttty much everybody would get it. So let's assume Chris Brown has herpes. That's not super-duper out of the question since he's by all accounts one of the shittiest, most selfish celebrities of the modern pop music landscape. That means that Rihanna also has herpes. She has a history with Drake, so that means now he has herpes too. Drake had sex with Nicki Minaj one time, who I'm pretty sure also had sex with Lil Wayne, so now they've all got herpes too. Rihanna also allegedly had sex with Meek Mill, so he's got herpes, as does Rick Ross per his line in "Party Heart" where he says that he and Mill fuck the same chicks. Then A$AP Rocky is about to have herpes, because he and Rihanna are going on tour together in March and shit gets weird out on tour. Consider that all of these people are having sex with non-famous people in the towns that they're from, and they're not using condoms per the condition I introduced here. That means everybody has herpes because of hip-hop, including you. Sorry. I drew a chart, though. -DM
Honorable Mentions: Hair, Hedonism, Heroin Still Not Being Cool But Coming Closer I Guess, Hip-Hop Starts With H Also

I - Income
Hip-Hop is cool because it's secretly the best economic textbook you're going to find that doesn't use bullshit terms like "endogeneity" and "heteroskedasticity." It's the one genre of music where your end goal as an artist is to sell the most and also have the most critics like you, plus lots of rappers rap about drugs and stuff, and artificial, illegality-driven price inflation aside, the drug trade is the last great open market. Until you get caught. This year, the Most Hilarious Way Of Rapping About Money award goes to Wiz Khalifa, who throughout the course of his O.N.I.F.C. album smoked about a million blunts and bought probably eight million bottles at club prices, which as my main man The Kid Mero once put it, is just fiscally irresponsible. -DM
Honorable Mentions: Incredible Bongo Band Still Has The Most Important Drum Break In Hip-Hop, Iamsu! Made Better Music This Year Than Immortal Technique, Ian Cohen Is A Human Who Writes About Rap Music Whose Name Starts With I
J - Jews
I might personally be a member of the Goyim, but more rappers are Jewish than ever. The most famous Jewish rapper is quite obviously Drake, whose bubbe tragically died on Thanksgiving this year. Shyne is the second most-notable Jewish rapper. 100s is Jewish, and he's really cool. Mac Miller is also Jewish, and he's uh, well, he's Mac Miller. Rick Ross isn't Jewish, but he released The Black Bar Mitzvah, a really shitty mixtape where he used Jewishness as a visual pun. One time, a dude wrote an article for The Awl that criticized hip-hop for being kinda anti-semitic. On the other hand, you can't be a white dude and make generalizations about rappers being anti-Jewish without seeming kinda racist, so who knows. -DM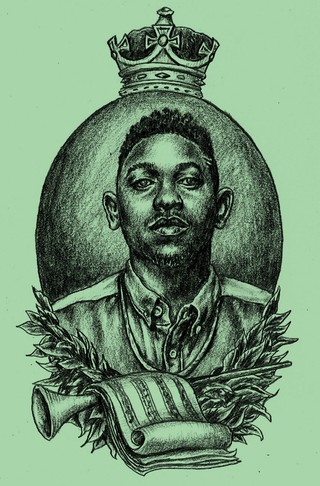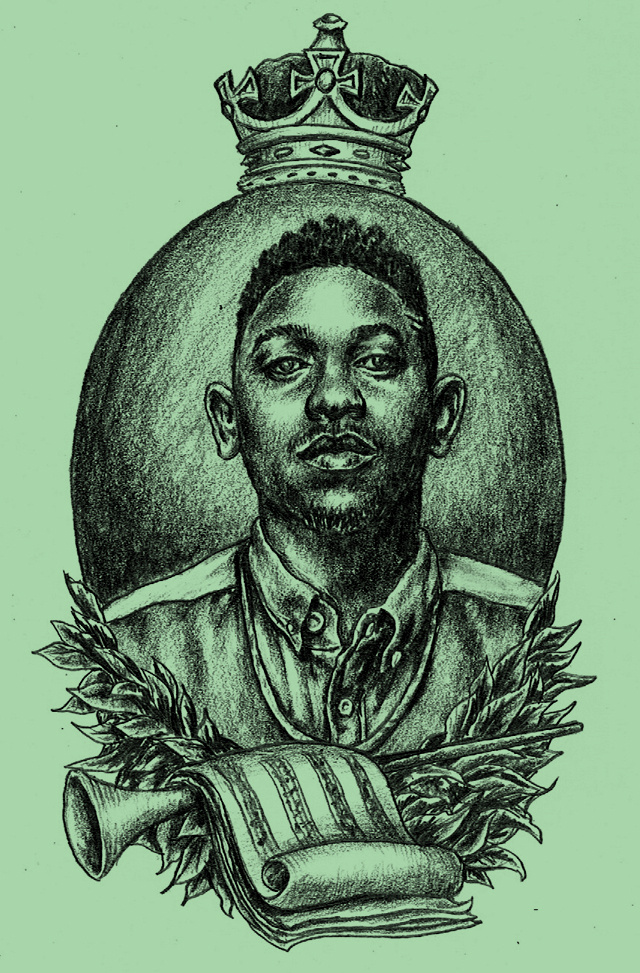 Honorable Mentions: Jay-Z Played The Barclays Center, Jeff Foxworthy Is The Opposite Of Hip-Hop, Jimmy Fallon Is Probably Sort Of Hip-Hop Because The Roots Are The Band On His Show



K - Kendrick Lamar
Yeah, we know. good Kid m.A.A.D. City is like the best debut album ever, or whatever. But when you were listening to it, did you ever wonder if Kendrick is a schizophrenic? The record kind of reminds me of that John Cusack movie where all the characters are just the split personalities of a serial killer. They say Kendrick developed good Kid like a short film. Still, maybe the record should be looked at more like Nutty Professor, considering he plays all the parts? I swear I heard his father fart in one of those skits somewhere towards the end of the record after finally getting his Domino's. That's the realest shit ever, because their pizza gives me mad gas. -WC
Honorable Mentions: Keef, Chief (Last Name Before First, That's That Shit I Don't Like) (Sorry) (Also What Chief Isn't Even A First Name Sorry Sorry), Did Krayzie Bone or Kurupt Do Anything In 2012
L - Love
Well, I'm not talking about actual love here. Being in love with a rapper would be insane because rappers are touring musicians, and dating one is tantamount to dating a cheat-on-their-significant-other machine. But I will totally love rappers metaphorically. Future's Pluto was a singular document, the product of a brilliant, seldom-understood mind. The brilliance of Future laid within his ability to craft crazy-as-fuck novelty songs that were the exact right shade of corny, doing so over stadium-sized beats that indicate the guy's got greater aspirations than Earth or even the solar system itself could hold (for one, he wants to go to Space Camp. I probably have equal love for 2 Chainz, who basically blew 2012 out of the water. Dude was straight-up on 98 singles this year, plus made an album and did a bunch of non-single guest verses on other people's tracks. I don't know how to verify this without making some poor intern spend like nine hours on RapRadar, but I'm pretty sure that means 2 Chainz made the second-most rap songs this year besides Lil B, and 2 Chainz'z songs were all way better per capita. -DM
Honorable Mentions: Livemixtapes.com Has The Best Streaming Music App, Lana Del Rey And A$AP Rocky Probably Boned So She Also Has Herpes Now As Per My Aforementioned Hypothetical Rap Herpes Outbreak Model, Lil B, Lil Cease, Lil Kim, Lil Wayne, Lil JoJo, Lil Reese, Lil Durk, Lil Wyte, Lil Dre, Lil Jon, Lil Eit, Lil Lody, Lil Rocky, Lil Ugly Mane, Lil Chuuuch, Lil Poopy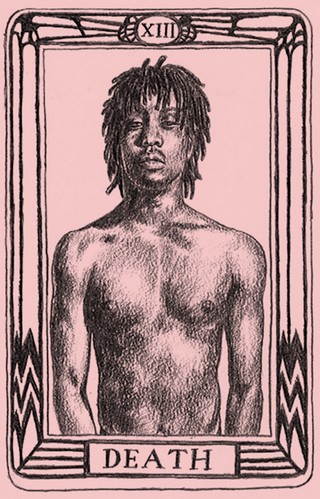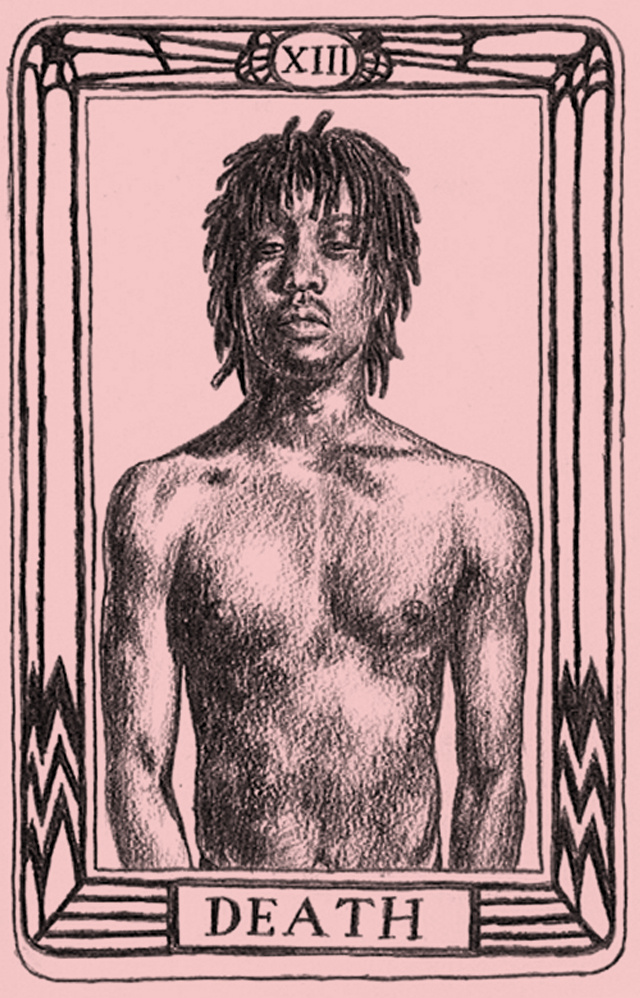 M - Murder
Rappers have been on that gangster shit since the 1985 banger "PSK," which features Schoolly D spitting about how him and his homeboy Chief Keith (the IRONY!) pull guns out on a sucker MC for biting his flow. But being a hoodlum on wax goes even deeper than that. Robert Johnson howled about shooting his pistol and his gatling gun on the track "32-20" way back in 1937. Basically, this shit is old hat. People have been killing each other in songs since people started writing songs. After the first songwriter ever finished the first song ever—which was about fucking, duh—he or she penned the second song ever, which was about killing. So the unrepentant murder talk coming from Chicago's drill music scene (You knew we were going to go there right? If you didn't, please read up on it here) shouldn't be surprising. People kill people, especially on the South Side of Chicago—which is probably why we should be paying close attention to what young people like Chief Keef and his cohorts are saying. Not in the sense that all of what they make is great music, even though I would argue that a lot of it is really good, but that it's a real window into the fucking war zone that is taking place in the middle of our country. This year's homicides in Chicago outnumbered the death toll in Afghanistan. Imagine growing up in that environment. When you keep that in mind, the drill scene doesn't seem irresponsible. It seems real. What's irresponsible are the people who write about this music and forget to mention where it is coming from. A lot of hip-hop is entertainment, which is fine. But it's at its most compelling when it's serves as a ghetto CNN for things happening in communities that are often ignored. Think about that the next time you hear that "Bang!" ad lib. -WC
Honorable Mentions: Mystikal, Meek Mill, Money Trees, m.A.a.A.a.A.a.A.a.A.d. city, Mero (The Kid)
N - New New York
New York hip-hop is back, and in a big way. After years of languishing in perpetual bridesmaid-dom, French Montana finally found real mainstream success, signed with Diddy, and made people who wrote him off as shitty Max B knockoff reconsider their position. Even if he never releases a real album (Excuse My French has been pushed back until March), everybody thinks his Coke Boyz t-shirts are awesome, and he accidentally invented the word "Fanute." Oh, and he helped unearth the miracle man that is Harry Fraud, who in many ways serves as a direct line from the mainstream to New York's new, weird underground, which is more vibrant than it's been since the halcyon days of Rawkus Records and Def Jux. But the thing is—and this is symbolized by Harry Fraud—there's way less distinction between overground and underground than ever before. You've got Action Bronson working with A$AP Rocky (the two are seriously the kings of New York right now, all due respect to French), who's working with Flatbush Zombies who are working with Children Of The Night who are working with Lakutis who's working with Mr. MFN eXquire who's working with Troy Ave who's working with Fabolous who's working with...oh, you get the point. That's a ridiculously diverse list of rappers, both established and new, working in a New York without borders. And it might be just a tad corny, but there's not really a better name for it than "New New York." Also, here are some more New York-based rappers and producers who deserve your attention right now: Angel Haze, YC The Cynic, Hot Sugar, Bodega Bamz, Chinx Drugz, Le1f, Cities Aviv, Prince SAMO, Cody B. Ware, Big Baby Gandhi, DVS, Meyhem Lauren, and my friend Dave. -DM
Honorable Mentions: Nacho Picasso, Nevona Friedman Rap Mogul, Never Smoke Anything That Waka Flocka Flame Gives You Even If It Looks Like A Clove Cigarette Or Something
O - Old Shit I Wish Would Come Back:
Samples. Holy fuck, do these amazing Action Bronson tapes not teach anybody anything? Make more songs with samples in them. Samples sound good. And rapping about food is good too. Do the shit we used to do at the same time while doing new shit. It's not hard. It's not about being old-school, it's really really really really not. It's just about waiting til you have something to show off in your music. Look at Kendrick. Joey Bada$$ knows what's up. Big K.R.I.T.'s a better producer then you think. OK I guess a lot of rappers used samples this year. They sounded really good. Do more of that. -Dan Weiss
Honorable Mentions: Omarion Signed To Maybach Music, Ol' Yeller Is Not A Very Hip-Hop Movie When You Think About, ODB Was Murdered By The Government, O.N.I.F.C. Sucked Dog Dick

P - People Who Shouldn't Be Writing About Rap Music Who Are Writing About Rap Music Anyway
Noisey's own Skinny Friedman (who also made the awesome mix you're hopefully listening to right now) already equivocated upon this topic, pointing out that latter-day rap writing is, "Chock-full of falsehoods, assumptions based on lack of context, mild racism and a general misunderstanding of the music and the culture." 2012 was full of these people. One of the tricks of becoming a better writer is being willing to learn from your fuckups, and also for the most part committing those fuckups somewhere where no one will ever be able to find them. Yet, lots of people wrote misleading and incorrect things about rap music this year, whether it was yet another pointless list, an exploitative profile, or just a dumb review that should have been assigned to someone with more knowledge of a scene. I'm not linking to any of of that bullshit because hate-clicking still counts when you're calculating web traffic, but you can probably think of some examples of terrible rap writing that came out this year. Great job, douchebags. -DM
Honorable Mentions: Puff Is Really Never Gonna Reassamble A Team Like Vintage Bad Boy Ever Again, Palm Pilots Are Not Hip-Hop
Q - Questions
Why is Rap Genius such a hot-button issue in hip-hop? Why do rappers keep putting out lines of headphones? Why do we still talk about Riff Raff? Why is Grime not more popular? Why is picking your nose not more socially acceptable? Why hasn't Lil B's rock album come out yet? Why does Complex keep making lists? Why don't The Underdogs produce more often? Why is hip-hop so homophobic when it's just a bunch of dudes hanging out together? Why is "God" just "Dog" spelled backwards? Why do rappers think it's okay to sip lean while they continually talk shit about heroin? Why does the burger place near my house have something called a "Hip-Hop Grilled Cheese Sandwich?" Why don't they just admit the rapper's gonna go on at midnight instead of lying and saying they're gonna go on at 9:30? Why do rappers lie in 85% of their rhymes? Why is ratting at an all-time high? Why are you even alive? -DM

Honorable Mentions: Q-Tip's Assertion That He's Doing A Joint Album With Kanye Is As Of Now Unsubstantiated, Queens Is Still The Best Rap Borough In New York, Quickdraw McGraw Was Hip-Hop As Fuck
R - R&B
It could be argued that music of any style is more or less as good as it is every year, it's only the amount of attention that's paid to it that changes. However, for whatever reason, we talked more about R&B in 2012 than we have for a hot minute. Frank Ocean united the stars and heavens while managing to nick a piano riff from "Benny And The Jets." Miguel did his freaky thing while atop the charts. The Weeknd re-released his skeezy bullshit and made a song with Wiz Khalifa for some reason. Those three stood out from the pack, half because their stuff was unlike anything else out there (including each other, please see the note on bad rap writing if you even so much as thought to compare them to each other), but half because people were told to pay special attention to Frank Ocean, Miguel and The Weeknd. The next time you're thinking of bumping "Adorn" for the gazillionth time, why don't you think about playing Jeremih's Late Nights tape instead? It blends the "Bunch Of Dudes Pumping Up This One Guy Who Sings About Being Really Good At Fucking" template established by great R&B albums of yore with some of the most forward-thinking production this side of vintage Timbaland. It's also free, which feels important. Anyways, as a general rule you should listen to more R&B because it always has the craziest production no matter what year it is. -DM
Honorable Mentions: Rick Ross Rapping "She Love My AdLibs" Then Adlibbing "Adlibs," Rap Music, R.I.P. To Pimp C, Rap Game Rory
S - Sweatshirt, Earl
We might have only gotten a few verses from Earl Sweatshirt in 2012, but goddamn if he didn't make them count. The rapper emerged from the Coral Reef Academy in Samoa something of a folk hero to teenagers, a Cool Hand Luke-esque symbol of a rebel spirit silenced. The problem is that that narrative wasn't necessarily true: In many ways, Samoa changed the young rapper the rapper for the better, giving him a sense of perspective that allowed him to ascend to the next level of rapdom, which is like being a Super Saiyan but way more realistic. Every verse Earl spat in 2012 was markedly better than anything he'd done before, culminating in "Chum," his astonishingly frank solo track where he pretty much lays it all out on the line for the listener. And while it's always tempting to saddle promising young rappers with unnecessary expectations—Is he the next Jay? The next Nas? The next Em?—2012 taught us that Earl Sweatshirt is nothing more or less than Earl Sweatshirt, and there's nothing we should ask of him beyond that. -DM
Honorable Mentions: Swerve, Swerve, Swerve, Swerve, Swerve, Swerve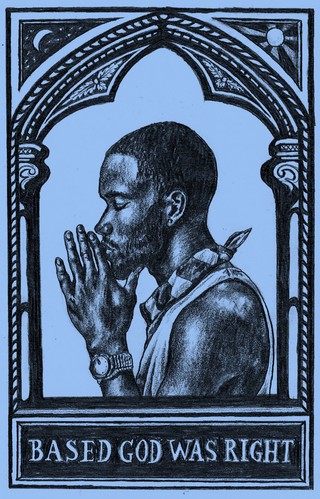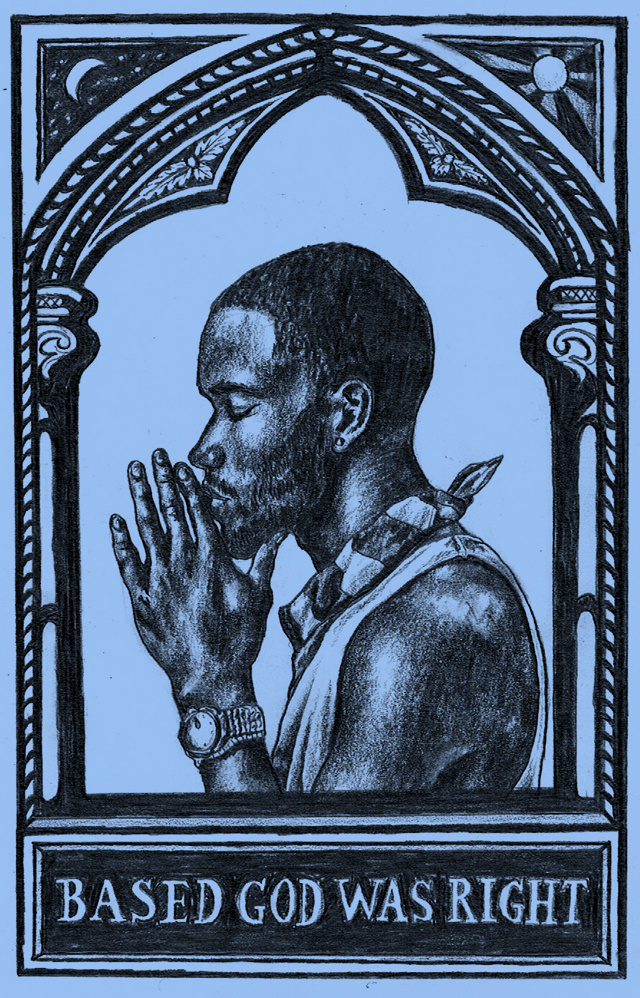 T - The Conversation We Have To Have About Queerness In Rap
How hip-hop's relationship with sexuality was even more complicated in 2012 than it's ever been. A few years ago, Cam rocking a purple mink and flowing over beats that had a distinctive shimmer to them was somehow progressive in that it was sort of different and not actively homophobic. Fast-forward a few years, and suddenly we've got honest-to-gosh queerness in rap. The big one is obviously Frank Ocean, whose Big Reveal earlier this year was that most of the love songs on channel.ORANGE were written about a dude. And now he's dating a Senegalese modelbro who's hot as shit. Then there's Le1f, the producer/rapper wunderkind who in a weird way recalls Mystikal, or at least that great line where Mystikal's like, "I ain't got no more ass, I rapped it off!" You should download his Dark York tape if you like rap that's progressive on its own terms, and watch any of his music videos if you like being visually confounded. Plus there's Mykki Blanco, the gender-fucking rapper whose mixtape The Illuminati Prince/ss is maybe the most sonically crazy thing to come out this year. Probably the most important next step in hip-hop's acceptance of queerness is that, in a weird way, we stop talking about it. Allow me to quote an article from Julianne Shepherd on Alternet a while back: For the media to continually point out that rappers are queer is to ultimately undermine their talent by otherizing them. She points out that we'd never refer to Bob Mould or Michael Stipe as a "gay guitarist" or a "gay singer," so why should we refer to Le1f as a "gay rapper?" As Ms. Shepherd put it, "I don't advocate whitewashing their identities, because they should be able to incorporate their identities to varying degrees, in whatever they please. But it would be nice if writers would write about rappers' sexual identities as nonchalantly as they do rappers who are, say, weed smokers." -DM
Honorable Mentions: TED Talks (Rap Will Have One Soon Probably And It Will Suck), Tender Trap Is A Bar I Went To A Bunch In 2012 That Played Lots Of Rap Music So Shouts Out To Them, Trapped In The Closet Sucked This Year
U - Underappreciated
I'd like to tip my hat to a few things in hip-hop that don't get enough props for making the music what is today. First and foremost, I'd like to say thank you to Fruity Loops, the free software used by some of the hottest young producers like Hit Boy and Young Chop to make some of this year's most exciting songs. I'd also like to thank YouTube and World Star Hip-Hop for hosting all the best music videos this year so I didn't have to suffer through Teen Mom or whatever it is they're playing on MTV these days. I want to give a shout to Twitter for helping humanize our favorite stars while also letting us into their inner circle of insane hubris and scandal. I'd also like to give a nod to Supreme, because without you guys giving out free shit, most of the world's favorite MCs would not be very fashionable. I want to show love to all the hipster white girls who have been popping up in rap videos. I love that. Please don't stop doing what you are doing. And finally, I wanna give a big wassup to the 40 oz. bottles of Old English. It's been a long time coming baby, all the way back to when Eazy E still had the 8 Ball rolling. Hip-Hop went through Cristal, Courvoisier, Armadale Vodka, Ace of Spades, Ciroc, only to come full circle right back to you. When I see you in the hands of guys like the Flatbush Zombies, A$AP Rocky, and Mr. Muthafuckin' eXquire, I get a warm feeling in my guts that hip-hop has finally gone back to its malt liquor roots. Cheers! -WC
Honorable Mentions: Ugly Rappers Are Still Cool, U-God Will Return And Knock The World On Its Ass in 2013, Unlikely, U See What I Did There?
V - Very Old Men
The weird thing about 2012 is that there were a shit-ton of dudes with hits on the charts who were about a billion years old. 2 Chainz was a lot of the reason that the average age of radio rappers this year was like 38. Meanwhile, Rick Ross has been pretending to sell drugs for like ten years, Kanye West is secretly 35 even though he looks probably 28, Juicy J is the number-one terrible influence upon the nation's youth at the age of 37, and Danny Brown is famously over 30 and only now peaking. Also, if you haven't figured it out "Old" in hip-hop means you're over 30. -DM

Honorable Mentions: Vast Aire And Vordul Reformed Cannibal Ox And It Was 20 Minutes Of Perfection, Victor Vazquez Is A Good Rapper Whose Name Also Starts With V, Very Difficult To Think Of Some Other V Rap Thing
W - White Girls
I know it's a bit offensive to group a bunch of artists together just because of their shared racial identity, but that's how this thing called "music journalism" works. Sometimes you have to squeeze all the square pegs you can into one tight round hole so you can create something discernible and digestible for people who are not in the know, or it's just a golden opportunity to be lazy. I also wanted to do this category just so I'd have an excuse to come up with a bunch of phrases that mean white girls.
So yeah, 2012 was a good year for snow bunnies to get busy on the mic. Vanilla vixens like Kitty Pryde and Brooke Candy came on the scene via YouTube videos that touched our heart and freaked us out, respectively. White Girl Mobber (we didn't make that up) Kreayshawn finally dropped her debut album and fell out with her longtime friend and fellow pasty priss V-Nasty, who also put out a record this year with FUCKING Gucci Mane. Then there was frosty female Iggy Azalea, who dropped her debut Glory EP for T.I.'s Grand Hustle imprint, which featured a cover that wasn't sexy at all and kind of reminded us that movie Stigmata. All around, it was a solid year for people with vaginas who are melanin deficient and also happen to rap. We hope in 2013 we will feel even stupider than we do now for having this category because hopefully by then it will have ceased to be a novelty or notable thing to be a white chick who knows how spit. But until then, "Viva La White Girl." -WC
Honorable Mentions: Wiki, Waka Flocka Flame, Wilbert L. Cooper, Wesleyan Has Produced A Surprising Amount Of Good Rappers, Weezer Is Not A Rapper But One Time They Made A Song With Lil Wayne
X - X, DM
Can I just say that DMX is wonderful? 2012 will go down in rapdom as the year in which DMX barked his way back into our hearts. He went back out on tour last winter, performing a sold-out New York show at S.O.B.'s that was legendary as fuck, plus he finally came out with a new album, and also he made a video in which he couldn't figure out how to use a computer. Why the sudden surge in Dark Man X's popularity? For one, everybody (including kids) loved DMX up until like 2004, when he kinda fell off the face of the earth. Now we're all older and are really into nostalgia, so shit like watching DMX beat-box Rudolph The Red-Nosed Reindeer hits all the right pleasure centers in our brains. It sucks that nobody actually listened to his new album Undisputed, because it was actually pretty good. -DM
Honorable Mentions: The XX is kinda hip-hop in a weird way, A Rapper Will Never Win The X-Factor
Y - Youth
There have always been super-young MCs, and some of them were really great—like L.L. Cool J before he went bald and starred in rom-coms or Lil Wayne before he ran out of poop metaphors. But it did seem this year that emerging hip-hop was run by freshly-pubescent people, right? Just a short list of the tots of 2012 is pretty astounding: Chief Keef (17), Joey Bada$$ (17), and SpaceGhostPurrp (21), Kitty Pryde (19), et cetera—it kinda makes me feel old listening to music made by people who are too young to know what Pogs were. But it's exciting too, partially because it represents all the non-pornographic doors the internet has opened up for humans. With a little broadband, you have all the tools you need to create, market, and distribute your music so effectively big record corporations will come to you with hilariously lucrative contracts that give you a lot of artistic freedom to just keep doing what you've already done. But there are downsides too, like the fact that a lot of these rugrat rappers that are buzzed about haven't had a chance to hone their live skills, or their music, rightfully so, has the emotional depth of a page from an idiozoid teenager's diary. Or, even worse, blowing up so fast ultimately stifles their artistic evolution. But whatever, these young guns are making hip-hop feel like punk rock again. Plus I hate the idea of people struggling forever to "make it" or participate in obligatory "due-paying" rites of passage. The Lost Boys (with Tyler, the Creator probably serving as their Peter Pan) have already broken down the gate, and hip-hop has never sounded better. -WC
Honorable Mentions: Young Buck, Young Dro, Young Dolph, Young Jeezy, Young Joc, Yung LA, Young Fame, Young L, Young Scooter, Young Thug, Young Sam, Young Stunnaz, Yung Joey, Yung Seph, Yung Trend Settas, Yung Trill, Young Money, Yung Groupon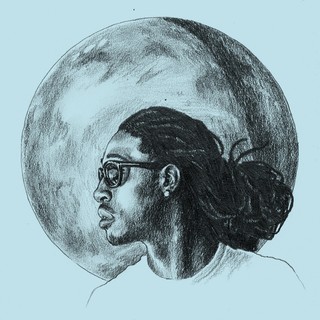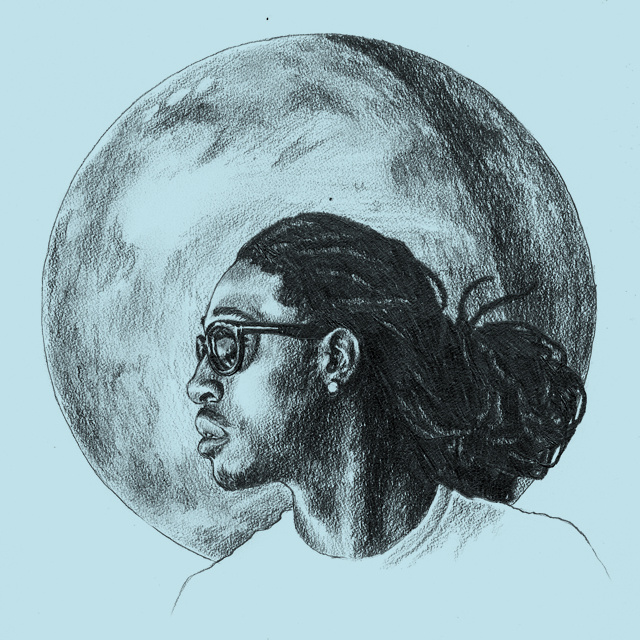 Z - Z Is The Letter Where We Say What Was The Best This Year
If this were high school, this would be where the Senior Superlatives would go. A$AP Rocky would win Best Dressed. 2 Chainz would win Most Outgoing. Drake would win Most Resembling a Human Thumb. But rap (or life, for that matter) isn't high school, so instead here's what was the best this year. Frank Ocean's channel.ORANGE was the best album in that it was probably the most important, and also most of the other music websites said it was the best, so that makes it Best too. My favorite album was Future's Pluto, but mine is just a single voice in a sea of very opinionated people, all of whom are pretty convinced they're right. The best songs of the year were Kanye's "Mercy" and Trinidad James' "All Gold Everything." Kanye gets a nod because "Mercy" was essentially the Lord Of The Rings trilogy of rap songs in that it's amazing and somehow justified the probably-insane amount of money it must have cost to make the thing, while "All Gold Everything" is really important because it represents the apotheosis of buzz-rap culture and serves as ultimate proof that a rapper can get ahead as long as they're in the place at the right time and dress all crazy. Action Bronson and Riff Raff's "Bird On A Wire" was great too, but there isn't really an explanation for its awesomeness other than it was just really fucking good. Verse Of The Year goes to Gunplay on Kendrick Lamar's "Cartoon And Cereal" for fairly obvious reasons involving Gunplay being the best, but also 2 Chainz was really good on Young Jeezy's "Supafreak," which Young Jeezy thought was a song about selling crack but 2 Chainz realized was just a song about 2 Chainz. Rick Ross's Rich Forever, Meek Mill's Dreamchasers 2 and Jeremih's Late Nights were the best mixtapes. The best music videos were Chief Keef's "I Don't Like," A$AP Rocky's "Goldie," and Killer Mike's "Big Beast." Wiz Khalifa and Miguel had the best hair. -DM
Honorable Mentions: Are You Fucking Kidding Me No We're Done Here Have A Happy New Year You Sadist
Meaghan Garvey is an artist living in Chicago. She tweets at @moneyworth
Skinny Friedman is a renowned DJ and frequent Noisey contributor. He's on Twitter - @skinny412
Wilbert L. Cooper works at VICE, find him at @wilbertlcooper
Drew Millard got way too excited about finding pasta salad with tuna in it the other day and his Twitter is @drewmillard
Dan Weiss helped write lots of the jokes in the Honorable Mentions and tweets at @kissoutthejams