Meet Geronimo: LA Musicians' Go-to Girl for Cool Threads
A one time merch girl for Rilo Kiley and a former Rodarte intern, Jenny "Geronimo" Reyes' designs have been worn by Jenny Lewis, Haim, The Veronicas, Azure Ray, Z Berg, and Winona Ryder…

Jenny "Geronimo" Reyes. Photo by Chloe Aftel.
I recently met up with the Philippines-born, LA-based designer Jenny Reyes, to talk about her label, Geronimo—which is actually her middle name—and all the awesome artists she's been decking out in her vintage-inspired threads. After years of customizing old t-shirts and selling her garments on tour with Rilo Kiley, the former Rodarte intern's designs as Geronimo have been worn by Jenny Lewis, Haim, The Veronicas, Azure Ray, Whispertown, Wardell, Z Berg, Alexa Chung, and Winona Ryder, among others. No biggie. Jenny is 4"11, largely self-taught, and infectiously excitable. Hanging out with her and flicking through Jenny's pin-up girl-cute collections, it's easy to see why the 31-year-old's high profile fans have been so enthusiastic and supportive. Order a bathing suit from her online-only store and it'll be made-to-measure and sveltely fitted, cut together from specially sourced vintage fabric. For Jenny, music—and specifically, her lack of musical ability—has been a key source of inspiration.
"I've always wanted to be a musician, but I can't sing and I can't play anything, so the closest thing was to make clothes for musicians," she explained. "You know "Tiny Dancer" by Elton John? I would listen to that on repeat when I was younger and there's that line where he says she was a seamstress for the band. When I was 10, I was like, 'That's what I want to be when I grow up.' Weirdly, I kind of made it happen."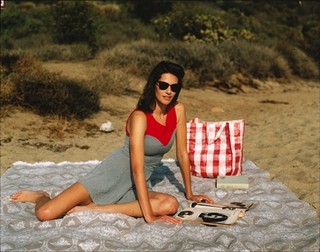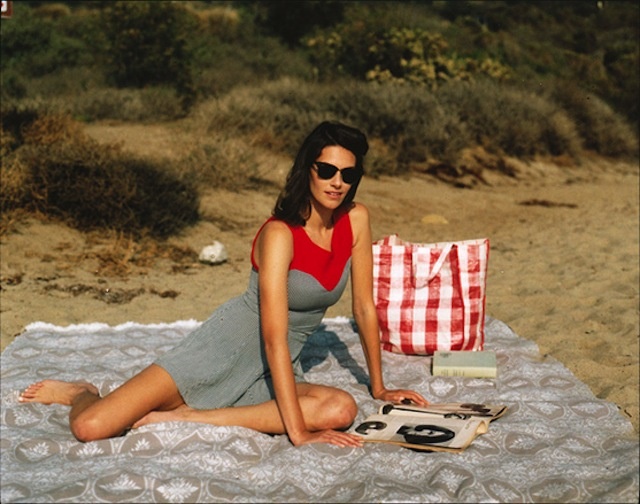 A two-piece outfit from Geronimo's current collection.
Noisey: Your pieces are clearly very vintage inspired. When did this fascination with secondhand clothes start?
Jenny: I was 12 or 13 and I wanted to go to thrift stores and garage sales so bad, and my mom kind of had a freak out. She was like, "I'll give you my Montgomery card, and you can buy whatever you want, just please don't go to a thrift store!" I was like, "No mom, this is great, it's so cheap!"
She didn't want you shopping there because she thought it was icky? Certain cultures are like, "Why would you want to wear secondhand clothes when you can buy new ones?" But of course it's not about that.
Exactly. My dad took me to this vintage store in the valley called Iguana and it's this huge warehouse and I fell in love with everything. Little by little my parents would take me out, and when I started driving, I would go to Goodwill and Salvation Armies, and buy vintage dresses and cut them up. When I was 16, I went to visit my grandma in Chicago and I asked her all these questions about sewing, so she took me to a sewing class and started teaching me. I had a lot of gay guy friends in high school and one of them was named Ricardo. He would be like, "Let's go to a thrift store. I want slim clothes, I can't find them, so let's make it slim." So I would take shirts and cut the sides and make them slim. That's kind of how my high school was: I was making clothes for my friends. After I graduated, I used to go to shows and that's when I became friends with Jenny and Blake from Rilo Kiley.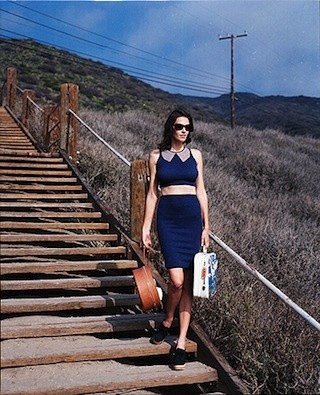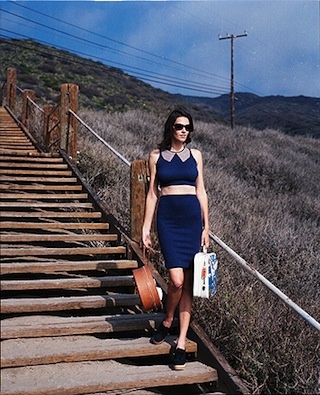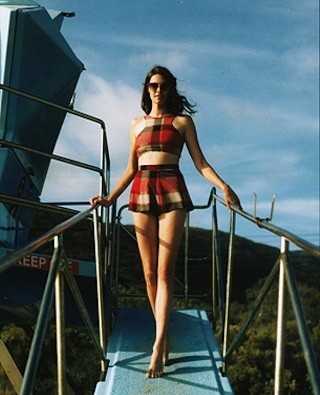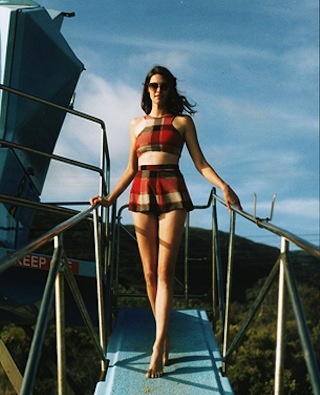 So how old were you then?
I was probably 20. I remember sneaking into Spaceland, using my sister's ID. I'd sneak out at 11PM when my parents were sleeping, and my friend would pick me up, and I'd come back at like 2.30AM. That's how my adolescent years were. Then, around the time of Rilo Kiley's second album, when Jenny first started to tour, she asked if I could make her clothes. I used to make her these crazy t-shirts, and she would actually wear them. One time she told me she wore them in Omaha and she was like, "Girls are freaking out about what you're making." Blake [Sennett, Rilo Kiley] had this genius idea of taking extra large t-shirts that no one was buying, and I would make them into dresses and skirts. It was very 80s—I'd cut off the sleeves—and I'd sell so much at shows. One time they had this show and Blake was like, "Here's a s**t ton of t-shirts, do whatever you want with them, sell them at our show." I told him I'd never been to Europe, he was like, "You have to go to Europe," and I was like, "I don't have that kind of money, I work at a chocolate store!" He was like, "Get these shirts, make them into whatever you want, sell them, and keep the profits." So I'd do merch for them and at their show at the Amphitheatre in LA, I made $2,000 in 10 minutes.


Jenny: "I found this red plaid on eBay and it's vintage Lyrca. They had 300 yards and I bought them all. Every season I make a red plaid bathing suit."
You made it to Europe, presumably?
Yeah. My friend at the time was selling her plasma—she was selling blood for a living—and she came with me! She has a rare blood type, so she would go twice a week and sell it for $300 a time! She did that for about a year. So that's how I went to Paris for the first time.
So Rilo Kiley's encouragement was pretty key to kicking off your career?
Absolutely. We would have sewing these parties at Jenny's house with her friend Morgan, who's in this amazing band called Whispertown. I'd bring my sewing machine and they would drink wine. I would be sewing because I don't like wine, and then we'd make dinner and try on all these thrift store clothes. It was just like, "I'll buy this because I know I can make it smaller and shorter." Which brings me to Jonathan, Jenny's boyfriend. When I started Geronimo, he was like, "What's Geronimo? I thought your clothing line was called Shorter and Tighter? Isn't that what you always say with Jenny? I always hear you saying "Shorter! Tighter!"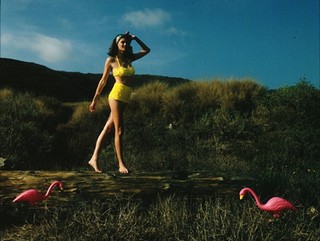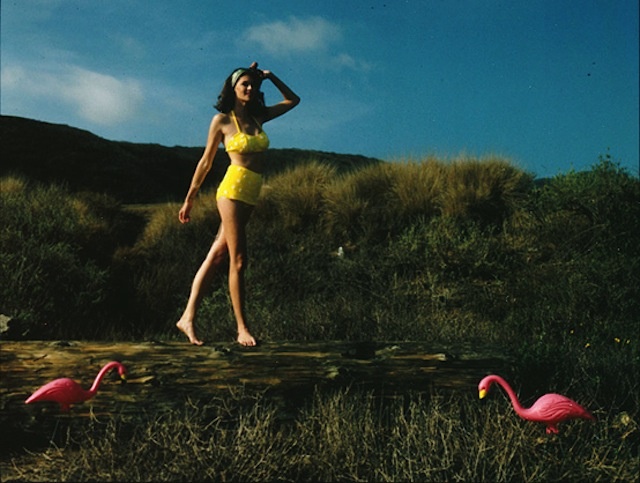 What was the initial inspiration for your first collection?
At the time I was obsessing about high-waisted, vintage bathing suits and no one was selling them. I'd go on eBay, buy them, and study how they were made and what kind of fabrics they used. Jenny [Lewis] was like, "Jenny you're making bathing suits, but you don't know how to swim." I'm scared of the water and I grew up in the Philippines, which is an island! But I grew up in the city and I didn't go to the beaches. She was like, "You're a hypocrite, you're making bathing suits and you don't know how to swim!" and I was like, "Then I'm gonna make loungewear!"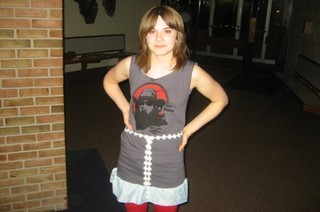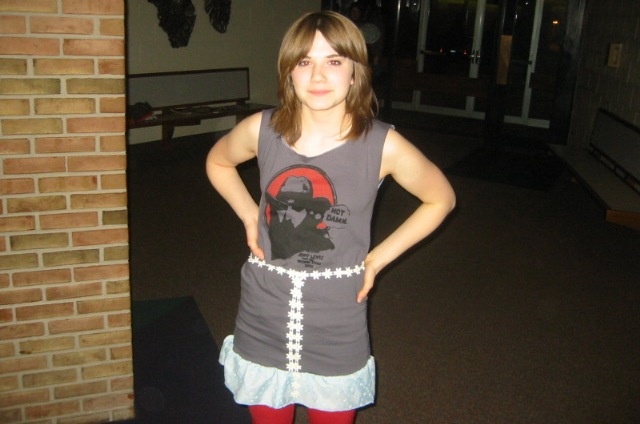 One of Geronimo's early customized t-shirt dresses.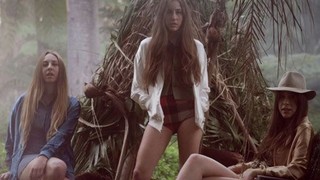 Haim on set for the video for "Falling."

"I've been friends with Haim forever because they're also from the Valley. I met Danielle when she was on tour with Michael Runion and they were opening up for Jenny Lewis. Her sisters are so cool."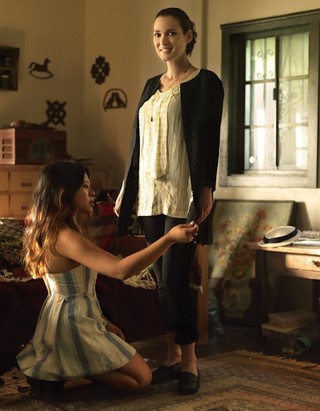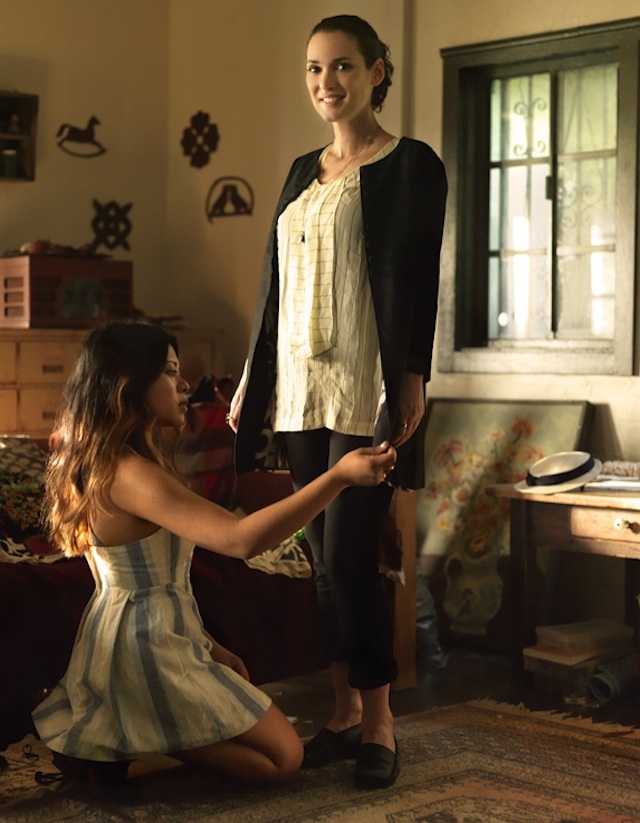 Jenny and Winona Ryder. Photo courtesy of 'Bust' magazine.
"That's Winona. She was my roommate for three years. I was so nervous because Bust magazine wanted to do a feature on Geronimo. I hate having my picture taken and she was like, 'I'm going to come with you.' She helped me so much. She was like, 'I know how this photo is going to be. You're going to pin things on me…' and they did it! That's all my stuff apart from the pants. We'd watch old movies. She's an encyclopedia of film. We watched Funny Face, we'd watch Sunset Boulevard once a week, All About Eve and I Can Get it for You Wholesale. I feel like that's how we connected. She's so into vintage and so am I. She has this amazing closet and I would just go in there and feel for textures and see how things were made."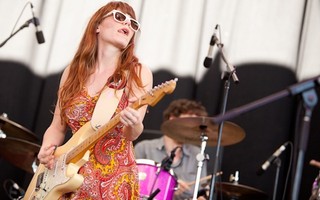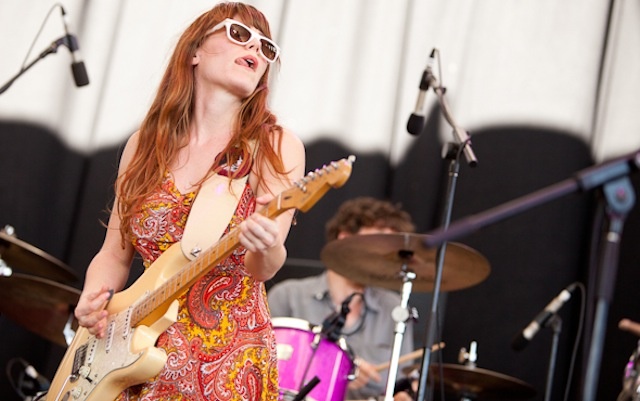 "That's Jenny on her Australian tour. It's a bathing suit made of vintage fabric from the Philippines."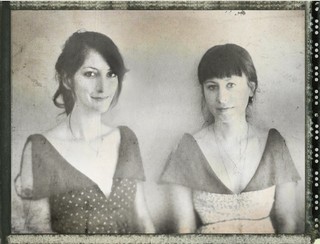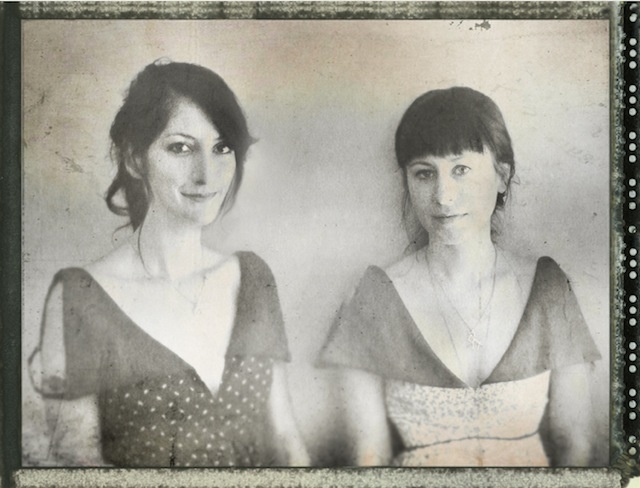 "Again I met Orenda Fink [left] from Azure Ray when she was on tour with Rilo Kiley. She wasn't into dressing up so when she met me, we'd go thrift store shopping on tour. After the tour she was like, 'You've changed the way I dress. Now I know how I need to be in front of people—like you need to look nice.' Now she goes to thrift stores and her husband Todd Fink from The Faint bought her a sewing machine and they sew together. She actually named my company. I was wracking my brain and she was like, 'Just call it Geronimo.'"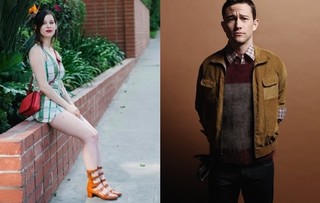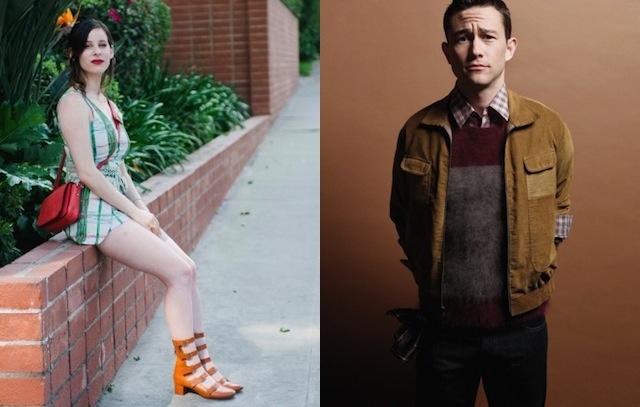 "That's Sasha Spielberg and she's in a band with her brother called Wardell. I met her through my friend Stef who's in a band called Big Harp. She was in a band with Zoe Deschanel. SO that's how Sasha met Stef and then Stef would wear Geronimo. I met her a few months ago and we were instantly BFFs. She's so rad and she's been really supportive. That fabric is from the 70s and it's stretch cotton. That's Joseph Gordon Levitt for Blackbook [left]. I did menswear for one season with Nick White from Tilly and the Wall. We'd get together and this jacket was one of the results. Menswear is hard!"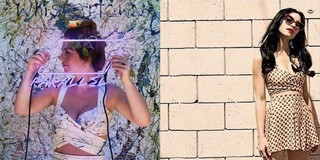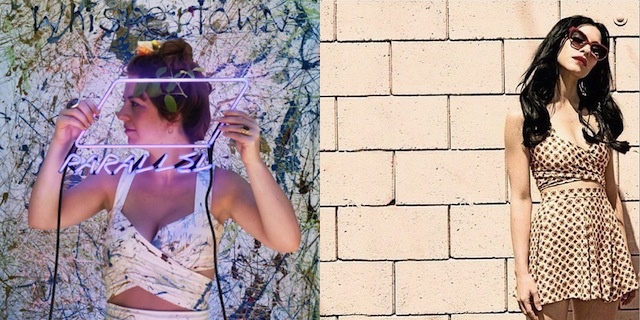 "This is Morgan from Whispertown. It's made of linen and her brother, who's an artist, painted over it. On the left is one of The Veronicas."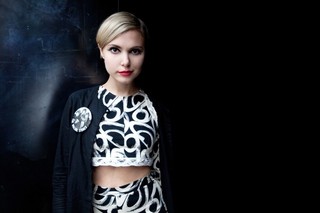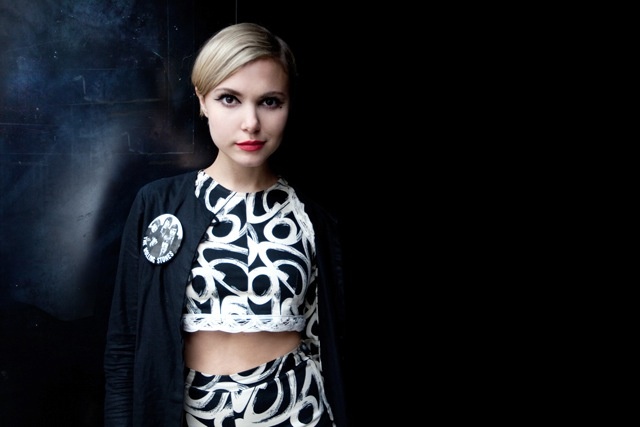 "This is Z Berg from Jjamz / The Like. She's such a Geronimo girl. She's beautiful and has an amazing presence and I love the way she carries clothes."
Check out the rest of Geronimo's awesome designs, both past and present, here.
Kim has already placed her order. She's on Twitter - @theKTB.
Style Stage is an ongoing partnership between Noisey & Garnier Fructis celebrating music, hair, and style.