Listen to the Murky But Melodic Pop of Steep Leans
Steep Leans is the Boston-based project of Gray Somers and the latest signee to Wavves' label Ghost Ramp.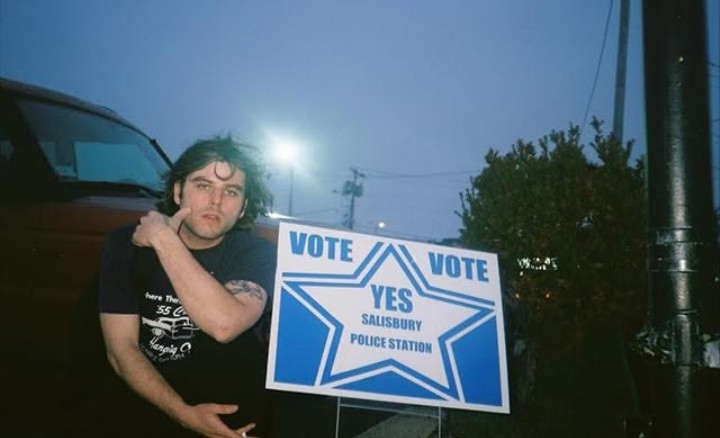 Steep Leans is the name Boston multi-instrumentalist and songwriter Gray Somers gives his murky but melodic pop.
Assorted Steep Leans recording problems has caused Somers some steep headaches over the last few years he's finally about to release his debut album Grips on Heat.
Released on Wavves' Ghost Ramp label, the original recordings of Grips on Heat was done with Jonny Schenke from the band Eaters and producer of Parquet Courts' Light Up Gold, but added problems resulted in a more DIY recording style in a practice space outside Boston.
The important thing is that the record is out and its mix of moody surf-rock and lo-fi is a winner. Listen below, read a short interview with Somers and check the upcoming tour dates he is playing with Wavves.
Noisey: How does it feel to finally have the album released?
Gray Somers: It feels like burning a bunch of garbage that needed to be thrown away, or like I put a sick animal out of its misery. It feels good. It was something that sort of got drawn out for logistical reasons. It wasn't like the world's darkest recording process or anything. It wasn't Madcap Laughs or Rumors, but there was just a bunch of factors that had to do with moving around a lot that made it hard to get done and songs sort of got dragged through the mud and then cleaned off.
How did you end of losing the original recordings?
My computer broke and these idiot computer repairmen in Beacon Hill wiped out my external hard-drive. I was too busy working at a bar for Judge Joe Brown or whatever at the time. On top of that, I couldn't afford to record anymore with Johnny (who had recorded it thusfar in Brooklyn at a studio), and it would have sounded really disjointed if I mixed studio recordings with the sort of DIY set up we had in this practice space in Somerville.
How did you become friends with Nathan Williams?
As of today I've never actually even met Nate, sans goofing off on the Internet. The music ended up in his hands and voila. He's definitely been super awesome and supportive. Especially bringing us on this tour right after putting out this album. That's huge. We're also the same age. I think he smokes a lot of weed and I don't really smoke weed, but that's like 95-percent of people I know. I'm sure we'll be simpatico.
Does "Rain Delay" have to do with waiting at Fenway Park.
Haha. Definitely not. Fuck all that Red Sox nation shit. I recorded the original demo on a rainy day in Philly. Philly is my spot.
'Grips on Heat' is available Sep 21 through Ghost Ramp.
Steep Leans Tour Dates:
Sept 21 - Madison, WI at Majestic Theatre
Sept 22 - Minneapolis, MN at Varsity
Sept 24 - Milwaukee at Rave
Sept 25 - Chicago, IL at The Vic
Sept 26 - Detroit, MI at Majestic Theatre
Sept 27 - Toronto, ON at Opera House
Sept 29 - Columbus, OH at Newport
Sept 30 - Philadelphia, PA at TLA
Oct 2- Brooklyn, NY at St Vitus
Oct 3 - New Haven, CT at College Street Music Hall
Oct 5 - Boston, MA at Paradise
Oct 6 - New York, NY at Irving
Oct 7 - Washington DC at 930 Club
Oct 8- Chapel Hill at Local 506
Oct 9- Athens, GA at 40 Watt
Oct 11 - Houston, TX at HOB Peacock