The Video for "One Wing" by Beau Is Very Bertolucci Meets Wes Anderson
Oh to be young, beautiful, and lounging.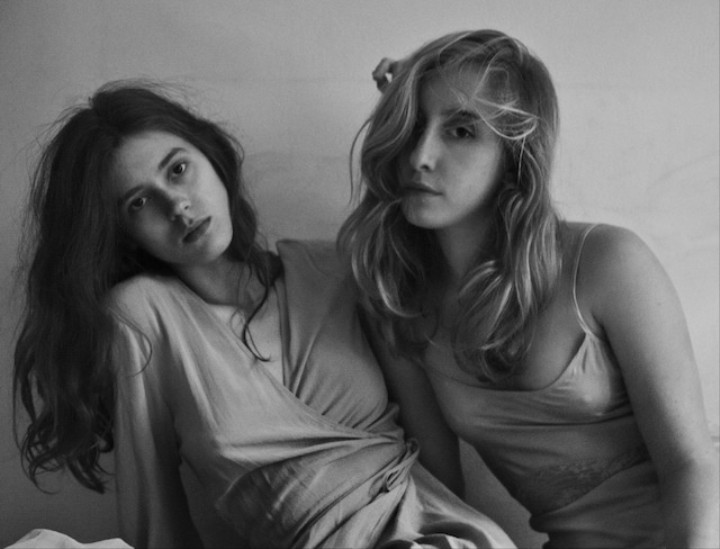 Look at these two—casually lounging, does eyes looking down the barrel of the lens like, what? Heather (brunette) and Emma (blonde) make up Beau, an NYC based duo who create a languorous kind of folk-pop. Like when you're day drunk in the sun and your brain stumbles across a memory that makes your tummy ache a little and suddenly the sky seems a little less blue. (Apparently the duo are well connected with Heather having been shot by Gia Coppola for a recent Opening Ceremony campaign, not to mention previous collaborations with Ryan McGinley and French mag, Purple.)
Thus far there are only three Beau tracks on Soundcloud and below is the premiere of the video for "One Wing," which, in its initial slender verses manages to enthrall with just a guitar and Heather's tones—which are once delicate and fulsome. Think Lana meets Laura Marling. No wonder French tastemaker label, Kitsuné, snapped them up. Meanwhile the visuals that accompany this song really take Beau to the next level. With its slow zooms meticulously framed and sets which look very much like the inside of the Tenenbaums' household, the duo hang in a melancholic stasis.
But it's not all about being beautiful in sadness—there's a dark twist that comes at the midpoint: a severed something and the slow spread of blood. Just watch.