Find out how you can help and while listening to remixes by D33J and Odd Nosdam.
Planning a tour is one of the biggest challenges a band has to face. Months and months of planning goes into this endeavor with, typically, not much fiscal incentive or health benefits. You're lucky if you break even on your tour and even luckier if you make some cash to put towards your band fund. The memories are great, the shows can be good, and you can gain some exposure for your band, but logistically, there's more of a loss than a gain.
With that understanding, one of the worst fears of a touring musician is getting their gear stolen. The loss exponentially grows into something beyond finance. It turns into thousands of fans disappointed not being able to see their favorite band, venues upset that the show has to be canceled, and a huge slap in the face to the artist. Sadly, this is exactly what happened to El Ten Eleven (Outside of their studio, in broad daylight) just three days before the start of their tour and a week before the release of their new remix album, Transitions Remixed.
El Ten Eleven has created a series of pre-order packages of Transitions Remixed with a handful of cool extras like a lifetime guest-list spot. The album will be completely steamable via their Bandcamp as of tomorrow, and available for purchase on April 9th through Fake Record Label which features remixes by Slow Magic, Com Truise and many others. And despite their gear loss, El Ten Eleven just graced us with two exclusive downloads from Transitions Remixed, from two Anticon artists, D33J and Odd Nosdamn. Check below for downloads, El Ten Eleven's tour dates (yes they are still going), and more information about the stolen gear.
Transitions Remixed will be available tomorrow from Fake Record Label, and will hit all other digital stores on April 9.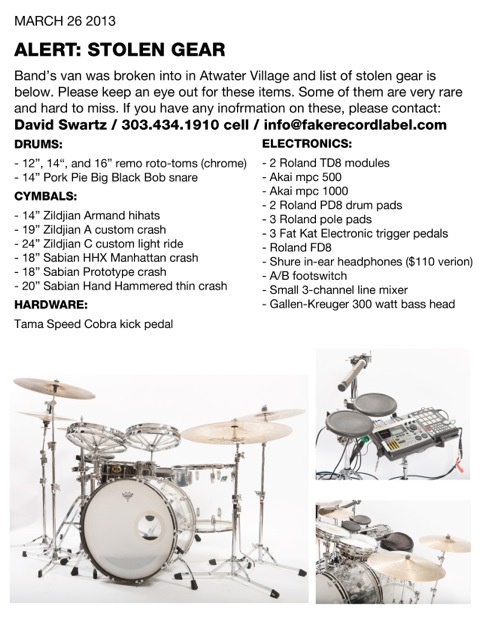 El Ten Eleven Tour Dates
April 2 - Oklahoma City, OK @ Conservatory - Tickets (AA) *
April 3 - Oxford MS @ Proud Larry's - Tickets (18+) *
April 4 - Nashville, TN @ Exit/In - Tickets (18+) *
April 5 - Athens, GA @ New Earth Music Hall - Tickets (18+) *
April 6 - Tallahassee, FL @ Club Downunder (FSU) - Info (18+) *
April 7 - St. Augustine, FL @ Cafe Eleven - Tickets (AA) *
April 9 - Tampa, FL @ Crowbar - Tickets (AA) *
April 10 - Miami, FL @ Bardot - Tickets (21+) *
April 11 - Orlando, FL @ The Social - Tickets (AA) *
April 12 - Columbia, SC @ New Brookland Tavern - Tickets (AA) *
April 13 - Asheville, NC @ Isis Music Hall - Tickets (18+) *
April 14 - Richmond, VA @ Strange Matter - Tickets (18+) *
April 17 - Burlington, VT @ Signal Kitchen - Tickets (18+) *
April 18 - Montreal, QC @ O Patro Vys - Tickets (18+) *
April 19 - Toronto, ON @ The Garrison - Tickets (19+) *
April 20 - Rochester, NY @ Bug Jar - Tickets (18+) *
April 25 - Boulder, CO @ Fox Theatre - Tickets (AA) #
April 26 - Denver, CO @ Ogden Theatre - Tickets (16+) #
April 27 - Salt Lake City, UT @ Urban Lounge - Tickets (21+) #
April 30 - Vancouver, BC @ Commodore Ballroom - SOLD OUT #
May 1 - Seattle, WA @ Showbox (Market) - Tickets (AA) #
May 2 - Portland, OR @ Crystal Ballroom - Tickets (AA) #
May 3 - San Francisco, CA @ Warfield Theatre - Tickets (AA) &
May 4 - Los Angeles, CA @ Fonda Theatre - #
May 5 - Los Angeles, CA @ El Rey - Tickets (AA) #
May 6 - Solana Beach, CA @ Belly Up - #
May 9 - Austin, TX @ Emo's East - Tickets (AA) #
May 10 - Dallas, TX @ House of Blues - Tickets (AA) #
May 11 - New Orleans, LA @ Tipitina's - Tickets (18+) #
May 16 - Louisville, KY @ Zanzabar - Tickets (21+) %
May 17 - Cleveland, OH @ Grog Shop - Tickets (AA) %
May 18 - Pittsburgh, PA @ Club Cafe - Tickets (21+) %
May 19 - Detroit, MI @ Magic Stick Lounge - Tickets (AA) %
May 20 - Grand Rapids, MI @ Pyramid Scheme - Tickets (18+) %
May 22 - Evanston, IL @ SPACE - Tickets (AA) %
May 23 - St. Louis, MO @ Firebird - Tickets (AA) %
May 24 - Columbia, MO @ Mojo's - Tickets (AA) %
May 25 - Kansas City, MO @ Record Bar - Tickets (18+) %
June 1 - Flagstaff, AZ @ Hullabaloo - Info
June 7 - San Antonio, TX @ The Korova - Tickets
June 8 - Houston, TX @ Fitzgerald's - Info
* with Slow Magic and Nude Pop
# with Bonobo
& with Bonobo and Erykah Badu (DJ Set)
% with Michna and Nude Pop