From Pop Punk Frontman to Young Adult Author, Frank Portman Is the King of the Dorks
The Mr. T Experience frontman talks about his new book, 'King Dork Approximately.'
If you judged Frank Portman (a.k..a Dr. Frank), singer-songwriter of the Mr. T Experience and author of the new novel King Dork Approximately, like a book by its cover, it's unlikely you'd peg him as a young adult novelist or pop punk pioneer. On a recent foggy night, Portman, 50, ambled into Oakland's Café Underwood wearing a rumpled khaki jacket and short-cropped hair, looking more like an art history professor than a punk. The only hints that he could whip a mosh pit into frenzy if needed were his beat-up black Chucks. On the eve of the publication of KDA, his third book and the sequel to his debut novel, 2006's King Dork, Portman orders a tallboy IPA and confesses that he hasn't been having the most glamorous day.
"I have King Dork T-shirts to promote the book, and I spent the day folding them," he says. "The romance of being in a rock 'n' roll band versus the reality of it is that it's a lot like working in the GAP. You spend a lot of time folding T-shirts. Apparently the same goes for being a novelist. I was folding with my girlfriend all day, and telling myself, 'This is the writer's life.'"
Before Portman was a T-shirt-folding YA darling, he was the longtime T-shirt-folding frontman of the Mr. T Experience (MTX to their fans), a band that emerged from the East Bay's fertile Gilman Street scene in 1985. After Operation Ivy disintegrated and Green Day jumped to the majors, MTX soldiered on and became Lookout! Records' unofficial pop punk flagship band. As MTX's founding (and only constant) member, Portman earned a reputation as a songwriter with a flair for tightly constructed songs with witty wordplay. Lyrics like "My happiness is infinite/when my life has this nymph in it," and his ballad "Even Hitler Had a Girlfriend" established him as a wordsmith in the vein of Cole Porter and Noël Coward, rather than Ian MacKaye or Jello Biafra. In the 90s, MTX released a string of razor-sharp pop punk LPs, but the band's productivity came to a grinding halt in the new millennium.
"It's not a coincidence that MTX's last album [Yesterday Rules] came out in 2004, which was, in my experience, the first post-paying-for-music year in history," Portman says. "Figuring out how to justify the existence of rock 'n' roll recordings has been challenging. Since then, I've done little musical releases around my books. It's a weird inversion: I have the literary career because of the band, and now the band can continue because of the literary career." Just last week, Portman released a song called "King Dork Approximately" as a cassingle on Mooster Records, and anticipates recording a new full-length LP with MTX in the new year.
Portman had his first taste of mainstream success in 2006 with the publication of King Dork. The novel was praised by critics and embraced by teen and adult readers. Will Ferrell and Adam McKay quickly snapped up the film rights (a movie with different producers attached is in the works). "That book took everybody by surprise," Portman says. "It felt like your hometown baseball team finally winning after years of losing."
The two King Dork novels chronicle the misadventures of two California high school sophomores, Tom Henderson and his friend Sam Hellerman, and their quest to play rock 'n' roll and attract the fairer sex. Like Holden Caulfield before him (a character Tom ironically detests), Tom is one of the most engaging and wittiest narrators in modern YA fiction. He defines rock 'n' roll, his true passion, as "Music that can be played on a guitar and hollered into a microphone by the young and stupid." Portman's books, including 2009's Andromeda Klein, speak in a voice similar to his lyrics: lovesick and confused, with a massive dollop of humor. "With these characters," Portman says, "I'm aiming to be the P.G. Wodehouse of turn-of-the-21st-century disaffected suburban California life."
MTX shows in the 90s seemed to attract lovelorn teenagers (I know from firsthand experience), and it's not lost on Portman that his novels are reaching a similar audience. "Rock 'n' roll is teenage music," he says. "The way Tom Henderson describes it is, once you veer from that at all, then it's art rock… which, art rock is great, but real rock 'n' roll expresses intensely emotional feelings where your whole self is thrown states. It's being miserable, lonely, and pathetic. Or it's exhilarating and joyful, or feeling horny. It encompasses your whole world. That's why rock 'n' roll works. Young adult literature, when it's authentic, it taps into that, too."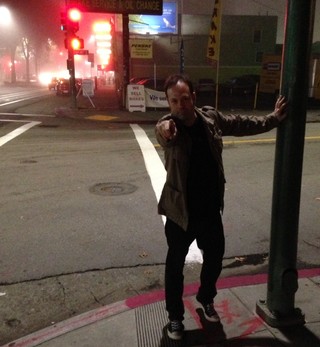 Portman also sees similarities in how the two genres are perceived. "The parallels between pop punk and YA are endless," he says. "You're at the kids' table and you're kind of mocked and belittled by the adults table. But the people at the adults' table are lucky to have sold 500 copies of their novel. So who's driving the bus? But they still pat us on the head and say, 'You wrote a YA novel? How cute. Do you plan to write a real book someday?'" Portman rolls his eyes and insists that, yes, he has been asked that question many times, almost always by other writers.
He is, in fact, currently writing another book, King Dork Abroad, which will follow Tom Henderson on an exchange trip to London. In the meantime, Portman will be enjoying one of the job perks, to him, of being a YA novelist: interacting with his readers. "I have similar conversations with kids at school readings as I did at punk shows," he says. "The appreciation of the articulation of alienation is familiar not just with punk kids, but with all kids." Portman pauses to finish his second IPA. "But the rock 'n' roll kids I meet at readings are awesome. Just really adorable. When I do a reading at a high school, there's always a kid in a Blue Öyster Cult shirt sitting in the back, nodding like he totally gets it. Some things never change."
Before we part ways, I ask Portman about something I was always curious about: the origin of his "Dr. Frank" stage name. "This is shrouded in mystery," he says with a smile. "I used to say in fanzine interviews that I'm an alternative dentist, and I set up a dentist's chair in between bands at shows. I assume that everyone can realize that's a joke. But consistently over time, people have contacted me and said, 'I'm gonna be in town, can I schedule an appointment?' In reality, it's a nickname I've had a long time. It probably originated because my father has my same name, I'm Frank Portman IV, and I never liked being called Frankie, which is how they distinguished me from him. I threw a lot of tantrums about that. So at some point, my siblings started calling me Dr. Frankenstein. Then later, I started using it as my DJ name at KALX in Berkeley." Portman then puts down his empty tallboy, and checks the time on his phone. "I should probably go to band practice," he says. And with that, the good doctor walks off into the fog-drenched streets of Oakland.