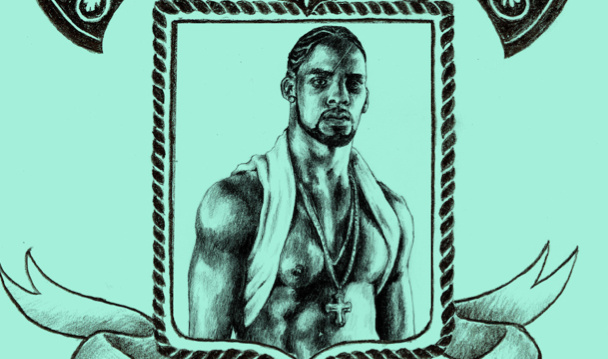 We flew down to Atlanta to interview R. Kelly. Like everything in the world of Kellz, nothing went as planned, but it still felt right.
Art by Meaghan Garvey
Outside of PatchWerk Studios in West Midtown Atlanta, there sits a man in a folding chair named Homeless Mike. He wears a reflective vest atop unkempt, hand-me-down clothes. Tufts of overgrown, yellowish gray hair peek out from underneath his baseball cap. He has not had an easy life. PatchWerk makes sure he stays fed and clothed, and in exchange he makes sure nobody steals from the cars of any of the famous rappers and R&B singers who record at the studio. It's an easy job, but he's good at it and proud of it. He's been sitting there watching cars for at least ten years, and he'll probably be out there until he dies.
Homeless Mike picks a 32-ounce McDonald's cup off of the ground, opens it, and takes a sip. The sickeningly sweet odor of warm malt liquor blasts me in the face. "I been knowing R. Kelly since he been coming to Atlanta," he says, the alcohol taking his already-thick southern accent into elocutionary territory that, if one does not hail from the South, is borderline unintelligible. "R. Kelly came to Atlanta about the middle of 2000." Pointing to a nearby house, he says, "I was sitting over there, and R. Kelly pulled up in a Bentley. He said to me, 'Hey man, you alright?' I said, 'No, sir.' I didn't know he was R. Kelly. He said, 'Come here.' I come to the car, and he gave me a wad of money. I looked at it in the bathroom of McDonald's and looked at it. It was $108. I jumped." Mike says that later, Kelly "went down to all the homeless girls and guys. Gave 'em $20 here, $20 there. That man got a heart like Jesus, man. R. Kelly was homeless himself. And he made it."
I tell him I saw R. Kelly, exiting the studio perhaps an hour ago, break from his entourage and come up to Mike and enthusiastically talk to him. "R. Kelly got to come talk to me, man!" he says. "I watch his bus for him. He don't think he's high up and better than me. He don't do that shit." Specifically, I'm talking to Homeless Mike because I have been sent down to Atlanta to interview R. Kelly. I had ten minutes with him, and they were disastrous. I'm pretty sure R. Kelly hates me at this point. I blew it. But then I saw him talking to Homeless Mike. So now I'm talking to Homeless Mike.
Mike was clearly drunk, and tended to lose his train of thought. He was certainly merging timelines and embellishing, but it is an indisputable fact that R. Kelly was once homeless, nothing more than a struggling singer sleeping on Venice Beach. The truth here, however, is inconsequential. The truth is nothing more than a packet of objectively correct information that is open for interpretation, employed more often than not in an elaborate rhetorical game of "Gotcha!" What's true isn't important. What matters is what's real.
What's real is that R. Kelly went out of his way to talk to Homeless Mike, and they experienced a moment of genuine human connection. What's real is that given where R. Kelly came from—growing up in poverty on the South Side of Chicago, having watched a friend die, coerced by an uncle to bury a dead dog, forced to watch and film adult members of his household having sex, facing sexual abuse at the age of eight—the fact of the matter is he should have become Homeless Mike. And yet he was saved by his musical gifts.
"Music," Mike says, thumping his chest, "is in your soul. Sing a song, man, and your soul will be alright."
What's real is not always based on the absolute truth, and what is true does not always necessarily yield realness. This dichotomy is central to the fiber of R. Kelly's very existence.
/ / /
The Atlanta club Compound is, as its name strongly suggests, a compound. There are five rooms, all playing different styles of dance music, and an outdoor area that, with its Escherian leveling and faux-naturalistic rock sculptures dotting the landscape, resembles something one might find in the Playboy Mansion. Yelp reviews boast that the club contains "attractive males and females" who are "grown and sexy," but, one reviewer gripes, "doesn't have Patron." It is here that R. Kelly has a scheduled club appearance with the rapper Rocko. I am here because he is coming here, and so is pretty much everyone else.
It's 1:45 AM, and in a stroke of Gatsbian irony, R. Kelly is not yet at his own party. I have a nine o'clock flight the next morning, and both my hope and energy are waning.
Eventually, he emerges. The DJ drops Kanye West's remix to Chief Keef's "Don't Like," and R. Kelly enters the club's main room. He assumes the highest possible altitude in the room, standing on a raised platform so that everybody can see him. No one may stand higher than him, because no one is as important as he is—Compound has become Washington, DC, and R. Kelly is the Washington Monument. Waitresses swarm to him, wielding gigantic bottles with sparklers attached to him. Kelly poses for pictures. The DJ starts playing his many, many hits, and Kellz restlessly luxuriates in it all. Under the strobe lights, Kelly's body warps. He starts to become pear-shaped.
At the stroke of "U.O.E.N.O.," Rocko joins him. Watching them wordlessly survey the crowd and posing for photos as the twin kings of the festivities is depressing and beautiful. They are aspirational symbols—"Do great stuff," they seem to say, "and you will become us." They are stoic, begrudgingly accepting the adoration of strangers. They rule the club, sure, but their reign is a hollow one—the crowd doesn't care about them, only the idea of them.
Something has to be done, something to remind everyone why they're swarming around these two dudes standing on a platform in the first place, and R. Kelly is the one who has to do it. He grabs the mic and launches shoulder-first into the words that made him an icon. "My miiiiiiiiiiiinds tellin' me NO," he sings, "But my bodyyyy / MY BODYYYYYYYSTELLINMEYEAHUHHHHHH," and then the DJ drops "Bump N' Grind." Kelly sings along, and the natural order has been restored to the universe.
Before too much longer, Kellz cedes the spotlight to Rocko. He's been positioned as the next Atlanta rapper to blow up nationally, and judging by the crowd's glee to hear his songs, his ascent is imminent. I squint at the scene. It's impossible to tell if Kelly is even there anymore. He probably is, but even if he's made his exit, his spirit remains. R. Kelly is bigger than himself. He is real, but not tangible. He is vapor. He is celestial. Mortal, but untouchable. Completely of our world, yet not at all.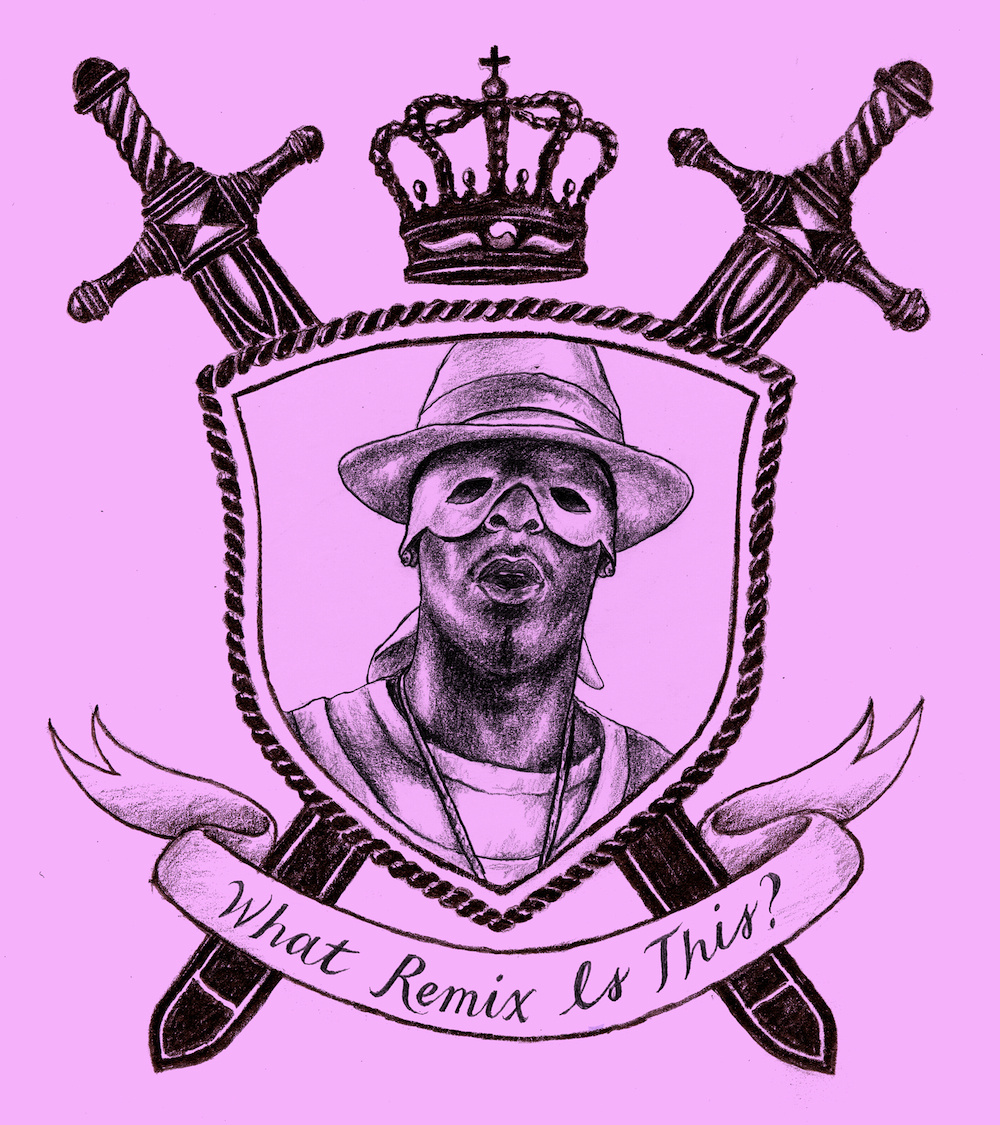 Walking around PatchWerk, you get the sense that Homeless Mike must have a lot of famous friends. An entire generation of southern hip-hop has been recorded in this nondescript building, located on the East Side of Atlanta next to a McDonald's. Gold and Platinum plaques from the likes of OutKast, Lil Wayne, Beyoncé, Big Tymers, Juvenile, and Waka Flocka line the walls. It's a cozy space, more like a clubhouse with a recording studio attached.
R. Kelly has a specific sort of effect when he enters a room. People tend to gasp. He enters, wearing salmon-colored leather pants, a graphic t-shirt with zip-off leather sleeves, golden rosary beads, sunglasses, and driving gloves. He is ageless. (Or 46. Whatever.) He laughs and says, "I'm wearing gloves because this is about to be a murder scene." Like that, the tension is defused—he's used to scenes like this, and knows how to deal with them. He makes a point to greet everyone in the studio, then takes a position at the head of the room. He speaks, introducing the record. "I'm a transformer when it comes to music. Country, whatever it is. It's because I have a humanity heart. I'm humanity-minded. I just want my music to touch the world. I'm not here to win, I'm here to touch. So. That said: Black Panties." We laugh.
He introduces the first track, "Poetic Sex." It contains the lyric, "My lyrics got a big dick and I just fucked the shit outta y'all." He pantomimes the lyrics, mugging for the flashes of cameraphones coming from every angle in the room of 40 or so people. That's when we realize: He's not just playing us the record: he's going to perform the thing. We are privy to an R. Kelly concert of near-overwhelming intimacy.
Three songs in, veins are popping out of his neck. He's positively dripping with sweat. He has no reason to exert this much, and yet he is. He can't not treat his listening session as if this was the last show of his life. Every lyric has a corresponding dance move that feels pre-rehearsed but can't possibly be; it's the sort of spontaneity that comes only to those who are the absolute best at what they do.
Lyrically, the R. Kelly of Black Panties is not the restrained, nearly adult contemporary R. Kelly of his previous two efforts Love Letter and Write Me Back. Black Panties is decidedly lewd record, and not one that takes itself particularly seriously. Four of the eleven songs are explicitly about eating pussy. Perhaps the best track—which he introduces by saying, "I got some stripper club joints on this one. This one is called 'Throwin' Pussy'"—features verses that exclusively end in "In this fuckin' club." (The chorus, if you couldn't see it coming, is just, "Throw your pussy!")(Also, it should be noted that I had this song in my notes as "Showin' Pussy," but I'm assuming I misheard this.)
Black Panties shows an R. Kelly with his finger on the pulse of the musical zeitgeist. Kelly has internalized the ethereal, menacing haze of A$AP Mob, coating his vocals in the mechanistic teardrops of Future, tucking it all under the rolling skronk of producers such as Mike Will, and spat out something… else. It's not pastiche. It's innovative, progressive R&B, delivered with more skill, intelligence, and humor than the work of those from whom he draws inspiration. There are throwbacks to the Kellz of yore, too. The nylon-stringed guitars of the Trackmasters that he favored through the middle of his career bounce through, as do the traditional piano-and-bassline songs that he's been doing to perfection since time immemorial.
By the time the final song ends—"Girls Kissing Girls," which sounds like R. Kelly is forcibly leading listeners on a militaristic, double-time march to a strip club in hell—it is the unspoken agreement of every single person in the room including R. Kelly that Black Panties is going to be a huge record. "I didn't plan to perform," Kelly says to the room, "I just feel good about the music. Whenever I see this many people, my mama told me to start singing." He continues, "I wanted it bad, and I got it good. And when I had it good, I got it real bad." Then "My Story," his new single featuring 2 Chainz, starts blasting, and Kelly benevolently waits to take a picture with every single person who wants one.
R. Kelly is a man of the people in the purest sense of the term. Pleasing others is a priority to him. He must perform, and when he does perform, he must do so to the best of his abilities. When he throws a party, he will throw parties so legendary they'll inspire him to record albums. Hell, this might be why there are so many cunnilingus-oriented songs on Black Panties.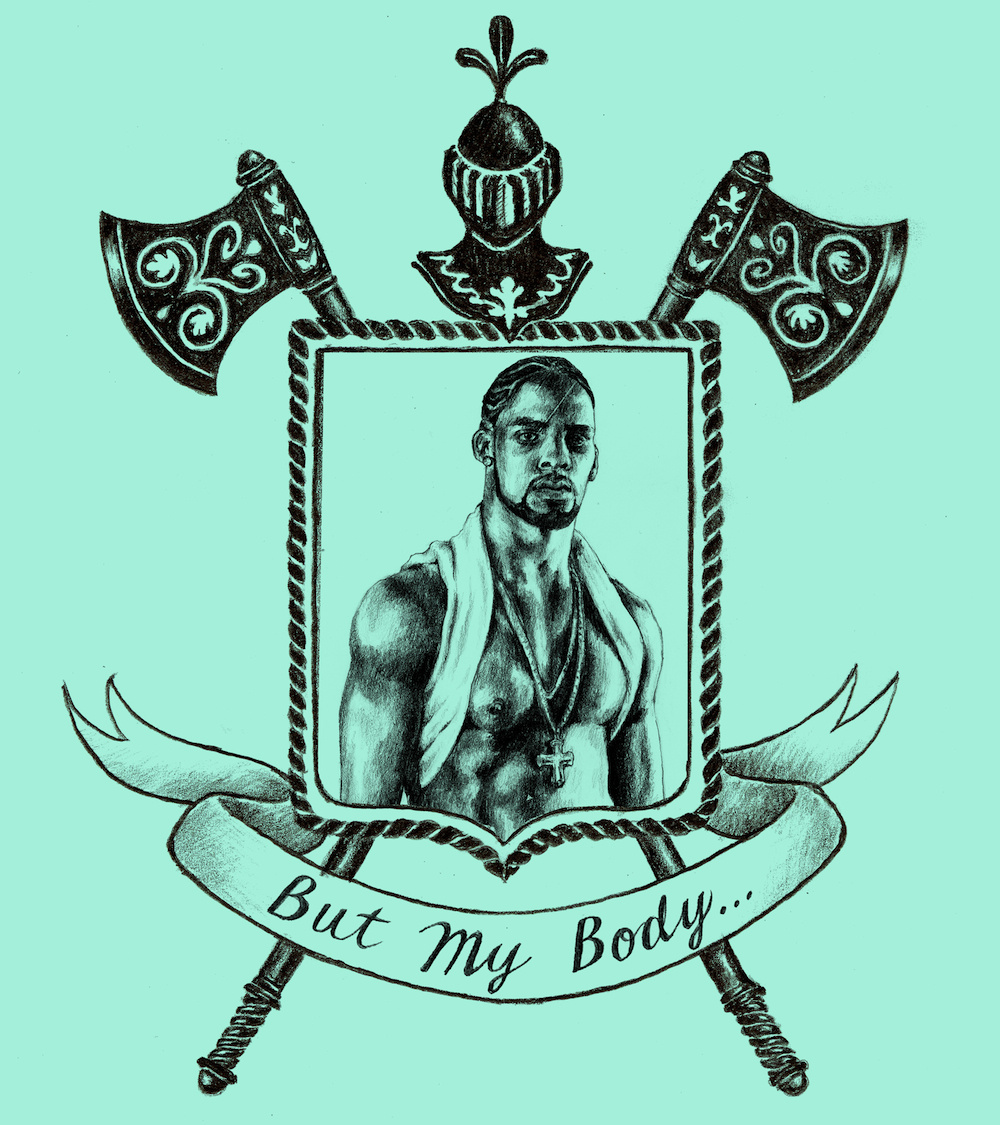 Throughout his career, R. Kelly has always held his authenticity—his ability to give you the whole R. Kelly, and nothing but the whole R. Kelly—as one of the things that makes him such an incredible performer. He is in your face, saying, "This is me." His sense of the literal is unparalleled—after all, the chorus of his newest single "My Story" is, "This is my story / And I'm sticking to it." This is both his greatest asset and greatest weakness.
With this in mind, it is undeniable that many of his songs from 2001 to 2008 are informed either directly or indirectly by the circumstances surrounding his legal issues, where he was tried for soliciting a minor for child pornography. Surely his songs that speak of great pain were fueled largely by the turmoil he faced, even if channeled into tunes that were loath to directly reference his situation. Recall his 2004 double album Happy People/U Saved Me, the second disc of which was a gospel record, as soulful and emotional as anything he's released in his career.
But what of his other songs? The fun, goofy ones? They still came from that place, his turmoil channeled in completely different ways. In his memoir Soula Coaster, Kelly claims that "Ignition (Remix)" came as a direct result of Kelly navigating his criminal charges. He alludes to a ban of his music on the radio because of them. He made "Ignition (Remix)," with the aim of producing "A jam so hot (the radio) will have to play it." It worked, and Kelly had a career again. In the book, he says, "The ban against me had been smashed by the power of music."
That this tactic worked speaks to two truths. One, it is an intellectually flimsy argument to say you can't enjoy something awesome even if it comes from a shitty person, but two, if the allegations were indeed true (which they probably were), there is something ingrained within R. Kelly that makes it impossible for him to comprehend why what he did was wrong. These truths create realities that are irreconcilable, and that is part of what makes R. Kelly so fascinating. Issues such as this will never go away, and R. Kelly will probably never learn, but that doesn't mean that we should stop talking about them.
But then again, the truth isn't what's important here.
/ / /
Minutes after the listening session ends, I'm sitting face to face with R. Kelly on a couch. He's holding a gigantic, unlit cigar, the same one you've seen him hold a million times in a million different contexts, the one that's damn near his signature at this point. It's a shock to realize he's a tangible, physical human being.
He's telling me about his performance at Pitchfork Festival when he released a thousands of dove-shaped balloons during his transcendent, climactic performance of "I Believe I Can Fly." He wanted to release real doves, but he could only find three, and that would have been anticlimactic for 70,000 people. I shift gears, inadvertently going from fifth to second, my intellectual engine flying out of the hood of my car as I crash into a guard rail, the unbearable metallic screech of chaos taking the form of me asking him if he thought there were similarities between country music and R&B.
He gives me the worst answer a journalist can ever hear. "Yes," he says, with an air of finality in his voice. He's fucking with me, still performing, this time for all of his friends who are in the room with us. They start cackling. This is what death—or worse, extreme humiliation for a middle schooler—must feel like. In moments like these, you are supposed to look at yourself, the interviewer, as a medium, a vessel for communicating facts to your readers. This is supposed to make you feel better, but trust me, it's bullshit. This attitude is a defense mechanism meant to help you reassemble the shards of a self-esteem that has been summarily and categorically destroyed by Robert Sylvester Kelly.
In "My Story," there is a lyric from Kells that is particularly telling of his attitude towards journalists. Speaking of himself in the third person, he sings, "They asked him in an interview, 'Why do he love these girls?' / The only thing he had to say was, 'Motherfuck the world!'" Extend this attitude to ten minutes, and that's the general tenor of our interview. I ask him what the goal for recording his country album is. He says he is running for "President of music." I ask him what he thinks his life's work is. He responds by comparing his life to an airplane. It's hard to make a great person explain why they're great. To people like R. Kelly, greatness is a compulsion, an inevitability, damn near a bodily function. He just is and he always has been, and in the moment, face to face with him, I am either unwilling to or incapable of understanding what should be innate and unspoken.
R. Kelly may very well be a man of the people, but he is still a man, and men have biases. There is no reason R. Kelly would ever trust a journalist. It is the media who mocked him for admitting in a 2009 speech that he was illiterate, and it is through the media that he was exposed as a certifiable sexual deviant and an alleged child molester. By virtue of holding a recorder in his face, I become the enemy, another obstacle to overcome in his neverending struggle. R. Kelly is the quintessential American success story—he started from nothing, had every possible advantage withheld from him financially and socially, and through it all has managed to not only persevere but succeed. In his eyes, I exist only to tear him down, put him in a parking lot somewhere, sipping warm malt liquor from a McDonald's cup.
R. Kelly connects with people because he articulates the human condition, because he is human. This is one of those reflexive statements that is so obvious that it almost doesn't make sense. He says this himself, after Black Panties plays through. "I took tragedy and turned it into triumph. My story is all of this. Sex. Money. Broke. Women. Even church. It is the nature of life. This gift I have is a beautiful disease, and I'm glad I've got it."
Drew Millard is an Assistant Editor at Noisey. He's on Twitter - @drewmillard
Meaghan Garvey is an and writer living in Brooklyn. Follow her - @moneyworth