The singer-songwriter also performed "Questions for the Angels" on 'The Late Show.'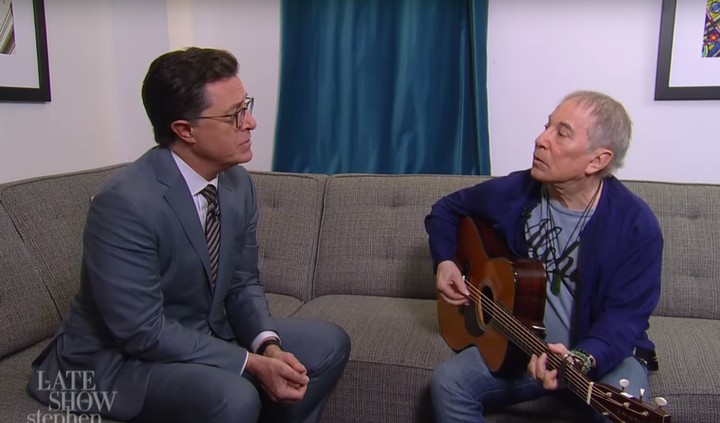 Paul Simon was a guest on last night's Late Show with Stephen Colbert and it was perfect. The singer-songwriter has been revisiting some of his lesser-known album cuts lately, lightly editing and re-recording them for a forthcoming album of new old songs. It gave Simon the opportunity to play a new version of "Questions for the Angels," originally released on 2011's So Beautiful or So What, alongside improvisational guitarist Bill Frisell. It was gentle and poignant and just cluttered enough by Frissel's meandering guitar. And if you want to hear Paul Simon sing, "It's Jay Z / He's got a kid on each knee / He is wearing clothes that he wants us to try," then you are in luck:
Reworking old material also gave Simon the opportunity to crack jokes with Colbert. The two reworked Simon & Garfunkel's sunny 1966 track "59th Street Bridge Song"—a song that Simon continually says that he hates—into a paranoid, apocalyptic track for the Trump era. Colbert sang, "Hello lamppost / Nice to see ya / We might get bombed by North Korea / We're getting close to World War III / So run for the shelters, feeling groovy." Simon approved of the changes. Colbert went on: "Kellyanne Conway makes no sense / And even if Trump goes, we're stuck with Mike Pence."
Simon doubled down on his disdain for the song in his interview with Colbert, before talking about his upcoming tour, starting June 1. Simon will be donating all profits from the month-long jaunt to E.O. Wilson's Biodiversity Foundation. Paul Simon wants to avoid the annihilation of all life on earth. Paul Simon rules.
Follow Noisey on Twitter.