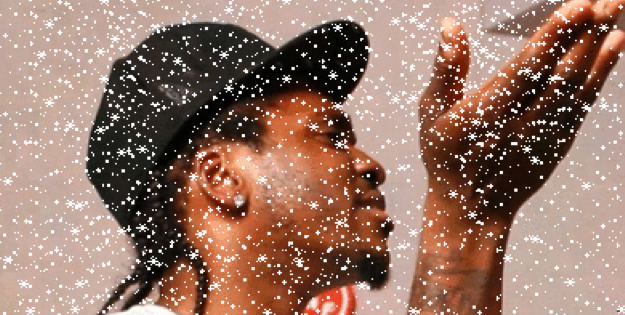 Check our list of Pusha T lyrics that are 100% definitely only about snow and not a single thing else.
There's a storm bearing down on the East Coast today and there's no spokesman greater for winter festivities than the Virginia rapper, G.O.O.D. music member, and Clipse being-in-er Pusha T. You know what Pusha T hates? Summer. EGHCK! You know what Pusha T loves? Winter! It's practically his favorite thing to rap about. Throughout his career, P has been effusive about his love for all things brumal. Especially snow! Ice, skis, snowball fights, snowmen, winter safety tips, movie suggestions for snowy nights, weather advisories, all manners of snow-related activities—you name it, Pusha has rapped about it. He is the number-one advocate of winter fun.
In honor of this Nor'Easter "Nemo," we've collected some of our favorite Pusha T shout-outs to his favorite season. Stay safe East Coasters, and take some of Pusha T's suggestions about how to have a safe (and fun!) snowstorm:
"When I'm shoveling snow, man, call me Frosty, lover." From Clipse's "Ride Around Shining"
It's nice to know that Pusha T has a go-get-em attitude when it comes to shoveling, which can be real pain when snow starts to come down. A fun activity to do—when it's safe to head outside—is to bundle up in your winter gear, grab two shovels, and turn the chore of clearing the driveway into an impromptu date with a "lover!" Or even a friend! Be careful not to shovel too soon, or you may end up having to shovel twice in one storm!
"Ghost in the snow, see Carol Ann." From Fabolous' "Life is so Exciting"
When the weather outside is frightful, Pusha reminds us to cuddle up with your good friend Orville Redenbacher, pour some hot cocoa, and put on a scary movie. He chose Poltergeist, but if you want to make it really appropriate, watch the campy horror movie Jack Frost.
"Snow White ya life, hows that for starters?" From Clipse's "Dirty Money"
Or exactly! Snow White! I mean, I can't think of a more appropriate movie to watch in a snow storm!
"Make a small town feel like I threw a blizzard at it" From "My God"
Pusha loves a good snowball fight, and you should, too. Make a Facebook invite for some friends and meet up and have a snowball fight once the harsh weather clears! Whoa... Look out!
"What's under the couch probably freeze up Santa" From Clipse's "Wamp Wamp"
Always keep a cache of snowballs for when your enemies come around! "Better chance with a snowball hittin' Satan," says Pusha. Don't be afraid to egg your friends on a little with friendly challenges.
"Both feet in the snow so that my core follows" From "My God"
And don't just stand on the sidelines, Nervous Nancy—grab a "snow-grenade" and get in there!
"My chain heavy, it's winter time" From Swizz Beats's "In This Ho (Lambo)"
Pusha T offers an important reminder: If you're driving in hazardous snow conditions, please put chains on your tires. They greatly increase traction when driving on snow or ice. Reminder, according to Wikipedia, driving with chains reduces fuel efficiency and can reduce the speed of the automobile to approximately 30 mph (50 km/h).
"Imagine the glamour that comes out the flow/ Of a nigga who still play in the snow like Santa" From Notorious B.I.G.'s "Just a Memory"
Snowstorms are a perfect time to let go of your inhibitions and become a kid again. Make snow-angels, build a snow-fort, go sledding on some old trash-can lids. Winter wonderlands are temporary by nature, so enjoy it while it lasts!
"They tied me to a mountain of it, I just try to ski it" From "Open Your Eyes"
The powder going to be gnarly in the mountains after the storm rolls through. Grab your Rossignols and shred some double-black diamonds the next day, dude.
"Avalanche P pushed powder till you snowed in" From Alchemist's "Lose Your Life"
But please be aware of Avalanche conditions. Consult your ski resort or park ranger office for current conditions and warnings.
"Cocaine snowballed from gambling my rent money" From "Cook It Down"
This lyric actually appears to be about cocaine.
First movie out, Jeremy Larson murked out Mekhi Phife. You should follow him on Twitter here - @jeremydlarson