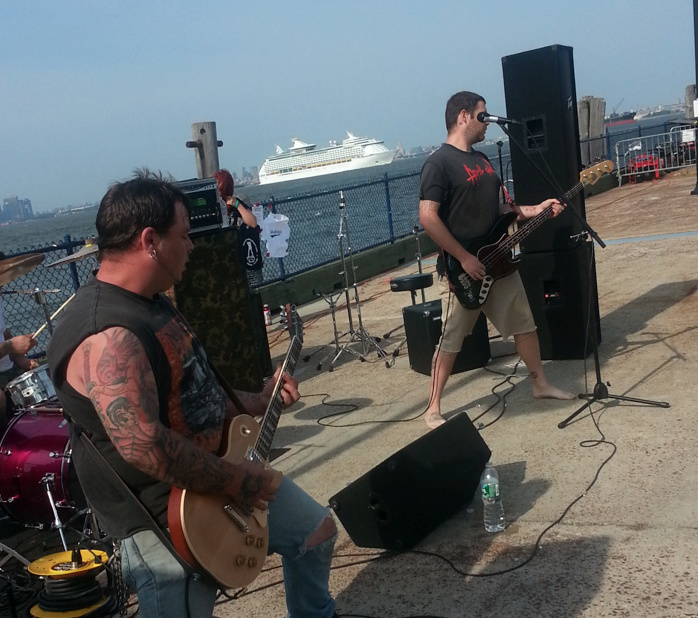 Including why sometimes, dads are the most punk.
The guy with the two-foot acid-green Mohawk and the word TRUTH tattooed above his left eyebrow does it best: the skank, the dance rite of punk kids everywhere. He flails with a sour look on his face to a classically caustic hardcore quartet called Ides. In his combat boots with the words "FUCK COPS" written on the right foot and his pegged tartan trousers and without a shirt, he as much as lunges and punches at the Manhattan skyline. He's skanking all over this giant, abandoned Coast Guard pier, next to the Ferry Terminal. We're on Staten Island for a free all-day festival called Punk Island 2013, where there are seven stages to host nearly 100 loosely defined punk bands: there's sludge and powerviolence and thrash and post-hardcore and tinges of emo and a surprising dose of banjos, washboards, and acoustic guitars. A massive cruise ship passes in the distance. Dude stomping has the classic over-the-top early '90s hardcore look, maybe filtered through decades of appropriation and the avoidance of keeping the attitude out of the hands of cultural tourists. Green Mohawk Guy circles past a toddler in camo pants and suspenders and ear protection and a mohawk of his own, clapping along with glee. Four police officers idle on their cell phones about 50 yards beyond the kid. The cops could give a shit.
Some thirty-odd years on, "punk" has never been so nebulous. While stabs at the genre's fashions are touted as couture by the Metropolitan Museum of Art, the movement's philosophies still dissected by New York Magazine, and its functions in society still so consistently argued over, trying to capsulize punk might be an act best left to its most ardent practitioners. There are still those in the underground who seem devoted to a uniform iteration of the movement: the refusal of the norm even when that comes to notions of punk itself, the Elmer's glued and Manic Panic-ked hair, the casually laissez-faire lifestyle, the commitment to rescuing pitbulls. Saturday, a few hundred of those people were on Staten Island for these 95 bands that seem to actively avoid mainstream exposure—at least, only about two percent of the bands scanned to anyone I showed the bill. It was amazing to see where the subcultures splintered and intersected and did not, whether it was Feudalism blasting away with an accordion and a sloppy kind of Balkan circle-pit swagger that Gogol Bordello has capitalized well on, or The Old Edisons performing reliably scuffed-up American roots on the Candy Apple Red stage, sounding like a Gaslight Anthem greased up from the rails of a train.
Even without any kind or recognition, this seemed to function as a folk exercise—everything was inherently familiar, musically and in praxis. Under abandoned looming, factories and condos stalled in development by Hurricane Sandy, these seven stages on the pier had far from the feel of how I imagine an '83 Minor Threat or Black Flag show to feel. This was entirely inclusive and nothing seemed shocking or strange or scary. It was a respectable way to spend a Saturday, particularly because no alcohol was served on site. I spoke to a handful of people who lived on Staten Island who simply walked in from Bay Street, having heard the music. A smiling family with a stroller watched Qantas Never Crashed, a post-hardcore brigade that sounded like the melodic screamo of late Hopesfall slammed against the heartfelt hardcore of Touche Amore. The atmosphere was only confrontational by choice, say when legendary Boston punks The F.U.s closed the night on the Dispatches From The Underground stage. The pit opened up and a guy named Johnny who had work gloves on took my pint of Johnny Walker Red from my hands, killed it, and then tried to smash the bottle. It did not break. The cops didn't give a shit because they didn't need to.
The reason I bring up the contrast between the clapping little punk and the punching angry TRUTH punk is because of antiestablishment messages that abutted the establishment itself. After a disastrous third iteration of Punk Island four years ago, the Make Music New York festival handed control of this installment over to the Lower East Side's storied punk club ABC No Rio. The same aggressively DIY organizers of that space started putting on Punk Island. Despite last-minute hurdles for the coordinators—including a bunch of surprise fees from the city like $50 for each of the event's 21 generators and a $2500 spike to rent the pier itself—this went off for the sixth year in a row. The organizers shunned corporate sponsorship this time around, last year having taken some branding and a main stage backline from Guitar Center. So the money to pay those 2013 fees came from an establishment—the Make Music New York festival. It just so happens that an event like Punk Island functions best, not just in cooperation with but within an establishment. Having to take two trains and a ferry just to get to the damn thing kind of reveals that reliance. There's more damage to be done from the inside. It's Matthew Lillard's message at the end of SLC Punk. Even Jello Biafra shunted anarchy for socialism. In a taqueria nearby to grab a bite, I listened to four patched, pegged and mohawked kids discuss their options for internships.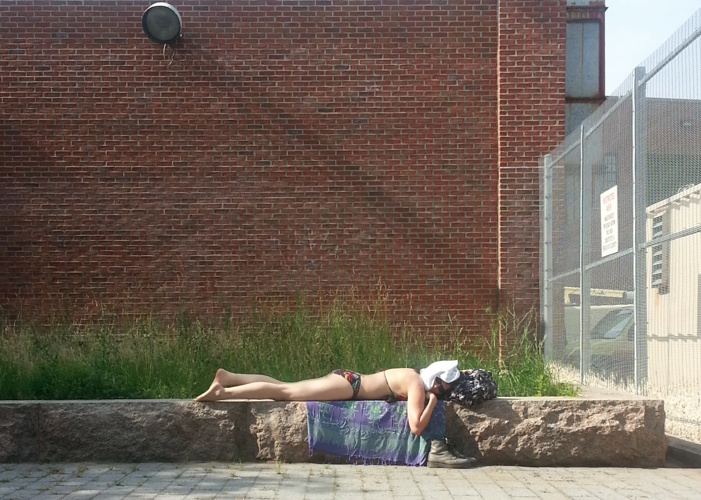 Maybe we just need to be reminded what this is, that this exists by choice right out of view. Because the most interesting bands weren't the angsty, revelatory hardcore trios or the overtly anti-establishment crusties taking naps on concrete at the feet of policemen. They were the bands on the Brooklyn Transcore stage that confronted mostly issues of gender. EX. By V. particularly struck something poignant. A duo of bass and drums, it sounded like a downtuned, sludgier Lightning Bolt. "Fuck formerly known as! There is no formerly known as!" screamed vocalist and bassist Leah Basarab, over and over, on top of a devastating breakdown. The implication from the transgender singer was she had always been who she was, for the sake of herself. Later, Little Waist, another trans band, would play a set of surfy, grungy songs that took jabs at too-seriously dogmatic acts. The band to close this stage was rising political pop-punkers Aye Nako. Their accessible, if-not-brash polemic was a welcome rinse to the heavy-handed philosophies pummeled into skulls—bands can only tell you so many times in a day that "we don't give a shit about you."
This being said: I'm really bad at being a punk. When I was in fifth and sixth grades, my dad took me to my first Warped Tours. They kind of blur together but I remember we saw Guttermouth and Eminem and Ice-T and Rancid and Save Ferris and NOFX and Pennywise and the Murder City Devils and the Deftones. And it was fucking awesome. Even when thinking I was going to get in trouble when Ice-T said stuff like "I sucked on my momma's titties in the crib!" it was a great time. When something like this would happen, I'd look over at my dad. I remember him casually sprawled out on the grass of this one amphitheater in Idaho, wearing grey cargo shorts and white calf socks and Nike Pegasus running shoes. He wore a blue tie-dye shirt with sea otters screen-printed on it. He has had the same mustache since 1973. I know that he's too smart to not realize how anachronistic he would have looked around all the mohawks and pegged jeans. And looking back, I think that makes my dad, in that moment, the most punk thing I've ever known.
Warped Tour was one flashpoint of punk's autonomy. Another was the MET throwing a gala in punk's guise. Scenes are fleeting. Styles are fleeting. Ian MacKaye knew that, ditched Minor Threat and just started a new thing. Biafra ditched out too, calling the perversion he saw "a close-minded self-centered social club." It's weird to think that a subculture could possibly congeal around the assertion of the individual. But remove that from a unified style, sect, or—as Punk Island proved this year—sound and there's an underlying humanitarian ethos. And that's why Punk Island is so aptly named, having eschewed trying to land Iceage or any other number of currently established punk bands. Punk Island is a sovereign satellite in a sea of buzz. Punk is a tie-dye shirt with otters on it in a sea of Global Threat cut-offs Ts.
Dale Eisinger thinks the most punk dude of all time is Rich Homie Quan. He's on Twitter - @daleweisinger