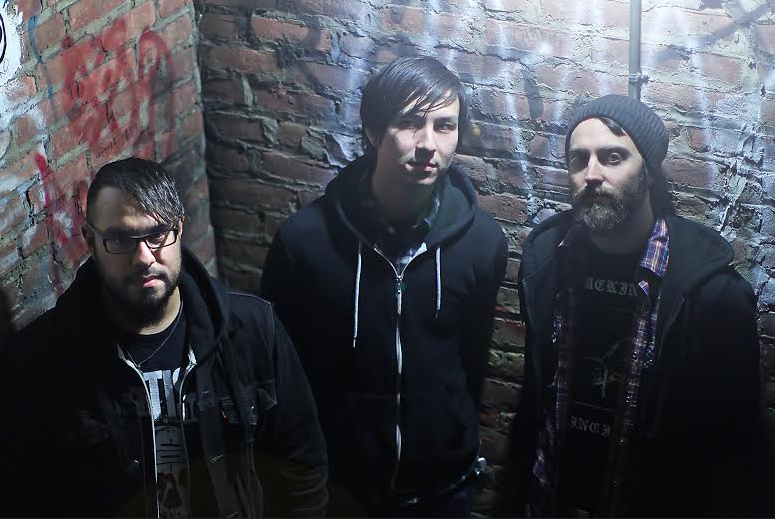 Let's cut some throats.

Photo by Dean Chooch Landry
There's been a monumental shortage of seizure-sparking and cutthroat-precise tech-hardcore warfare in Brooklyn's vast DIY metal underground since we last heard from bruising locals Meek Is Murder on 2013's Everything Is Awesome Nothing Matters. That's all about to change. On May 5, the black hoodie-draped boys in Meek Is Murder return to inflict its face-ripping sonic assault of dizzying riffage and bloody-throated screamoidness on double EP, Onward/Into the Sun. The set collects two EP's—the brand spanking new Onward and 2012's Into the Sun Where It Falls Off the Sky where these sci fi flick-obsessives paid homage to 1985's timeless classic, Back to the Future. Dudes certainly got taste in film.
Onward finds Meek Is Murder following a "directional theme" (track titles include "Inward," "Upward," "Downward…") but one thing is for certain: the trio's direction is obliterating all in its path. Here, we are proud to present the first lethal taste of Onward. In the span of just over one brutal mathcore minute, "Outward" crams sick tons of stop/start whiplashing intensity, sludge-oozing guitorrism and demonic yelling, recalling Damaged-era Black Flag in a car crash with metallic hardcore merchants, Botch. Hit play at your own risk.
Onward/Into the Sun is out May 5 via Rising Pulse and catch Meek Is Murder here:
March 11 - Brooklyn, NY @ Saint Vitus w/ Mutoid Man
Check out this studio report video of Meek Is Murder: