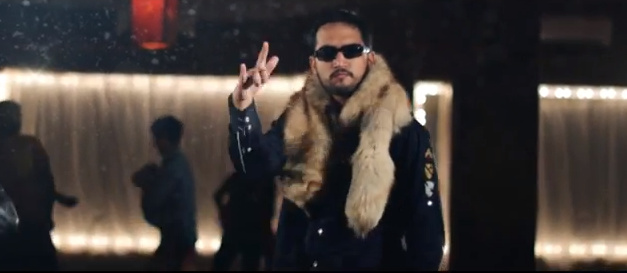 Check this tribute to the Desi Guido. Plus, Omar breaks down the video and the crazy past year of his life.
Though you may not know him, the Pakistani rapper Adil Omar from Islamabad is a VICE fairytale. He was first featured in VICE's Fashion Week Pakistan coverage in 2010, making a lewd sex joke which put him in hot water with his perhaps, less understanding countrymen.
"I just remember getting a legit arson threat at a concert I was doing and the venue had to change. I heard it was one of the first things VICE had to take down and re-edit," Says Omar.
Though he had to be edited out of the video, which was the first one in VICE's history that had to be taken down and censored, it still piqued the interest of promoters abroad. As a result, Adil Omar got taken out on a "World Tour" of sorts that brought him out to Dubai, London, and Boston. Now, Noisey is proud to premiere Adil Omar's latest video, "Saza" (translated: punishment), his tongue in cheek tribute to K Pop and Pakistani pop music of the early '90s.
Since the fashion week piece, London-born but Islamabad raised Adil Omar put out a track called "Paki Rambo," which sampled the sleeper-cell dark satire Four Lions and featured Adil's rap persona—a mix of sincere and goofy a la Lil B. The video for Saza is filled with references to what is lovingly described as the Desi (see: South Asian) Guido. Clad in an army-inspired shirt that references the military brat status of many kids in Islamabad, Adil Omar pumps his fists while the camo-wearing Jarar delivers an over breathy vocal hook. It's hard not to be able to smell the Dolce & Gabbana cologne on them.
Arrogant Americans may think this is a foreigner's misconceptions about what being cool is in America. But actually, the song is an in-joke on Omar's own culture in Islamabad—the Jinnah Market, specifically.
YouTube has been banned in Pakistan for a year now, and that creates an odd situation for Adil Omar. He still maintains a channel on the site, but none of the views come from his Pakistani following for whom he performs dozens of times annually. It is an example of an artist from the Third World looking outwards. Noisey caught up with Adil Omar to break down his video with him.
Noisey: First, what is up with this song? The singer sounds like Haroon or like old school Paki pop music.
Adil Omar: I'm good friends with Jarar, the featured artist on the song. I'm a big fan of what he's doing. It's interesting. He is a whole package. It reminds me of the music of the vital signs—and it's just modern and amplified and exaggerated. I was already working on the song and I thought he'd be perfect for the hook. It's a subtle nod to rock and pop music in Korea and Pakistan in the 90's. I don't know what I was thinking when I wrote the song, and I don't know what people make of it.
Most rappers in Pakistan are doing it in Punjabi. As a kid who raps in English, what are your fans like locally? Who is responding to your music?
Given what my image is, the fans I meet aren't fans I expect to be fans in the first place. I don't really fit anywhere. Whenever I meet a fan, it's normally someone who I wouldn't expect in the first place.
A lot of little kids love me and ask to take pictures, like 7 or 8 year olds even recognize me. It's really funny, my most famous video is "Paki Rambo." But "Paki Rambo" is obnoxious and not something you expect 7 or 8 year olds to listen to. I don't normally meet fans my age. Everyone who is not my age likes me. It's usually people who are younger or older.
Older? Like how old? I can't imagine middle aged Pakistani people to get it.
Well, the uncles don't get it. The aunties pay more attention. The more poetic stuff kind of resonates more with the aunties. Behind the "Paki Rambo" and all of the bad ass stuff I've put out, they recognize I'm just a kid trying to express himself.
When you played in Boston, I heard you got to party with the Boston Bruins. How did that happen?
I was performing at the Church in Boston. It was a good show; there were 200 people there. It was my first US show. I did the show because my host—this guy named Derrick who discovered me through something I did with VICE—and he was willing to bring me out to Boston. After the show, he told me that [Boston rapper] Slaine wanted to come but couldn't make it, so had to meet up with him. He met us outside this bar with Tyler Seguin [Boston Bruins star player], and this was right after they had won a match. I don't remember who they were playing. Slaine was a very warm and gracious host. He took me to their after party and that was a really surreal experience chilling with Slaine and the Boston Bruins. It was in a penthouse. I don't drink but there was a lot of drinking. I saw some urination on a car in the parking lot. I don't remember who it was. It felt like a scene from the town where they're all partying. I guess that was a good first Boston experience.
That's wild! Who else have you met because of rapping that you may not have otherwise?
Well the funniest one I met is B Real [from Cypress Hill]. He reached out to me over MySpace when I was 17, listening to Nine Inch Nails and Pink Floyd all the time and uploading my raps. He said he had a mixtape he was recording at the time, in 2008, and he said if I could make it to LA on a certain date he wanted me to get on a track. And I said, "Fuck yeah," and it was a chance that I took.
Growing up he was one of my idols. Let me be clear, I have never smoked weed—I've never smoked weed in my life. So we were in the studio and he just kept subtling offering me that I take a hit and I kept reluctantly declining. So they had a white board with a bunch of artists' names with smiley faces next to them with a joint. And when I declined they wrote my name on it with a sad face and a joint.
With the YouTube ban that was put in place by the Pakistani government having lasted a year at this point, what are your prospects going to be if you stay in Islamabad?
Prospects? Ironic that YouTube is banned because it's just more fun making videos in Pakistan. In terms of creativity I prefer being here, there are things here you'd never see anywhere else. Maybe it's not the best place, yet though, to put yourself out there. In terms of marketing I guess, I'd rather be outside. Islamabad is very conducive to me making music and filming music videos.