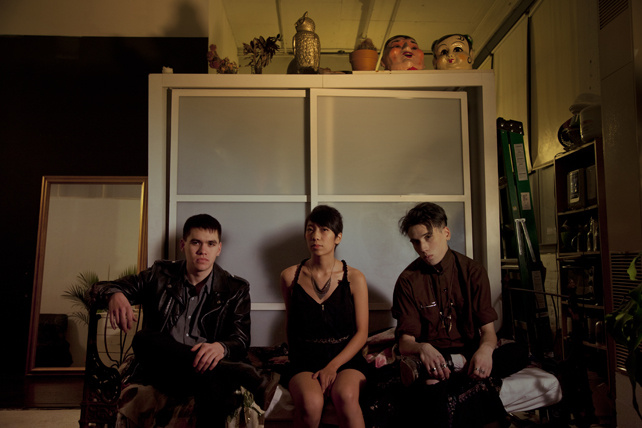 Dream Affair is totally one of our favorite spaced out, ghostly sounding bands, and we are so hyped to debut their new song.
Dream Affair has been one of our favorite ghostly sounding bands for a long time now. So when they told us they had just got onto Artificial Records, a new Canadian label launched by a guy named Josh Voynovich, and that they wanted us to premiere their new song, we were basically like: "Yeah dudes, let's premiere your new song!" You can stream it below.
We also got a chance to speak with Dream Affair's own Hayden Payne about life, music, and lying to border guards. So, if you feel like reading something right now without having to click onto any other websites, go ahead. Keep scrolling.
Noisey: Tell us a bit about your upcoming release.
Hayden: This release is almost a compilation of things. It has the oldest song we ever made on it. It's slightly remixed. Some songs are on our last tape that just came out, Aborted State, that we just wanted to see the light of day on vinyl. There are also three new tracks that sound different in a way, because I think they're more space-y and a little less by-the-book post-punk.
Would you say that your sound/genre has changed much since you first started?
I think we still stay in the post-punk realm, but stylistically, we have moved across the border. I think at the beginning we were a coldwave band with guitar, and with emotional sad songs and drum machines, heavy reverb, and big loud stadium sounding drums. Now, we've moved into a new sound with really twisted sounding guitars and little dinky drum machines; more obscure and more in your face. I think there's a bit more thought and heart put into it now. I think that just comes from us playing together for so long.
Right. So what's the worst experience you ever had on tour?
One time, while we were on tour in Canada and didn't have the proper working permit, we told the Canadian border guards we were visiting friends. We were arriving in Toronto one day, and then leaving from Montreal, so it looked kind of suspicious. We were like, "Ok, we're going to split up and act like we don't know each other, and nobody will know…and we'll say that we're going to a hockey game."
So we get split up, and the other two guys get through fine. Me, I'm a bad liar so I was probably stuttering with cold sweats. The immigration guy wrote something on my immigration card and said, "You need to step that way." So then I go into the interrogation room. He started questioning me about the fake hockey game I said I was going to. I was so nervous. The band was texting me, "Where are you?!" He finally let me through but it was really nerve-racking. That was probably the worst experience.
Nothing like a fake hockey game scandal! If you were to describe your album in one word what would you say?
Space.
K. So after your upcoming album release and tour, what's next for Dream Affair?
I want to lock myself in a room and start working on another full-length. The last full-length we had was two years ago. It's harder then putting together a compilation or EP, there's more thought and planning that goes into it. Also, more shows.

Dream Affair's sophomore release From Now On will be out on Artificial Records. Catch the digital download, somewhere out there on the internet, on February 26th. If you want a vinyl in your sweaty hands, you'll have to wait for April 9th.
Also, check out the teaser for the "From Now On" video.
And if you wanna experience Dream Affair live, do so here:
01/26/13 Brooklyn, NY : 131 Chrystie Street
03/01/13 Montreal, PQ : Katacombes
03/02/13 Toronto, ON : Comfort Zone
03/15/13 Austin, TX : Soho Lounge - SXSW