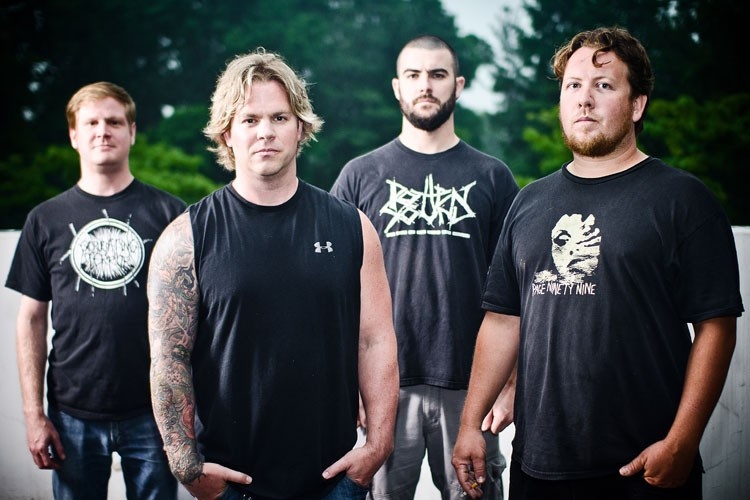 SHOUTOUT TO ALL THE BROS ON ELLIPTICALS LISTENING TO THIS SHIT.
[Editor's Note: To celebrate their 100th issue, the metal magazine Decibel threw a show in Philly featuring Converge and Pig Destroyer, then made a three-song Flexi Disc of Pig Destroyer's set. Through the magic of the Internet, we got our hands on it and sent it to our chief critic The Kid Mero.]
AAAGAHHAGHAGAH RAAAAOOORRRR!!! OOOORRRRR KCKSHHH DEGAAA WWWWOOAAAAAAAARG RAGRON!! MYONSHOG!!! ANALSYSHOG!!!
THATS THE LYRICS TO ALL THESE SONGS B. THEY SHOULD GET THE DUDES WHO DECIPHER THESE LYRICS TO TELL ME WHAT MY WIFE IS SAYING WHEN SHE'S YELLING AT ME CUZ THATS WHAT THIS SHIT SOUNDS LIKE. THIS SHIT SOUNDS LIKE MY WIFE COMING HOME AND I'M SLEEPING ON THE COUCH WHILE MY SON IS TRYING TO STICK A WIRE HANGER IN AN ELECTRICAL SOCKET. OH MY GAAAAHDDRRDDD!!! FUOORRCCKING AAARRRSSHHOOLLLEEEE!!! THE BAAABBYYYSFOORRKINGG PLAYINNGGRRK WIWIRERESSS!!!!! *CHUGGING GUITARS EXTREMELY RAPID DRUMMING*
YO THIS IS COMICALLY SCARY MUSIC. I'M NOT MAD AT THIS SHIT BECAUSE IT'S WHITE PEOPLE WORKOUT MUSIC. I UNDERSTAND, THE SAME WAY I LISTEN TO WAKA FLOCKA WHEN I'M DOING BICEP CURLS AND STARING LUSTILY AT THE SHORTY ACROSS FROM ME ON THE HIP ABDUCTION JOINT WHITE DUDES THROW THIS TYPE OF SHIT ON AND GO FUCKIN HAMBOYANT ON THE ELLIPTICAL. IMAGINE SOMEBODY ON AN ELLIPITICAL MACHINE LISTENING TO THIS SHIT? STRIDING MAD FAST/HARD. PAUSE. THAT MENTAL IMAGE MADE YOU LAUGH OR YOU'RE A FUCKIN COWARD WITH NO SENSE OF HUMOR B. I LISTENED TO THESE TRACKS AND IT TOOK ME 20 SECONDS CUZ EACH OF THESE SONGS IS 7 SECONDS LONG. I GUESS YOU CAN'T MAINTAIN A FULL RICH BLOODCURDLING SCREAM FOR MORE THAN 2 MINUTES AT A TIME. I JUST TRIED TO SING ALONG TO THIS SHIT AND MY VOCAL CHORDS DID THE SAME SHIT RAJON RONDO'S KNEE DID. (FUCK THE CELTICS YAHEARD? KNICKS ALL DAY!)
IT'S WILD CUZ I DON'T KNOW THESE GUYS (WUTTUP PIG DESTROYER) BUT I'M SURE THEY ARE NOT CRAZY MURDEROUS PSYCHOS? NAHMEAN THIS MUSIC MAKES YOU SOUND LIKE YOU EAT IMPALED BABY PUPPY HEADS MY NIGGA. THAT'S VERY FRIGHTENING, BUT I'M SURE YALL DON'T DO THAT SHIT YOU FEEL ME? I'M SURE YOU'RE JUST RIGHT NOW PROLLY GETTING A CAFE AU LAIT AND SHIT NAHMEAN MAYBE A LIL SCONE OR SOME SHIT, BISCOTTI? NIGGAS PROLLY GENTLY FUCK THEY GIRLFRIENDS WHILE THEY LISTEN TO WARPAINT. YO SIDEBAR I WAS WATCHING THE GRAMMYS LAST NIGHT AND CAN WE ALL AGREE THAT LENA DUNHAM AND THE DUDE FROM "FUN." IS LIKE THE WILLIAMSBURG BEYONCE AND JAY-Z? NAHMEAN SLOPPY WHITE GIRL AND AWKWARD FRAIL NIGGA = MONEY IN 2013 BROOKLYN. SHORTY OUTFIT WAS TERRIBLE THOUGH, SHE LOOKED LIKE A WET YELLOW BAG FULL OF RAW CHICKEN.
AIGHT I'M OUT.
OH SHIT HOLD UP, I GIVE THIS 3.5 PILES OF DUTCHGUTS OUTTA 5 CUZ I'M IN A GOOD MOOD AND SHOUTOUT TO ALL THE BROS ON ELLIPTICALS LISTENING TO THIS SHIT.
STANDOUT TRACK: "TROJAN WHORE" BECAUSE OF THE TITLE. ALL THESE JOINTS SOUND THE SAME TO BE COMPLETELY HONEST.
THE KID MERO is the apotheosis of all musical criticism. You should follow him on Twitter - @THEKIDMERO