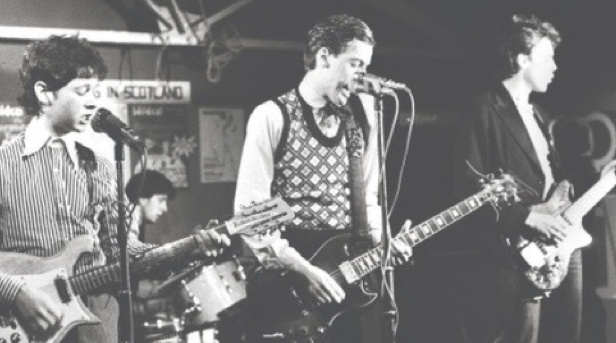 Turns out Capaldi was in a band called The Dreamboys, and they sort of owned.
Photo by Harry Papadopoulos - buy his book
here
So this weekend, the internet lost its hive mind at the announcement that Peter Capaldi, AKA Malcolm "I'd love to stop and chat to you but I'd rather have type-2 diabetes" Tucker, is going to be the twelfth Doctor Who. This is a brave, inspired choice from the producers, I guess. They're changing gears from Matt Smith's animated, boyish character to a part that will surely become more psychological, and definitely more profane.
But guess what? Peter Capaldi wasn't always in his mid-50s. He used to be the lead singer for an 80s Scottish punk band called the Dreamboys. The drummer just happened to be the piggish late-night talk show host and hater of journalism Craig Ferguson. Listen to their track "Bela Lugosi's Birthday" below.
The Nite Club, whose name is more meta than a Wes Anderson film about a Wes Anderson film, sounds kind of amazing. On a promotional poster from the early Eighties, it lists "air conditioning" as one of its attributes. And on Sunday's they had Ital Reggae Disco nights.
The Dreamboys, in a more derivative early incarnation, called themselves the Bastards From Hell, which makes them sound like a cleft of evil male stippers. But as their sound developed, they became one of the spikier bands on the scene, songs like "Outer Limits" doubling the BPM of many of the bands around at the time, Capaldi's tormented screeches drowning out thick-cut overdrive.
While the audio quality is about as good as you'd expect from a recording of a recording, you can clearly hear the band's brash uniqueness, Capaldi's potential as a future Doctor Who shining through in his lyrics (probably), with Ferguson's ruggedly adequate beats completely telegraphing his future as a ruggedly adequate late-night television host. Listen to a final track from the Dreamboys below:
Follow Tabatha on Twitter - @TabathaLeggett