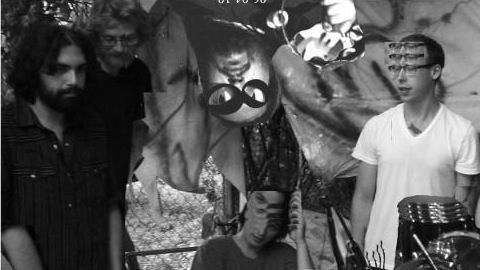 Scuzzy garage rockers, dollar beers, bottle rockets, and an 80-year-old contortionist. It doesn't get much more Bushwick...
How many New School jazz majors does it take to screw up grunge unrecognizably?
Not sure exactly, but it's the same amount it takes to build out a loft apartment in Bushwick, Brooklyn. Spearheaded by guitarist and singer Justin Frye, PC Worship records trashed, lazy punk in the band's living room when they're not flipping around the channels on a cable subscription Time Warner forgot to cut off. Two cats vie for affection in the loft space that houses the members of PC Worship, as well as with incestuously related bands The Dreebs, Ashcan Orchestra, Pterodactyl, Cloud Becomes Your Hand and whatever one-offs these Renaissance stoners think are funny. Here in Brooklyn, we like to name our homes as much as we like to name our bands. This loft is called The Wallet.
On any given day in The Wallet, you might find violinist Adam Markiewicz, who fronts The Dreebs, polishing-up his senior thesis on 14th century French composer Guillaume de Machaut and doing knife hits at the stove. Pat Spadine, the MacGyver of the house and mastermind of Brooklyn's best (and presumably only) handbell band Ashcan Orchestra, keeps a large rig of TVs and lights that he uses to improvise video accompaniment for live performances. Alaina Stamatis, who used to live at the notorious venue Market Hotel a few doors down (which was shut down by the police and recently received money to rebuild the venue up to fire code) writes horoscopes for Showpaper and hilarious party reviews for Impose. Friends and bandmates are always crashing on the couch and playing Xbox. You might compare the space to a frat if these musicians weren't so fucking talented and thoughtful.
PC Worship, who recently toured with Liturgy and are releasing their new LP Toxic Love at Death By Audio this Friday, are perhaps the best known band from this collective - you can download the title track from that new LP here. Their scuzzy, out-of-tune take on psych-rock reminds of Pink Reason or Psychedelic Horseshit. Kreephaus, who released the band's recent Dread Head 7", also released The Dreebs' LP, which is more progressive by comparison. Sections of the music are fast and chaotic like Flipper, but with a hazy smear of guitar and violin that lift the band up into Dischord-era art rock. As of late, Pat Spadine has been doing live visuals for every Dreebs live set - he did the visuals for the music video below.
Now and again, The Wallet hosts shows, and they're always a blast. The last one I attended was for the Dreebs/Guardian Alien tour kickoff party. Dollar Asahis fuelled the party into a sweaty pit for Guardian Alien's freeform psych marathon and an even sweatier dance floor for a New-Orleans-bounce-heavy DJ set afterwards. Some of The Wallet's residents and I set off bottle rockets in the backyard, which once hosted a massive outdoor Dan Deacon show beneath the screeching J train tracks. The Amazing Amy, an 80-year-old contortionist, did handstands with her legs wrapped around her neck while everybody drunkenly cheered. It was the kind of show you'd never be able to see at a normal club and really set the venue apart as a commune of like-minded musicians.