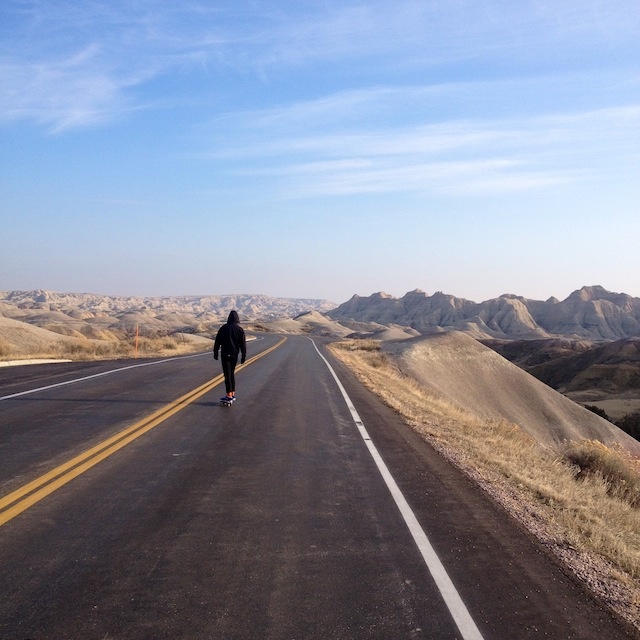 Brits abroad! The Glasgow-based, FatCat Records-signed trio just completed their first West Coast tour. They went skating, got tattoos, did some sewing, drank some 40s, you know…
PAWS are from Glasgow, Scotland. Glasgow is awesome because the rent is cheap, the city's denizens are super friendly and often drunk, and you can eat deep fried Mars bars whenever you want and it's 100% acceptable. Late last year PAWS released Cokefloat! on FatCat Records, a debut of 90s-leaning, fuzzed up, alt rock—pop melodies delivered with bratty punk verve. (Listen to it in full, below). They recently completed their first ever West Coast tour and here are some things the Scottish boys discovered on their travels along the Pacific Coast (via New York, South Dakota, and Minneapolis).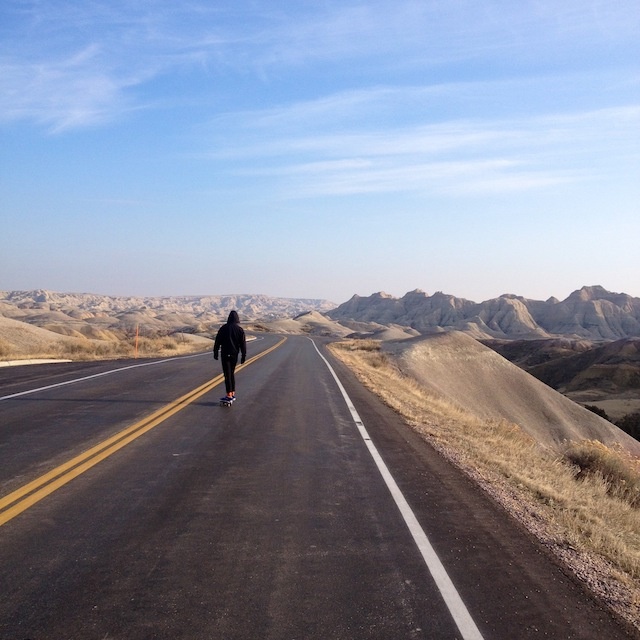 BRING YOUR SKATEBOARD AND DRIVE THROUGH THE BADLANDS IN SOUTH DAKOTA
Yip. The Badlands National Park in South Dakota is one of the most ridiculously surreal things I've ever seen. If not the most surreal. When our label boss told us that we HAD to take the South Dakota route on our journey from Minneapolis, MN to Portland, OR... I had no idea just how bad ass the Badlands would actually be. The sights that we encountered were as if we'd landed on Mars. It was like every Loony Toons cartoon depiction of the red planet for sure. Vast, expansive, surreal, Dali-esque landscape… with not a soul in sight. But, plenty of signs warning visitors of sneaky rattlesnakes. There were no other vehicles on the road throughout the Badlands except for our van so I jumped out of the van and started skating down the bizarre hills on my board. It was fantastic rolling through this shit smoking a parliament followed in tow by the rest of the guys in the van.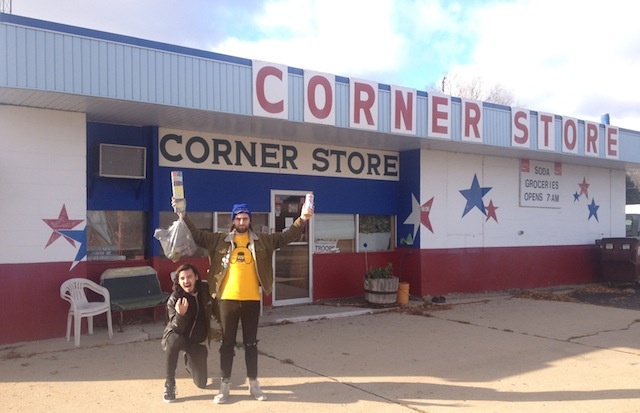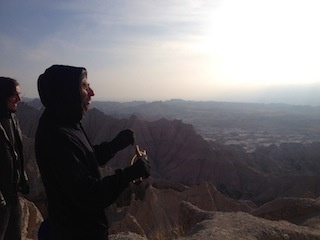 BUY A BIG OLE BROWN BAG FILLED WITH FIREWORKS… AND A SLINGSHOT
Before we hit South Dakota we drove through Wisconsin and finally gave in to the ENDLESS barrage of billboards telling us about how cheap/available fireworks were. So we pulled over at a lonely shop at the side of the road that looked like Norman Bates was likely to be the proprietor of. I recommend smoke bombs, zingers, KRYPTONITES, cheap rockets, firecrackers, bangers, and Unicorns. The dude at the massive store even threw in a bunch of free stuff seeing as we were so enthusiastic about his store. He said he had done pyro for a bunch of big bands like Pink Floyd. We'll leave it to you to decide if he's telling the truth or not.



Anyway, as a relief break for our super hero tour manager Brendan Sheehan, we wanted to pull over at the side of the road in deserted South Dakota one night and set of some of these fuckers. The amount of hours that guy puts into a shift can be pretty unreal and we wanted to celebrate our journey to the West Coast properly with him. I also bought a slingshot when we visited Mount Rushmore earlier that day, so the combination of bangers vs catapult were pretty fucking hilarious. Highly recommended fun.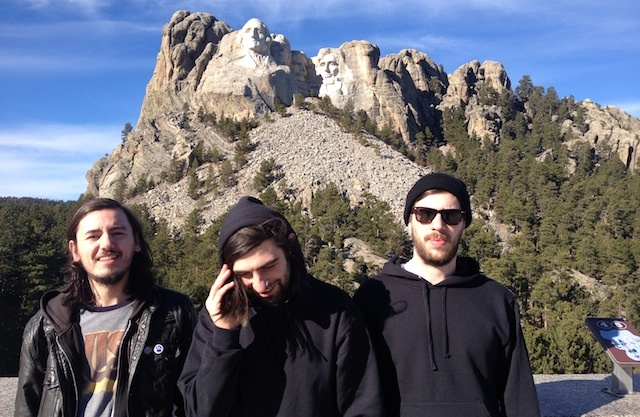 VISIT MOUNT RUSHMORE
If you're heading through South Dakota, Mount Rushmore is another sight to behold in this state. It was pretty gnarly. Having seen this thing a bazillion times in photographs and on video it was pretty rad to see it in the flesh (or stone, rather). Four haggard faces from the past carved into the side of a giant mountain. Was pretty gnarly.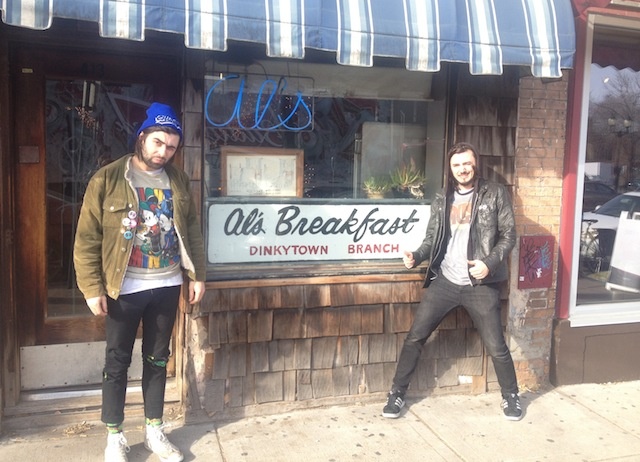 EAT BREAKFAST AT AL'S BREAKFAST IN MINNEAPOLIS
You'll see why....


HOPE THAT YOUR TOUR SUPPORT ARE AS GREAT AS LITTLE BIG LEAGUE
Michelle, Ian, Deven, and Kevin. You rule. We miss you.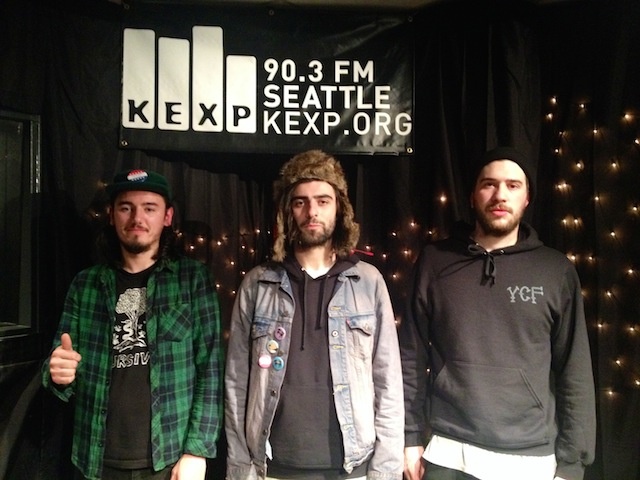 LISTEN TO KEXP RADIO ON THE WEST COAST
We had the privilege of being invited to KEXP Radio in Seattle to play a live session for them on the day of our show. That station is super great and everyone that works there is fantastic. The community spirit of the Pacific North West can really be felt at KEXP be it in the studio or on the airwaves. So make sure you tune in to 90.3 FM on your dial when you shit Seattle for good times and good vibes!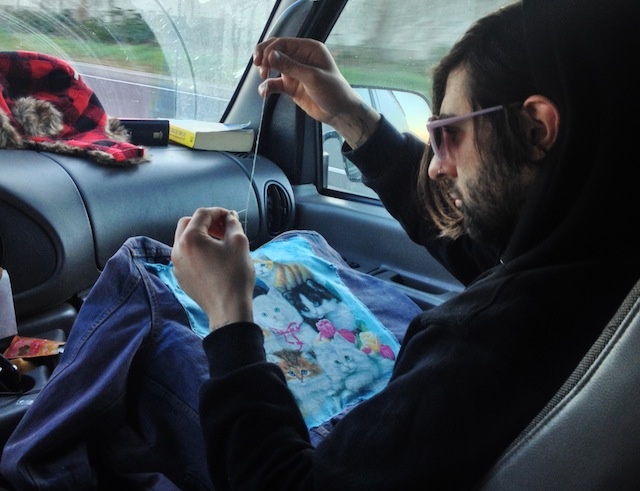 Team Noisey are extremely jealous of this denim situation right now.
STOCK UP WITH THINGS TO DO IN THE VAN… I CHOSE SEWING
Some drives, like Seattle to San Francisco clock in at around 16 hours, and if you've listened to everything on your iPod twice over, you're gonna want to have some van activities lined up. I bought a purple denim jacket in Portland for $35 and then at a gas station outside Seattle I found a kids t-shirt with loads of cats on it for $6. So I cut out the print and grabbed a sewing needle and some thread for $1 at another gas station. Sewing my new ridiculous back patch killed a good few hours of that long-ass haul down the West Coast. It was a totally beautiful drive.


IF SEWING CATS TO YOUR BACK ISN'T YOUR VIBE… DRINK A FORTY (OR TWO)
Yeah, you might as well chug a couple of forties in the back seat of the van and keep your eyes on the prize.
The prize being your next warm 12-pack of PBR waiting for you at the next venue...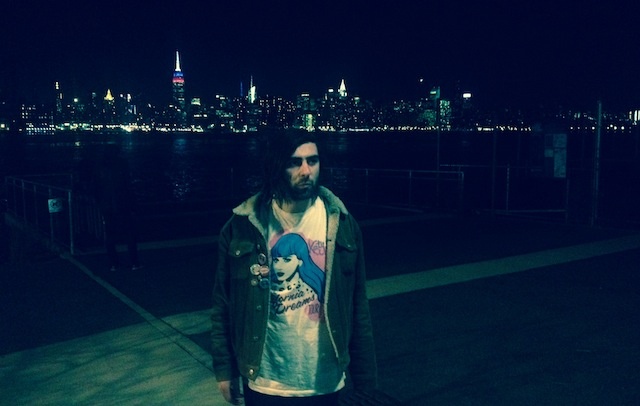 NEW YORK PIZZA REALLY IS #1
No matter what anybody else tells you. Don't listen. New York pizza is where it's at. I've tried a slice or six in every state we've rolled through and nothing compares to hitting a slice in Manhattan, covering it in black pepper and washing it down with a Welch's grape soda. I particularly like the place on Ludlow across the street from Cake Shop. Super great slice. Do it. I'm sure there are 100 places in NY that I have no clue about that may be better, but I like that place the best thus far.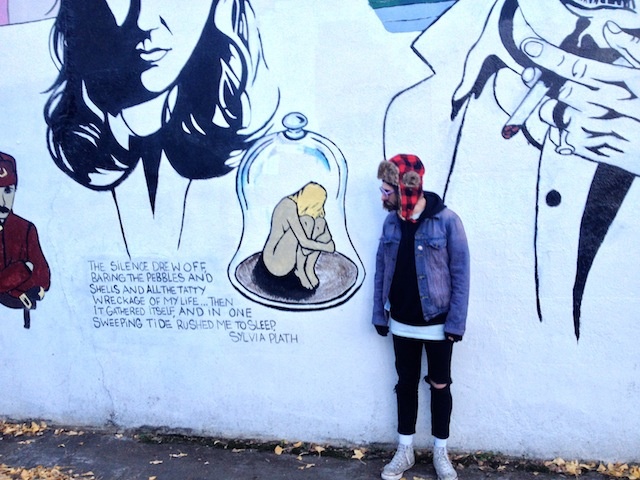 Just some Plath graffiti. #emo.

PORTLAND, OREGON
God, I want to live there.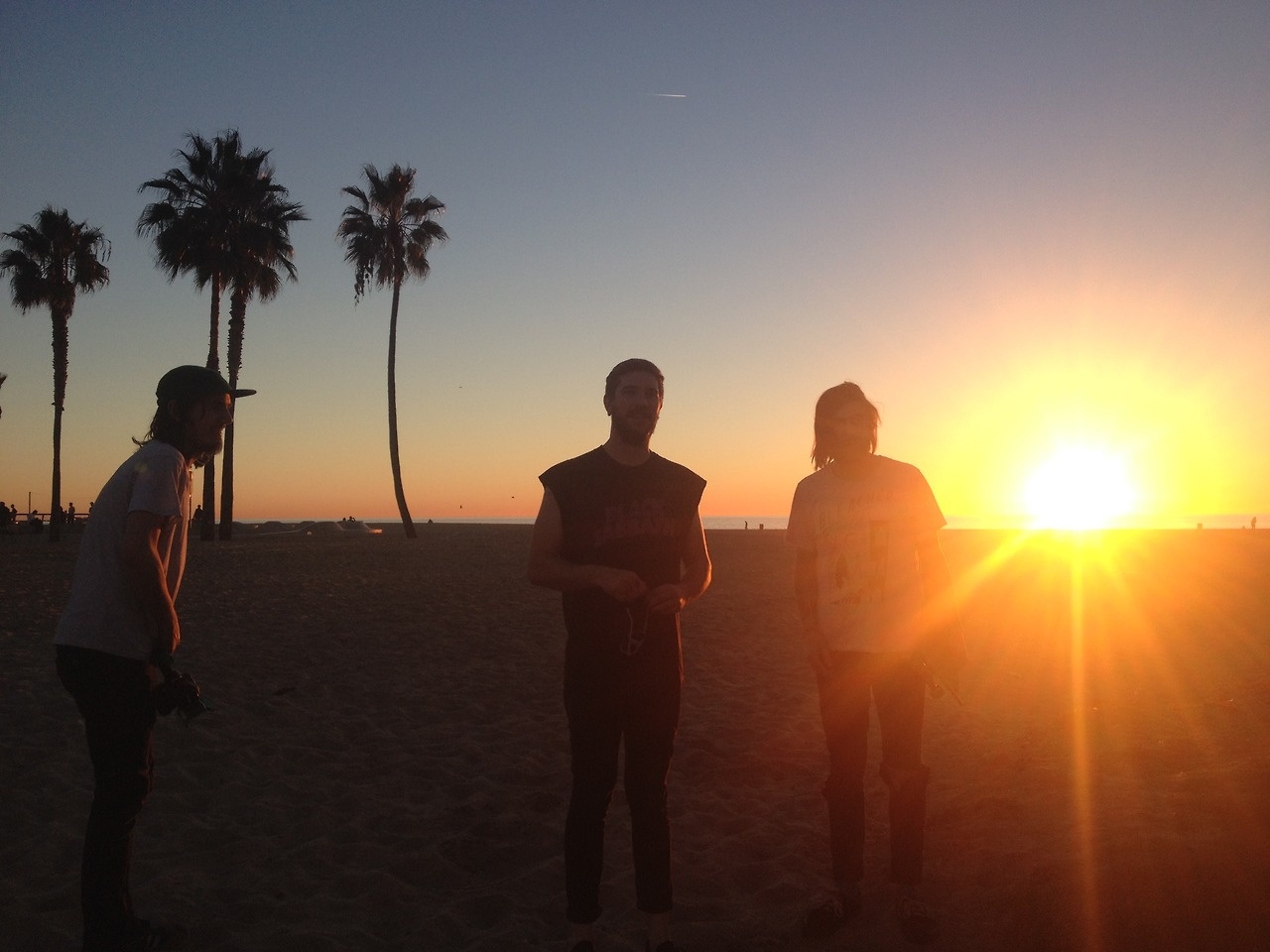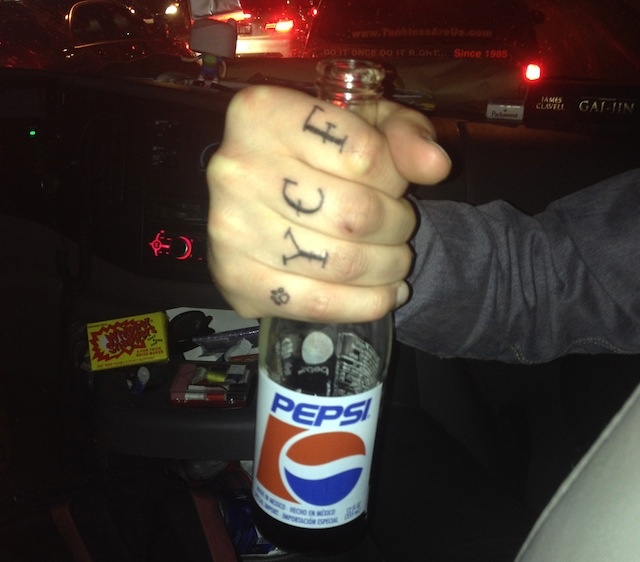 LA. VENICE BEACH. SKATE. SWIM. GET A TATTOO. EAT SOME FROZEN YOGURT. VISIT FIGURE 8
Really fun place to chill. I decided to remember our first West Coast tour by having the initials of our forthcoming second record tattooed on my knuckles... with a little paw too. YCF—Youth Culture Forever. It's more than an album title to us I guess and somewhat of a mantra. Our tour ended in LA. We played two shows. One at The Satellite and one at The Smell. Both totally great places. At The Satellite, after the show I was outside smoking a cigarette and the lady from the venue came over to me and told me that the Elliott Smith cover we played meant a lot to her. She was a friend of Elliott's and the bar was apparently renamed after him when he died. "Satellite" being a song on his second record. The song is supposedly about eavesdropping on a conversation happening across that bar as there are these satellite dishes on the roof that project peoples voices across the room if you stand under them. The bar was his favorite hang out spot in LA. The Figure 8 mural was just around the corner from there on Sunset Blvd so we went to pay our respects. That was pretty far out.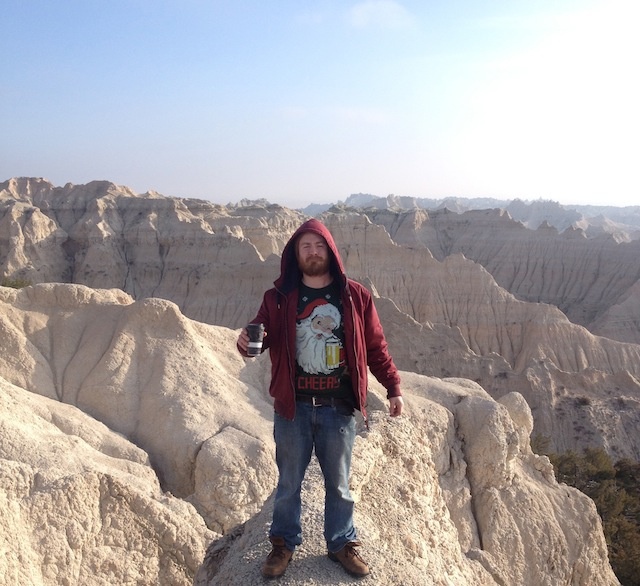 There he is!
PRAY THAT YOUR TM IS AS GREAT AS MR BRENDAN SHEEHAN
This man is a superhero. Really as close as it comes to it. The guy stopped a plane for one of his bands once. I dunno how sum the dude up more than that. If you wanna do something, he'll make it happen. If you wanna eat something, he'll make it happen. If your band needs ANYTHING, he'll make it happen. True friend and true legend. And I personally HATE it when people use the word "legend." So that's how much this dude rules.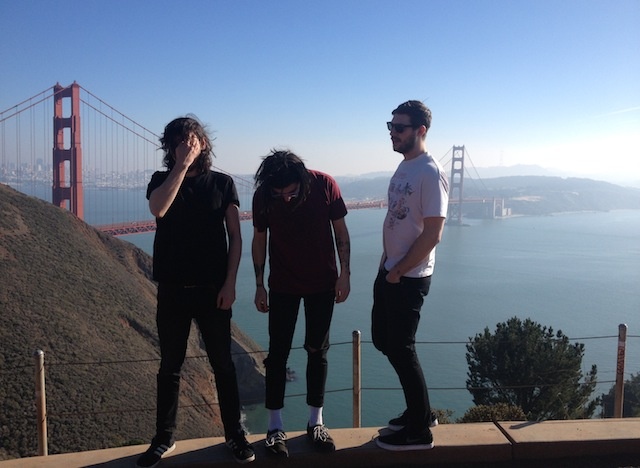 IF YOU'RE GOING TO SAN FRANCISCO BE SURE TO WEAR FLOWERS IN YOUR HAIR
Because everybody there rules.
Want more? Here's Skaters' Guide to Touring England.
And Cheatahs Guide to Touring America.
Also Big Deal are buddies with PAWS. You should check Big Deal's Scrapbook.