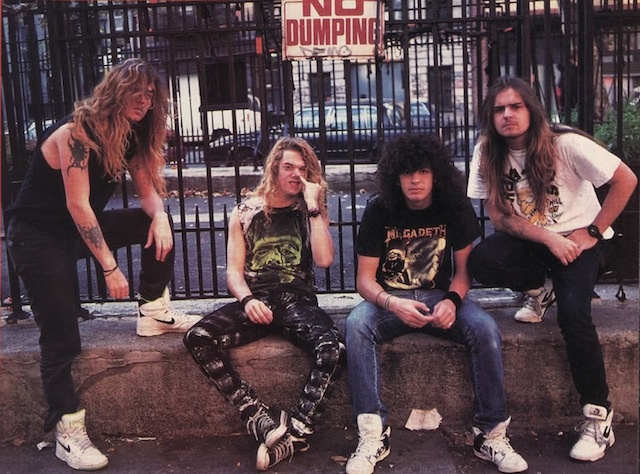 Most metal covers make me want to sharpen the butt end of a spoon and jam it through my eardrums. There are many reasons for this, and I'd like to share them with you right now.
Priest covering "Johnny B. Good." This basically proves my point, so feel free to skip the rest of the article if you want.
Welcome to our newest column, Point/Counterpoint, where we prove to the rest of the Internet that we are smarter and more right than any other editorial outlet on planet earth. We know these dudes who run a metal site called MetalSucks that people seem to like, so we challenged them to an editorial cagematch. The rules were simple: two blogs enter, one blog leaves. This week we're facing off over heavy metal covers. We personally think that metal bands, on the whole, produce awful, dog-doo, garbage covers. For some reason, MetalSucks doesn't agree with us. You can read their wholly illegitimate response right here.
I love Anthrax! The way they always deliver the unexpected, for better or worse, is refreshing in a world of predictable, consumerist metal. Even their covers EP Anthems was unexpected. Why? Because it's good. I'm not saying I expected it to be disappointing, but the band did what most artists completely fail to do when they cover songs—they made tunes by Cheap Trick, AC/DC, Boston, Rush, and others sound recognizable but updated and undeniably cool.
Of course, this isn't an Anthrax review. It's a lament that most metal bands who release covers should have thought twice before hitting record. Most metal covers suck.
Yes, there are exceptions: Killswitch Engage's "Holy Diver," Judas Priest's "The Green Manalishi" (originally by Fleetwood Mac), Pantera's "Planet Caravan," and anything Metallica covered before 1989. Considering the vast volumes of vomit-inducing covers, the odds stack strongly against metal bands taking on material by other groups. Face it, most metal covers blow. There are several reasons for this, and I'd like to share them with you right now.
MOST METAL SINGERS ARE BAD SINGERS
There's nothing worse than hearing a band play a tight, heartfelt version of their favorite song and then have it ruined the second the vocalist opens his mouth. Say what you want about the guitar talents of Children of Bodom's Alexi Laiho, hearing his shrill caterwaul atop songs by the Scorpions or John Fogerty makes me want to sharpen the butt end of a spoon and jam it through my eardrums. Atreyu haters are everywhere anyway, so I'm sure I'm not offending anyone by saying their cover of Bon Jovi's "You Give Love a Bad Name" made a bad song infinitely worse. And while some have praised Graveworm's version of Iron Maiden's "Fear of the Dark," the cloying singing—which sounds like it's coming from a corpse with a mouthful of dirt—totally discredits the mournful violins of the intro.
EMULATION IS THE MOST SINCERE FORM OF BOREDOM
When Sepultura covered Celtic Frost's "Procreation of the Wicked" on Roots they did so effectively it didn't offer anything new to the song. Another solid band, Trivium, recorded a faithful version of Metallica's "Masters of Puppets" for Kerrang presents Remastered, but vocalist Matt Heafy didn't even sound like himself. He literally channeled the voice of James Hetfield. Even the lead was practically indistinguishable from Metallica's original album cut; I'd rather play on the original, which I have more than practically any other metal song ever, with the exception, perhaps, of Accept's "Fast as a Shark." That wacky polka intro always makes me giggle. And while many have praised Type O Negative's cover of "Black Sabbath" Peter Steele's whispered reinterpretation of Ozzy's eerie vocals, the end results are just silly (though I'd like to think Peter saw the humor value in the band's sinister take on the song.
METAL BANDS SHOULD LEAVE IRONY TO THE INDIE ROCKERS
When metal bands doing covers aren't trying to one-up a great tune or create a note-for-note facsimile, they're usually trying to show how witty they think they are. Limp Bizkit's version of George Michael's "Faith" is probably the ugliest example of this in the history of music, but there are others by real metal bands. Fear Factory's cover of Gary Numan's "Cars" rocketed them into near-mainstream status, but it was a novelty song to begin with, and to hear a brutal cyber-metal band pay sincere homage to a cheesy 80s hit makes me nauseous. Orgy are even more guilty of cover desecration—they ruined the only good song New Order ever wrote, "Blue Monday." As great as the Deftones are (which is very, very, very great in my humble estimation) they made me want to create a bonfire out of Around the Fur and White Pony when they released the album Covers, which featured songs by the Smiths, Sade, Duran Duran, and others.
EVEN EXPERTS HAVE NO IDEA WHAT THEY'RE TALKING ABOUT
I love Metal Hammer UK. I like their web site and the magazine is top notch as far as UK metal mags go. Yet when I glance at the Top 100 Metal Covers piece they posted in 2011, I was left scratching my head. Just looking at their top 10 was confusing. Pantera's "Hole in the Sky" is number one and that's not nearly as good as the aforementioned "Planet Caravan." Metallica's "Stone Cold Crazy" falls into our previous category of rare, cool covers. Megadeth's "Anarchy in the UK" ruins the guitar line, adds unnecessary squiggly leads, and replaces the snootiness of the Sex Pistols' original with a tougher-than-thou façade. Next. Judas Priest's "Johnny B. Goode" is just silly. Faith No More's "Easy" is killer, but Faith No More were never a (typical) metal band, so I don't count that. Anthrax's "Antisocial" (originally by Trust) is almost as good as their rendition of Elvis Costello's "Got the Time," (refer to opening graph about Anthrax ruling). Arch Enemy's "Aces High" sounds fine until the low, grunting vocals come in and then you're left with a glaring example of a band that shouldn't emphasize how shitty it's singer is. Of course Zakk Wylde rules but how can anyone go wrong with a cover of Black Sabbath's "The Wizard." See category 2. Black Sabbath's actual "Evil Woman" comes in at number nine. Damn, if we didn't think that was an original; obviously it's not, it's by Crow and the Sabbath version is better than the original. So that one's a winner. And finally Cancer Bats cover of Beastie Boys' "Sabotage" wraps up the top 10. While the video for the song is great, the cover falls under both categories 2 and 3 and therefore falls flat. Besides Cancer Bats never wrote an album was worth listening to in its entirety. So, I score Metal Hammer's list at about 40 percent, which is a clear F in anyone's book, even with a bell curve.
MetalSucks doesn't agree with us, and you might like their argument if you like things in the world that are wrong. Read their wholly illegitimate response here.