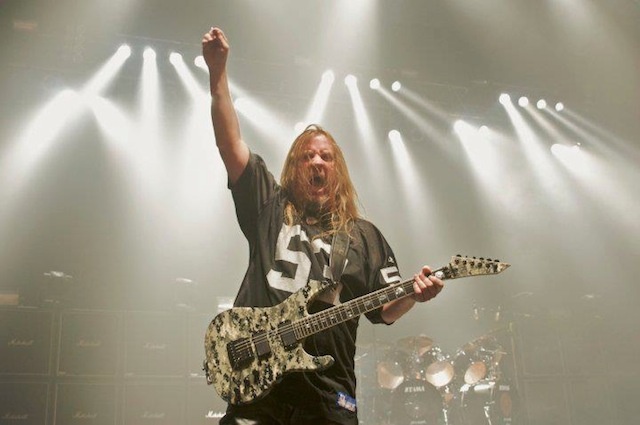 Today, we were shocked when our colleagues over at MetalSucks suggested that Slayer retire their name now that Hanneman is no longer with them. This is completely ridiculous. Saying they should kill the group after the sad passing of Hanneman doesn't even
Welcome to our newest column, Point/Counterpoint, where we prove to the rest of the Internet that we are smarter and more right than any other editorial outlet on planet earth. We know these dudes who run a metal site called MetalSucks that people seem to like, so we challenged them to an editorial cagematch. The rules were simple: two blogs enter, one blog leaves. This week we're facing off over Slayer legacy post-Hanneman—we're of the opinion that the band should continue to operate however they like. For some reason, MetalSucks doesn't agree with us, and think the band should break up immediately, which is lunacy. You can read their wholly illegitimate response right here.
The metal community is still reeling over the death of Slayer co-founder Jeff Hanneman, who wrote some of the band's most memorable riffs over a period of more than 30 years. A public memorial, at which fans can commemorate Hannneman's musical and personal accomplishments, has been scheduled for May 23 at the Hollywood Palladium in Los Angeles. Hopefully the event will provide closure for family, friends, and fans of the one of the greatest songwriters and musicians in thrash metal.
Today, we were shocked when our colleagues over at MetalSucks suggested that Slayer retire their name now that Hanneman is no longer with them. This is completely ridiculous. Slayer is a legacy band. Saying they should kill the group after the sad passing of Hanneman doesn't even make sense. Here's why.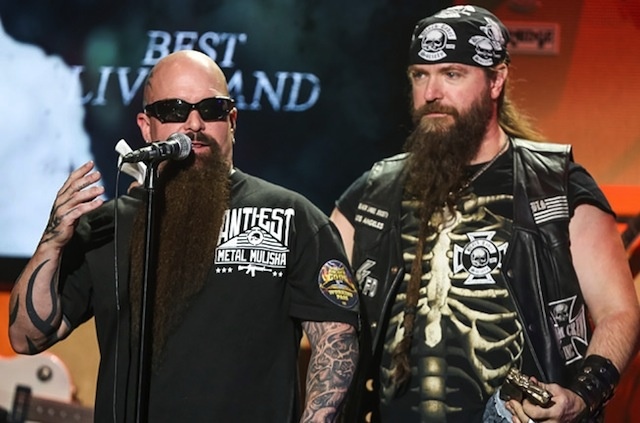 Kerry King and Zakk Wylde at the Golden Gods Awards, via
NEVER SAY DIE
Most significantly, Slayer doesn't want to break up, and not respecting their wishes is pretty damn disrespectful. They've already started writing their next album, and they have a European tour of summer festivals booked that starts June 4 in Warsaw and runs through September.
Not only that, for the past two years Slayer has toured without Hanneman—thrash king Gary Holt from Exodus has filled in for most of the shows and done a bang up job. For those who were never a member of Slayer's "Slaytanic Wehrmacht Fanclub," Holt has credibility up the ass, manning the songwriting reigns on one of the finest thrash albums of all time, 1985's Bonded By Blood, and continuing the Exodus assault through the high and low points of 30 years of violent thrash without having the kind of budget the Big Four groups, or even their peers in Testament, thrived on.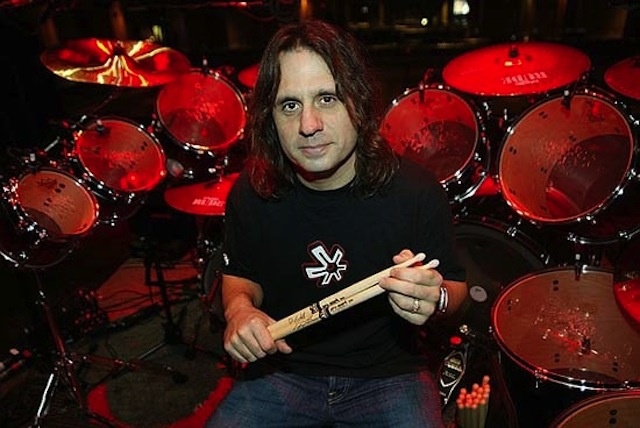 Dave Lombardo
DAVE LOMBARDO'S COMING BACK
Slayer fans are already familiar with the financial feud that led the band's original drummer Dave Lombardo to leave the band in February. In his place, Slayer hired accomplished thrash drummer Jon Dette (ex-Slayer, Testament) for their Australian tour. Judging from video clips circulating on YouTube, the shows were powerful and incendiary. Incidentally, Dette was also filling in for Anthrax's Charlie Benante on the tour, a double-duty trial by fire if ever there was one.
Clearly Slayer still has the musical chops to tour until hell freezes over, even if the only original members are vocalist and bassist Tom Araya and guitarist Kerry King. But what if Lombardo returns? Our MetalSucks peers said to me, "that's about as likely to happen as Cliff Burton rejoining Metallica." But who thought Lombardo would rejoin the band in 2001 after Paul Bostaph quit? Once Lombardo realizes that financial hardships are way harder when you're not in a top-selling metal band—even one you've had financial disputes with before—I bet he'll come running back. All it'll take is for management to wave a large enough check under his nose.
As for past animosities, they'll be forgotten like a novice pothead trying to remember where he parked the car. There's nothing like losing a loved one or fellow band mate to forgive the friction of the past.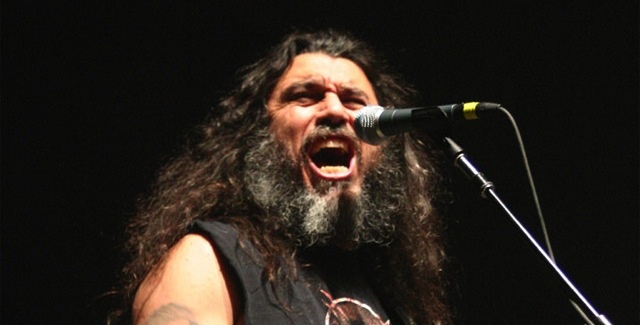 Tom Araya, via
ONLY THE DEPARTURE OF A SINGER CAN SINK A LEGENDARY BAND
No band has the sympathies of the heavy metal community right now like Slayer. It's not like Black Sabbath, where there are cynics and skeptics lined up and waiting for the band to fail without their drummer, Bill Ward. We've yet to see if Slayer can write blazing, minor-key songs that claw at the soul like they did when Hanneman was in the band.
That being the case, Hanneman usually wrote with Araya's help, and King wrote by himself or with Lombardo. It's entirely possible that Slayer's next album will be as good as their last, World Painted Blood. This far into a band's career, it's rare that they can top their absolute best material, like Reign in Blood and Seasons in the Abyss. But who knows? Even when Bostaph was behind the drums, Slayer always sounded like Slayer, and they always ripped. Like AC/DC and Motorhead, they've always delivered fans pretty much exactly what they've expected. As long as Kerry King is sawing at his strings like a demon on crystal meth and playing solos that sound like screaming strangled cats, I can't see anyone crying foul.
King has always written about how much he hates religion, and how much he likes serial killers, and that's not going to change. And vocalist and bassist Tom Araya isn't going anywhere. Maybe that's the most important element. Bands usually only take a nosedive when their singers leave. Guitarists, for the most part, are replaceable. Even Ozzy Osbourne was able to persevere after losing Randy Rhoads, one of the greatest metal guitarists of all time. All he had to do was hook up with other superstar guitarists, including Jake E. Lee and Zakk Wylde. So with Araya still screaming like a caged beast and Holt effectively replacing Hanneman on a full-time basis, the only missing element is Lombardo. There's no question Lombardo is crucial to Slayer's sound, but the band has succeeded without him in the past, and if he can't work out a mutually satisfactory deal, they'll no doubt find another lightning-fast drummer to man the stool, be it Dette or some undiscovered entity.
SUPPOSE THE NEXT ALBUM SUCKS
I'm guessing that, without Hanneman to support them, Slayer are going to be pumped up to prove that their music can still tear the heads off of newborn infants even at low volumes. Maybe they'll end up working harder on their next album than they would have if Hanneman and Lombardo were still in the band. Araya and King are a fierce pair—along with Holt, they're capable of creating something mind-blowing.
But what if the next Slayer album is as bad as Metallica's record with Lou Reed? Did that really hurt Metallica? Granted, that wasn't a "proper" Metallica album, but St. Anger was, and fans still lined up to buy tickets to the band's concerts. Even if the next Slayer album isn't as good as fans hope it will be, the band will still be able to raise the hair on the back of its audience's necks when they break into the harrowing tones of "Raining Blood," "Dead Skin Mask," or "Angel of Death."
Slayer have at least eight solid-to-classic albums of material to draw from regardless of what they do next. And as long as still have the drive and determination to conjure that Slayer sound, the masses will come, throw up the devil's horns, mosh in the pit, and beat the shit out of each other while Araya sings about death, demons, and horrific acts of violence. Hell, it's worked for 30 years and if Slayer don't want to buy their soul back from the devil, they should be able to keep the war machine grinding for at least another decade.
MetalSucks doesn't agree with us, which you might like if you like things in the world that are wrong. Read their wholly illegitimate response here.