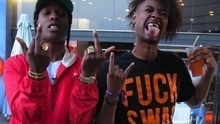 So welcome to The Noisey Awards.


At Noisey, we don't like to blow our own trumpet (although one of our interns has had two of his ribs removed, but that's another story), so we'll put it this way: it took the Beatles over 40 years to sell around 20 million copies of the White Album, but in just over one year, we've hit 200 million YouTube views. So if you do the math, we're not just better than The Beatles, we're ten times better than the Beatles.
Since we launched our YouTube channel with M.I.A.'s "Bad Girls" in February 2012, we've been paintballing with Tyler, got A$AP Rocky and Danny Brown together, and brought an Action Bronson gig to an old people's home in Hackney. I guess we do kind of deserve a pat on the back. Maybe even a gold statue. Oh fuck it, here is the rundown of the best of our Noisey YouTube content in what we're shamelessly calling The Noisey Awards. Drum roll please…
Most Watched… Who Actually Listens to Skrillex?
Our resident musicologist Josh Haddow interviewing Skrillex fans made us fear for the world that our children will be born into.
Best Comment… Josef Ladim
This gem comes from our Airplane Boys interview. Josef clearly took offence at the Canadian rappers' hood credentials: "DUDE...IN TORONTO THE ONLY THING YOU GOT URBAN...MIGHT BE ELK ON ELK CRIME…" But seriously Josef, Elk crime causes a lot of hassle that our fair Canadians don't need.
Scariest Dude… Freaky-Eye Guy from Big Night Out
Noisey captured the first real footage of Lucifer himself. We kind of knew he'd be into Scottish gabber.
Best Care Home Entertainer… Action Bronson!
Because even old people love hip-hop, we decided to send Action to our local care home to give back to the community. See, we are nice.
Most Down with the Fans… Odd Future
Tyler took a few of his fans paintballing, deciding to recreate his own version of Antietam. When not getting hit with paintballs, he let the fans ask him whatever they wanted, mostly about candy and how shitty it is in Britain.
Best Living Legend… John Lydon
On this British Masters special, Lydon talks about how Harvey Keitel pointed a gun around him and what it was like bossing around Miles Davis.
Best People Versus… Waka Flocka
Waka gives us the real meaning of "Rooster In My Rari" (hint: it's not about having a chicken in your car) and also how best to deal with the haters (hint: it's not shower them with love).
Best Interviewer… Ex-Gangster Dave Courtney
Former East End hard man Dave Courtney wanted to meet of some London's hippest, so we gave him a chance to hang out with them at the Old Blue Last. When the only question you ask people is "Where's the fanny?" you know you've got a bright talk show future ahead of you.
Most IRL Popstar… Charlotte Church
We convinced Charlotte Church to appear on our pub talk show Noisey Talks, and she ate all our Starbursts.
Best Laugh… Danny Brown
The best moment of our favorite Back & Forth is held together by what can only be described as "the best real fake laugh ever." The duo talks music bloggers, Kathy Griffin, and hooking up with groupies through Twitter.
Most Committed Journalist… Wilbert Cooper
Wilbert went the extra mile when he got drunk with Gucci Mane and Waka Flocka Flame for this edition of Noisey Raps, eventually ending up in hospital with a pocketful of cash. We now fear that we might lose him to Brick Squad.
Best Stoner Boner Geekfest… Guitar Moves with Josh Homme
If you've ever nerded out to Rated R, Josh Homme showing you the secrets behind his success probably gave you a boner.