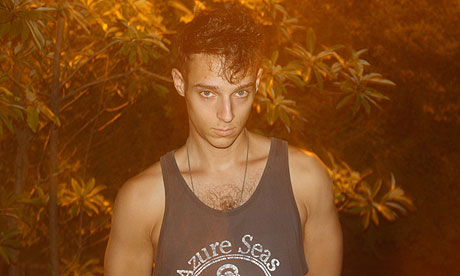 Twin Shadow's Russ Manning is flying solo with a new EP, a new video, and a new sound.
If it's true what "they" say and there really is no sleep for the wicked, then Russ Manning must be wicked as hell. While touring the world for the past two years as part of Twin Shadow, the Brooklyn-bred, formally-trained jazz musician has been scraping together every possible moment of lull to write and record demos for his new personal project, Rush Midnight. Now with a debut EP, +1 (produced by Twin Shadow frontman George Lewis Jr.) via Cascine, and a new video under his belt, Manning is flying solo and taking his jazz-infused dance pop on the road. We caught up with Rus(h) for a quick Q&A.
Noisey: This album has a vintage 80s pop feel to it. Which nostalgia artists have left the biggest impression on you?
Russ: I've listened to a lot of Kool & the Gang, Midnight Star, the Police, Talk Talk, and more. You hear that 80s sound because the keyboards I'm using were popular back then (Yamaha DX7, Sequential Circuits 6-Trak), and also because I love to mix the rhythm section and vocals pretty dry. The music that makes me dance is often from the 80s, when producers depended a lot less on reverb.
How was it working with George Lewis Jr. as a producer rather than a frontman?
Working in the studio with George was real natural. I had been sending him songs for over a year by the time he helped produced "Crush" and "Dreaming of an Island." He knew what sound I was looking for, so I was able to relax on the couch and hear him improve/polish my songs.
What was it like juggling creating a unique solo sound while still touring with Twin Shadow?
Touring is hard work, but there is always free time before shows, in the car, airports, hotel rooms, et cetera. In between trips, I began focusing harder on my own music, and soon I had about 20 songs laying around.
Are there any specific moments from your travels that you feel had a special impact on this album's creation?
We spent a month in Berlin one summer, and I was able to explore the city for more than just one night. I set up a little studio during the day and spent most nights exploring the city. I was really excited about this project once I returned home in the fall. By this point, a lot of my friends were encouraging me to put something out.
How has your training as a formal jazz musician influenced this solo project?
I studied Jazz throughout high school and college, but I've always had a rock band or two on the side that I would put my heart into. Jazz training has improved my sense of rhythm, but as far as songwriting goes, I usually try and forget everything I learned in school.
Check out the premiere of Rush Midnight's new video for his second single, "Crush," below!