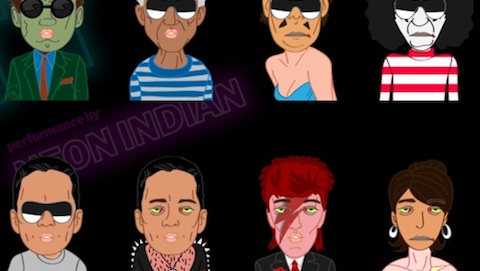 If you can't be there in person, for $5 you can customize a bobblehead and attend digitally while you stream the show online.
The second week in March, the world's leading international art fairs will descend upon New York City, including The Armory Show—known for showcasing both modern and contemporary art, now in their 14th year. For their opening day after party and MoMA benefit on March 7th with support from VICE, Creator Neon Indian will take the stage, and you can too via a customizable digital bobblehead.
For $5, you can design a bobblehead and gain access to an exclusive livestream of the show while your bopping avatar makes an appearance at the after party via projections. Virtual entry is a bargain compared to cost of attending IRL, tickets range from $125-$750, but all the proceeds will go towards the great cause of providing people with amazing art, so we think it's worth it.
Check out the bobbleheads already on-site, and if you haven't already, watch the music video for Neon Indian's "Polish Girl", which we helped produce last year.
We have a sneaking suspicion that attending events digitally or via avatar will be a growing trend this year. Do you agree?