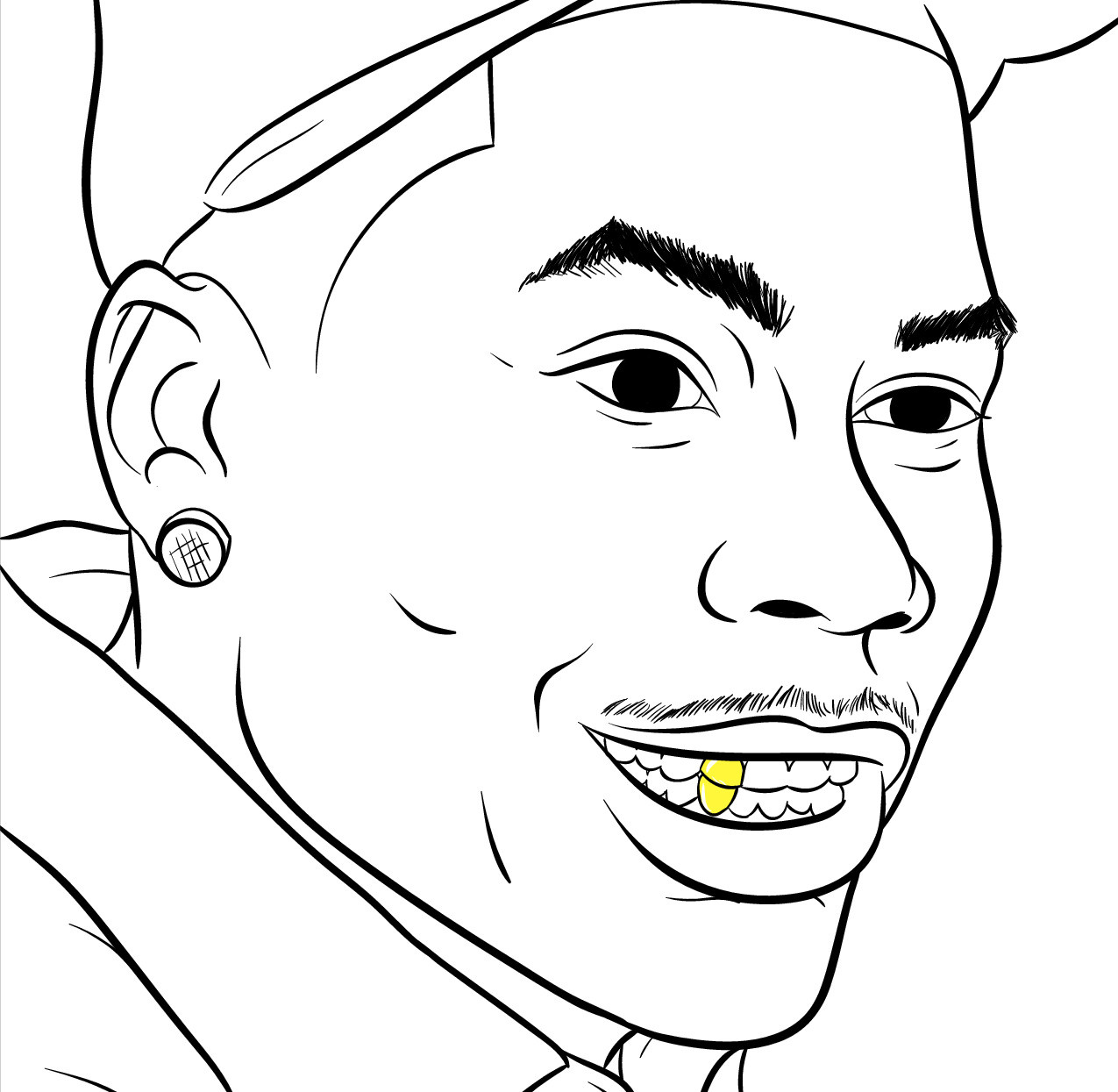 This is what happens when you go to a Nelly concert in Milwaukee in the year 2013.
Illustration by Shea Serrano [Click for high-res]
"C'mon guys! I feel like you aren't as pumped to see Nelly right now as I am!" screams a tanktop-ed teenager to his friends in the glassy-eyed throng of people behind me. He yells again: "C'mon! Let's get pumped!" The crowd of around 7,000 leans and wiggles, tits-to-backs in a sweltering inferno of drunk and wobbling humanity.
I am seeing Nelly as a part of Summerfest, an annual Milwaukee-based bacchanal that has happened every summer since 1968. The beer flows heavy—Miller Lite being the brand of choice, naturally—and Summerfest bills itself as the biggest music festival on earth, owing to the festival grounds' mammoth size (75 acres), sheer number of stages (11), number of performing acts (over 700), total attendance (anywhere between 800,000 people to one million) and its length (11 days).
It's a festival-going experience like none other. For the 11 days it runs, it's not so much a premiere musical experience as it is the best place in Milwaukee to get blind drunk and enjoy the anonymity that comes with being in a large crowd. There's a lot of music, sure, but it's easy to spend as much time dodging teenagers in "She Wants the D" t-shirts vomiting up liters of beer and tube-shaped meat products as you do seeing bands. It's the kind of place where old men—who have arrived at Summerfest sans-shirt—walk around smoking cigars and wearing cowboy hats and sandals with socks. You can see moist couples in NASCAR tanktops try through-the-jorts insemination alongside Wisconsin's young aspirational hipster community as they try to maintain a cool personal brand while eating an Auntie Annie's pretzel. It is always easier to locate places to buy beer than it is to buy water, and you are constantly in danger of getting shinned by a golf cart carrying off someone who got too turnt. It's like a cross between a FEMA disaster zone, a county fair, and that part in Zombieland at the carnival. This is not the same crowd that will go to Chicago for Pitchfork Festival this month.
Nelly is headlining the Miller Lite Oasis, one of multiple general admission side stages. He is performing alongside a murderer's row that includes Lewis Black, Hollywood Undead, O.A.R., and Rick Springfield. The opener for his performance is a guy who finished eighth on the 11th season of American Idol. The night's ultimate headliner, Tim McGraw, Nelly's old duet partner, is playing the 23,000-capacity Marcus Amphitheater.
I am here because despite selling 20 million records between 2000 and 2009, and despite being the second biggest rapper as recently as 2004 (it was Em, Nelly and Jay then, in that order), Nelly is utterly buried in the festival's literature and website. He is listed behind—no shit—Talib Kweli, the Spin Doctors, Blues Traveler, REO Speedwagon, Foreigner, the Airborne Toxic Event, Imagine Dragons, Alice Cooper, Billy Idol, MGMT, and Styx, among others. How could it be possible that a guy who was the third biggest selling act of last decade (behind Eminem and Usher) is listed just ahead of Cold War Kids and Milwaukee songwriter/embarrassment Pat McCurdy on a festival lineup? Basically, what is it like to see Nelly in 2013?
The "narrative" surrounding Nelly, if there even is one in 2013, is that he is done being the sales juggernaut he used to be, and he is swiftly sliding towards obsolescence, despite him being a clear—if unmentioned-- influence on Drake, Big Sean, Wiz Khalifa and Kid Cudi. Nelly himself has mentioned both points in a couple interviews, this one with Complex being the most thorough, asserting, correctly, that everyone expects rappers to sing hooks now, and he is still able to sell a decent amount of records (his last LP, 2010's 5.0, has sold 314,000 copies) even if everyone considers his new albums to be "busts" because of the 15 million records he sold with his first two LPs.
But mostly it's no longer necessary for mainstream music publications to even have a real opinion on anything Nelly related. If his stuff gets posted at all—like when his "Hey Porsche" video went viral for a day—it's mostly in service of mockery. A thousand blogs joined the pile on, deriding the song for being rap-country or being too poppy, like it wasn't really just the logical mashup of "Ride Wit Me" and "Over and Over," two Nelly songs that were mega hits last decade. The song's biggest crime is that it wasn't a hit; it stalled at number 42 on the Hot 100.
Despite me having to watch his entire show through the giant screens that line the Miller Lite Oasis, I can say Nelly has lost none of the Crest smile and none of the charisma. He brought a girl onstage and sang "Over and Over" to her, and she started crying with joy. He said, "Let's get it turned up in here," like your fun uncle trying out new slang words. He introduced his last song with a plea for us to check out our own local rap talent. If the vibe was anymore happy-to-be-alive, I'd swear I was at a Lil B concert.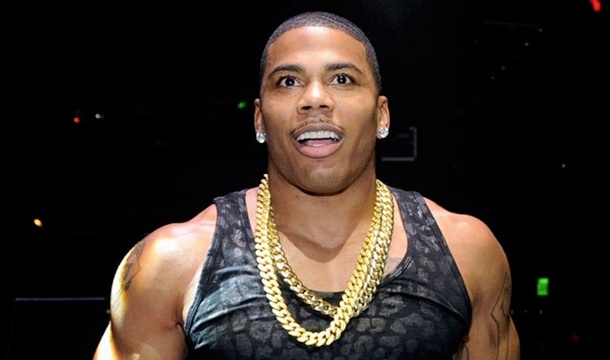 With Summerfest, it's always hard to tell what the ratio is of people who are genuinely there to see a specific band to the inebriated people who happen to see a stage, and saunter over. I would bet the ratio was 40-60. But Nelly has, outside of Kanye, Jay-Z and Ludacris, the most crowd pleasing hour-long set in hip-hop. His setlist was like a greatest hits album in the flesh: He did "Air Force Ones," "E.I.," "Country Grammar" and "Dilemma," in the first 25 minutes. Then he brought out Murphy Lee, who did his "What the Hook Gon B" and "Shake Your Tailfeather." He did "Pimp Juice" and a freestyle to "Blurred Lines" for some reason. And of course, he did "Hot In Herre" and not a single soul in a 500-person radius of me didn't yell out the "I think my butt gettin' big" part, and people kept forming half circles to yell the lyrics at each other.
Regardless of how many new albums or collaborations he tries with country artists, Nelly is really never going to "not matter" in the immediate future. Even casual fans have his early hits burned into their subconscious, and this is why he drew as many people to his stage as he did. As Millennials get older and start having kids and going to fairs, we are not going to want to see Tommy Tutone or Molly Hatchet. We are going to want to eat Elephant Ears, listen to "Hot in Herre" for the 1500th time, and long for days when our lives were ahead of us. Right now, Gen X and Boomer nostalgia is fueling these kind of festivals. Nelly might be buried behind REO Speedwagon, Styx, Loverboy and Rick Springfield on 2013's county fair-esque music festival circuit, but in 2023 he's going to be the top dog. Nelly is our REO Speedwagon.
Is that a bad thing? Does it infuriate Nelly that despite him performing new songs too--"Hey Porsche" inspired a couple near me to round third base, and "Cruise," his song with the country group Florida Georgia Line, got a lot of boisterous "WOOOOOS"—and working on a new album, people will still lose their marbles to the old stuff? I wanted to ask Nelly these questions in person, but emails to Nelly's people for an interview went unanswered. It could have been a lack of clout and publicist connections on our parts (possible) or it could be that while Nelly might not be big enough to headline the main stage at Summerfest, he's big enough to not have to do every publicity interview that comes up (probable).
Maybe Nelly's lineup burying was a mistake; some oversight at Summerfest HQ that got overlooked and since it's so busy no one had time to fix it. Or maybe Nelly is just in a really weird place right now; a nether world where he is still bogged down by expectations from the corporations that pay his paychecks and where outright nostalgia for his old work hasn't entirely been recognized by festival organizers. Which I guess translates to below Empire of the Sun on a festival's lineup website.
So what is it like to see Nelly in 2013? It's a pretty relentlessly positive experience. Were there as many people there as there would have been in 2002? Probably not. But it was the first time I think a lot of us got to taste unadulterated nostalgia for the early '00s in a musical form. It almost feels transgressive to say I thoroughly enjoyed a Nelly concert in 2013, but I did. Now I know what it's like to be those shirtless guys at .38 Special concerts.
Andrew Winistorfer probably thinks about Nelly too much. He's on Twitter — @thestorfer
Shea Serrano is the author of the Rap Coloring and Activity Book along with Bun B. He's on Twitter — @SheaSerrano