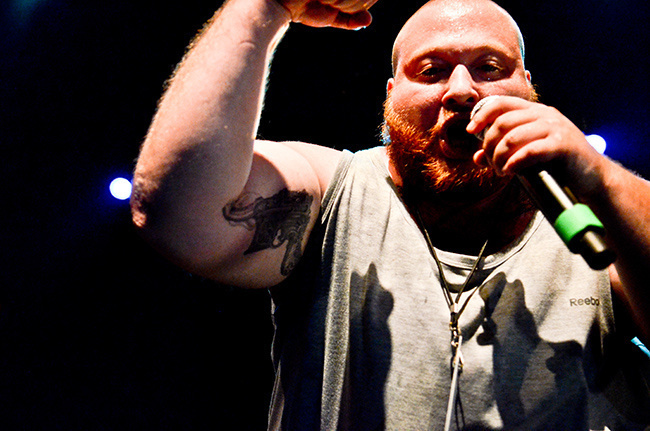 The "foodie rapper" Action Bronson breaks down the fine art of the fight song.
The walkout song is a time-honored tradition in MMA. It's also a delicate balancing act. The perfect song has to pump a fighter up while settling his/her nerves, appeal to the crowd without appearing to pander. "My Walkout Song" is where we ask MMA fans who also happen to be famous musicians what makes for great pre-fight music and what song they would choose to accompany their walk to the cage.
Action Bronson
The only child of an Albanian father and a Jewish mother, Queens native Action Bronson is New York personified -- a lifelong lover of hip-hop and former student of the culinary program at the Art Institute of New York who took to rhyming after years in the family restaurant. Consequently he's become know as the "foodie rapper," famous for tracks with titles like "Jerk Chicken," "Ceviche," and "Roasted Bone Marrow."
Before Bronson heads down to Austin for SXSW in March and his debut LP for VICE/Warner Bros. Records drops later this year, we asked him about his lifelong love of music and mixed martial arts and what song he would choose to get him pumped up for a fight of his own.
Fightland: You're a longtime MMA fan, right?
Action Bronson: I've been watching since the beginning, since the very first UFC. I got all of them on DVD.
How do you feel about the development of the sport, from the days of a guy wearing one boxing glove fighting a jiu-jistu …
Wait, who is this?
What?
What's your name?
Josh.
Hey, what's up, Josh? I thought it was Chris from Vice.
No, this is Josh from Vice.
Oh, Josh. You sound like fuckin' Chris.
Nope, this is Josh, but … So how do you feel about MMA today compared to how it was back in the day?
I like the way it's turned out with all the different classes, and there's a lot of good athletes competing against each other. Early on it was just a free-for-all fuckin' whatever – 500-pound dude fighting a little dude. But it was entertainment. But I like the way things are right now.
Do you train?
I don't. I'm out of shape right now, but as soon as I get into shape I'm going to start training, for sure.
Read the rest of Josh's interview with Action over at Fightland, our beefy MMA sister site.