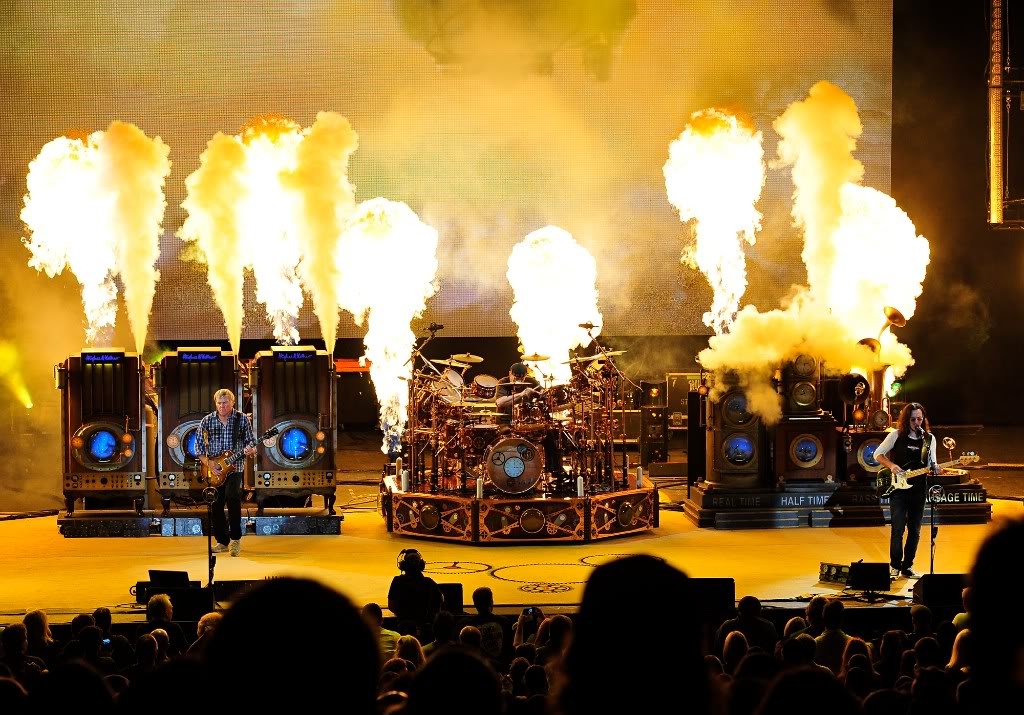 Why have one amp when you can have 52? Stand up Metallica, Phil Collins, Daft Punk, Rush, and The Osmonds: we're looking at you.
There's a certain point in every famous musician's career when they're no longer changing their own guitar strings mid-show or going blind with electrocution from a long-faulty amplifier. The seesaw flips and now money is flowing through their (managers') hands and they have access to their wildest dreams; the pick of the wide, glorious world of musical equipment.
This combines with another problem: when you're playing enormous stages, you need something to fill the space. There's a certain expectation of spectacle at a rock show. Or a rap show, or an electronic music show. Here's a range of acts who have grown so gloriously large that their equipment threatens to engulf them.
DAFT PUNK
Okay. What do we know about Daft Punk? They are two French robots. They are at least one half the scion of the French disco legend responsible for 'D.I.S.C.O.' They are more merchandising than human. Thomas Bangalter learned how to be a cinematographer by reading issues of American Cinematographer Magazine.
And we also know that their early live shows were an exciting mix of drool-worthy vintage analogue equipment, painstakingly patched together and sequenced live.

Back when they were just humans.
Fast-forward to 2006's Alive tour. By this point they were full robots, and appropriately, they now emerged within a pyramid of meticulously-managed precision. First off, the light show was awesome. Secondly, it sounded great. And thirdly, there was a giant glowing pyramid to dance at.
Check out this setup: Daft Punk are the kings in several regards. They have four Moog Voyagers just to use as filters. They rock a custom-built supercomputer. And just to prove that they're supreme beings, they use super cheap Behringer BRC2000 MIDI controllers to manage it all.
The humility, people.
METALLICA
I saw Metallica once, at 2003's Download festival in the UK. Coincidentally, at that exact moment I lost several ranges of frequency response in my ears. I'd won a ticket to the event and so had a backstage pass, which meant that I could wander around in the precarious streams of mud which dotted the area. Metallica were a secret act, playing on the smaller stage at 3pm. I was waiting beside the stage, and witnessed the first of several surprising moments. At the back of their stage was row after row of Marshall stacks – which have, through product placement such as this, become one of the enduring symbols of rock 'n' roll. However, I saw the awful/awesome truth: the stacks of stacks, the symbol of the gods themselves were all… hollow.
Which is fine, because they sounded ridiculous anyway. Metallica have also sported some great stage sets in their time—though they didn't have a mascot like Iron Maiden's Eddie, they made up for it with crazy imagery like this…
Blind schoolchild Buddhas:
Tesla coil madness:
LCD screens that just show clouds (because clouds are badass: they can withhold life):
Fire that totally burnt James Hetfield once:
Lasers like a Bond villain:


Coffins that ironically would crush to death anyone under them if they fell:

RUSH
Like the salmon painstakingly vaulting towards procreation choose to swim against the stream, Rush write prog songs about Tom Sawyer and nerdy instrumentals based on the Morse Code interpretation of Toronto's airport code (Y.Y.Z.). And even though they're the biggest band in Canadian history—outselling parochial acts like The Beatles and The Rolling Stones—Rush eschew the gear bounty they're surely entitled to.

Okay, so guitarist Alex Lifeson has an abundance of instruments—so many that he's even invented his own guitar stand so that he can play some sweet acoustic without having to pick it up.
And Neil Peart is awash with drums, like a drowning man reaching for the life preserver (though there's no doubting that he actually does play them all).
But for the purposes of this article, it's Geddy Lee that we're interested in. Geddy plays his bass through a simple Sansamp direct box, happy not to make his crew cart around huge bass cabinets.
But nature abhors a vacuum. If a stage can't be cluttered with wooden speaker cabinets, the obvious replacements are… well, everything.
Chicken rotisseries. Washing machines filled with t-shirts to throw to the crowd. A bar, complete with barman. A combination time machine and sausage maker. "Geddison" phonograph horn. A popcorn maker.
He's not saving the planet by reducing his carbon footprint. But he won't go hungry when the oceans flood our lands.
OSMONDS
A brief but honorable mention goes out to Donny Osmond, the younger Hanson brother of his generation. The Osmonds, for those who don't remember, were a terrifyingly chirpy collection of young siblings, having the time of their lives entertaining the world. Sort of a Jackson 5 but through Mormonism instead of the Jehovah's Witness prism. Osmond, incidentally, made at least one awesome jam in the form of "Crazy Horses."
Not only could this fun-filled family band rock when they needed to, they came up at the same time as did the world of modern synthesis. Hence Donny's amazing Moog Modular setup, which would leave any present-day nerd (your writer included) weak at the knees.
PHIL COLLINS
Collins' bandmates in Genesis famously have several warehouses full of the treasure of kings: vintage Roland and Korg synths, guitar controllers, and sound-generating oddities. Between them and Rush, they probably account for 92% of the original Moog Taurus pedals in the world.
Unlike the aforementioned Neil Peart, we're unconvinced that Phil Collins plays all of his drums.
RICK WAKEMAN
The famous keyboard drought of the 70s was caused almost exclusively by one Rick Wakeman. While his contemporaries in Emerson, Lake and Palmer had to subsist on a mere drum kit and bass guitar between them, Wakeman had more keys than hairs on his head. Here's a hellish vision of a musical future we blessedly don't have to live in any more.
Davo had a three-tiered keyboard stand once, but his guitar tech said it was a health and safety risk and dismantled it. The guitar tech is an awesome man named Calvin whose band, Smoking Hearts, rule. Davo is on Twitter - @battery_licker