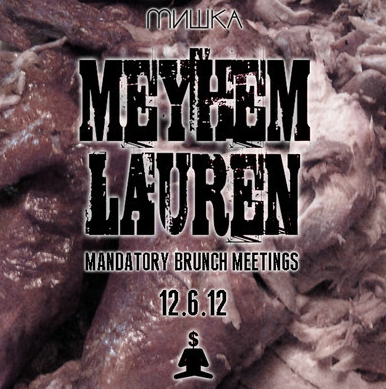 A sonic blessing from Mr. Thanksgiving himself.
Meyhem Lauren is from Queens, stays dipped in Polo, raps like a defensive lineman trying to plow down a quarterback, and he's really good friends with Action Bronson. In other words, we love Meyhem Lauren more than a few peripheral members of our families. Laurenovich, who also goes by the top-tier nickname Mr. Thanksgiving, decided to bless us with a Thanksgiving treat in the form of "10 Dollar Lap Dances," off his upcoming mixtape Mandatory Brunch Meetings, due out December 6th on Greedhead and Mishka. Peep the full Mandatory Brunch Meetings tracklisting below the "10 Dollar Lap Dances" stream.
In the spirit of the holiday, here are a few things "10 Dollar Lap Dances" makes us thankful for:
—Harry Fraud, who might be our favorite producer working right now, completely outdid himself on this beat, which keeps threatening to devolve into Noise Rap before swinging back into total smoothness.
—Meyhem Lauren bragging about how he and his friends go to strip clubs and make strippers sad because even though they look like straight money they're not going to tip more than anybody else.
—The phrase, "WE IN HERE," which has totally different connotations than, "WE OUT HERE."
—The line, "You're a boat and I'm a portable island" as well as the entire rest of the song.
—Lauren puts the exact right amount of food references in this to help us remember that it's Thanksgiving and we get to eat a hilarious amount of food today.
MANDATORY BRUNCH MEETINGS
1) MANDATED PARTICIPANTS PRODUCED BY ATG
2) 10 DOLLAR LAP DANCES PRODUCED BY HARRY FRAUD
3) GET THAT MONEY BLACK PRODUCED BY DJ TWO STACKS & NOVA
4) KELLY KAPOWSKI PRODUCED BY ATG
5) THOUSAND DOLLAR GYM SHOES FEAT. ACTION BRONSON PRODUCED BY TOMMY MAS
6) SILK AND LEATHER RAP FEAT. GABBIE GIFTSZ PRODUCED BY ATG
7) CEDAR PLANK SALMON PRODUCED BY DJ UNEEK
8) BEAUTIFUL AREOLAS PRODUCED BY J-LOVE
9) BRAND NAME MARIJUANA PRODUCED BY ALCHEMIST
10 )PERSIAN RUGBY'S PRODUCED BY MIKE FINITO
11) STEWED RABO FEAT. ACTION BRONSON & AG DA CORONER PRODUCED BY TOMMY MAS
12) BURGUNDY GUESS JEANS PRODUCED BY ATG
13) SECRET ANGLE PRODUCED BY FALSIDE
14) BROOKLYN QUEENS DAY FEAT. MAFFEW RAGAZINO PRODUCED BY ATG
15) CARVEL FEAT. HEEMS, LAKUTIS, & NESS PRODUCED BY MIKE FINITO
16) GUNS IN THE PLAYPEN FEAT. GABBIE GIFTSZ PRODUCED BY ICEROCKS
17) FDR MUSIC FEAT CARRIE WILDS AND HOLOGRAM PRODUCED BY ATG