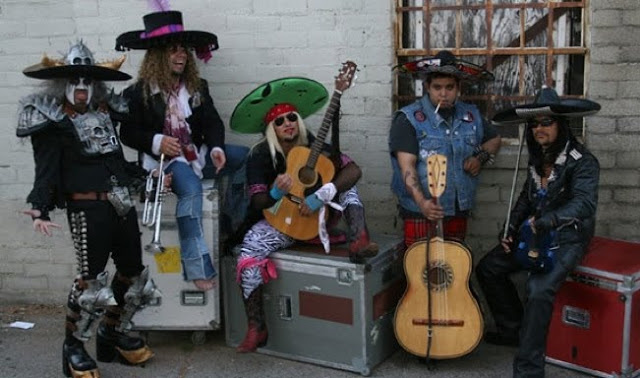 Keeping it weird can also mean keeping it earnest.
Do I really have to break down Metalachi's name? It's exactly what it sounds like, assuming you're thinking of mariachi renditions of metal songs, as opposed to Slayer burning through the Vicente Fernandez catalog. Sure, watching them live was an exorcise in participating in being complicit with the bastardization of both forms, but it was a lot of fun and that's way more important. If you doubt their metal cred, their website says they are endorsed by Coffin Case. Austin may tout itself as "The Live Music Capital of the World" to clueless tourists and hacks hoping to make it big with their streetside brass ensembles, but Wednesday night is not always popping off. People slowly eked in, and the crowd seemed more composed of curious outsider than die-hards (i.e., me). Turnout wasn't terrible, but it was, y'know, Wednesday night.
The members of Metalachi, save for sombreros, each had their own look, and yes, it's all ridiculous. Guitarist Ramon Holiday was the "hair metal" dude of the bunch, with zebra pants, an oversized Led Zeppelin Stairway to Heaven shirt, and blonde hair from whoever supplies Bret Michaels' weaves. Poncho Rockafeller, handling the guittaron, had plaid pants straight out of the "Hot Topic Prom" collection, and the brim of his sombrero looked like the wall of a Wahoo's. Violinist Maximillian "Dirty" Sanchez had an S&M vibe going, perhaps a slightly more risque homage to Rob Halford's leather daddy ensembles. Vocalist Vega de la Rockha looked like Horoatizo Sanz playing Ozzy Osbourne, but wailed with a range so robust that Tony Iommi should give him a call. The star of the group by far, is trumpeter El Cucuy. Decked out in corpse paint, skull-laden armor and a codpiece that squirts lime juice—more on that in a bit—he had the most presence. Hell, it was his trumpet lines on their rendition Ozzy Osbourne's "Crazy Train" that sold me on the group in the first place. Cucuy is also the nastiest of the bunch. During the "Black Dog" portion of their Led Zeppelin medly, which also included the aforementioned "Heaven" and "Immigrant Song" (no, they did not modify the lyrics to them), each of the band members talked about their fetishes. He won easily by proclaiming his love of girls who a) wear their Raiders shirt so tight the fat pokes from the bottom and b) putting lip liner on their vaginas. Not even Sanchez could top that.
Since Metalachi does not employ stacks of amps, they get off on the pure energy of the songs they select. This is where the band transcends gimmick. It's a testament to the songs themselves that they sound as electrifying through the mariachi form. No double-bass drums or whammy bars, but one could still easily headbang and fit in. The intensity of Slayer's "Raining Blood" and the fist-pumping-ness of Twisted Sister's "We're Not Gonna Take It" were not lost at all. After hearing Bon Jovi's "Living on a Prayer" botched in so many karaoke bars, it was a relief to see it handled by people who not only liked drinking, but also knew what they were doing. Now that Apocalyptica has drifted into radio-rock hell Metalachi are the bastions of acoustic Metallica covers. Sanchez made his violin yell at Kirk Hammet "I can do this better than you!" during "Master of Puppets."
Of course, they get stupid too. Their accents alone, exaggerated even though they're from LA, proved as much. There was more. Per cultural stereotypes of both Hispanics and metalheads, they love their tequila, no lime, no salt. One of their between-song breaks involved plucking a girl from the crowd—whose name just so happened to be Margarita—and making her a Metalachi-blessed Margarita. She seemed somewhat hesitant onstage, but I would have downed a margarita made with lime juice from Cucuy's crotch in an instant. Then again, I had to drive. de la Rockha also made reference to the fact that he used to be on COPS, because take it from me, there aren't very many classy metalheads. Bill Hicks would have given him a lecture, but he's been dead for many years, and you can't libel the dead.
In Austin, there's always someone dancing at a show—indie, metal, polka, reggae, whatever, there's somebody dancing. Metalachi was no exception, as an older couple ballroom danced to the opener, Judas Priest's "Breaking the Law," and the closer, "Crazy Train." The dude had a balding ponytail, so I'm gonna give him the benefit of the doubt and say he teaches at UT and has TAs to do his shitwork, so he can dance the night away! His lady had to wear platforms to match his height—a move towards equality or dominance? Gender politics aside, it was sweet to see couples earnestly dancing. After all, Christy Wampole was probably driven to write her anti-irony essay from a trip to Austin. Didn't hear a single howl of mockery, wouldn't have matter if one was unleashed anyway. This is not unprecedented—I saw a couple ballroom dance at a Primitive Weapons show a couple SXSWs back. Keeping it weird can also mean keeping it earnest.
Metalachi have to, understandably, play songs that people recognize. Thus, they can't include a song like Riot's "Swords and Tequila," which even if you haven't heard the song, sounds like the title of a theoretical Metalachi original. And now that I mention it, you haven't heard it? There are many like you, and y'all might as well be virgins. Excuse the dumb cover—Riot have many which I could devote a whole article to—and behold the righteousness:
Lost innocence? You were waiting for that bum to move out anyway. Wouldn't that sound badass with the Metalachi touch? It's fast, it's catchy, it's about swords and fucking tequila. Alas, Riot, due to shitty record deals, a revolving door of lead singers, and as mentioned before, really fucking STUPID album art, are not talked about with the likes of Motorhead and Slayer, and thus, people wouldn't recognize the cover. For shame. But that's just a Wednesday night in Austin.
Andy O'Connor has seen Apocalyptica twice. He's on Twitter - @andy_oconnor