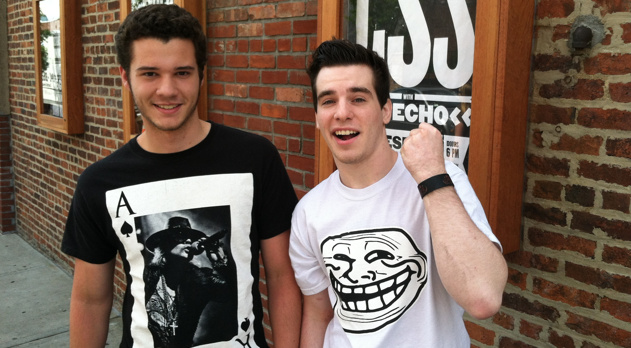 Guns N' Roses are playing around the corner from our office tonight, so we decided to interview the first people in line to see them.
Tonight, Guns N' Roses are playing an intimate show at Brooklyn Bowl, a smallish venue around the corner from the VICE office. Tickets are $150 each, and in all likelihood this is the smallest concert Guns N' Roses will play for years. For the GNR devout, tonight is like a diehard Catholic being able to play a game of one-on-one basketball with the Pope.
Meet Tyler and Tyler, the biggest Guns N' Roses fans in the Northeast. They are highly involved members of mygnrforum, the premier Guns N' Roses destination on the web, and as far as I can tell, their lives are structured around how much they love Guns N' Roses. They took the train in from New Jersey and Pennsylvania respectively and got to Brooklyn Bowl at 11am so they could be the first people in line to see the band—who, it should be noted, have a reputation for hitting the stage excessively late. The show is also 21 and up, and the Tylers—both 20 years old—haven't figured out a way to get in yet. I have no doubt that they will, however. If you work at Brooklyn Bowl, please have mercy on them. Trust me, these dudes care about this much, much more than you do.
This morning, I went and interviewed the Tylers (as well as another friend who refused to be interviewed, as he skipped work to hit the GNR line early) about how much they like Guns N' Roses. Later I ordered them a pizza and they ate it without me.
Noisey: Why did you decide to get here so early?
The Tylers: We're both big fans of the band and part of the online community, and we're really itching to hear new music even though we don't think it's going to happen.
We've got to get front row center.
Yeah, we like to get front row center at every show.
How many times have you guys seen Guns and Roses live?
This will be my fifth.
This will be my ninth, I think.
How old are you guys?
I'm 20. My first show was when I was 13.
I'm 20. My first show was in 2011 and that is where I met him. We met waiting in line for a show.
What do you think of Axl Rose as a human being?
He's not a human being.
I think it depends on the night.
I think he is a very, very interesting man. He does what he wants. Right now he's doing what we like to call a "Nostalgia Tour"—playing all of his hits, not really playing anything new. He used to be really into releasing new music.
If Axl Rose wanted to make out with you—with tongue—would you make out with him?
You took it a little too far. I appreciate the question but I'm going to have to say no.
Yeah what the hell. I'd make out with Axl Rose with tongue.
It is safe to say GNR is your favorite band?
I think it is probably safe to say. We love them but we hate them at the same time. Biggest love/hate relationship with a band that I've ever seen.
I think they just need to care about their fans a bit more.
Here's the thing—he's playing all of these shows for casual fans. The fans that like all the big hits. Whereas there's us true fans. There are less and less of us every day. But us true fans want to hear new music but he is not putting it out for us. So it is a love/hate thing. We love his music, but we just want more of it.
It's difficult if you love the band as much as we do, to go online on the forums and follow them. You want to go on there one day and see a news article of a new song came out or a leaked song. Whatever. However it gets out there. But you know it's just not gonna happen. You love the band, but you also hate the band.
How many active GNR forum members are there? And where are they?
There are multiple main forums. The two biggest ones are mygnrforum, which is the one we're from, and the other one is Here Today... Gone to Hell! That one is run…
That one is apparently run somewhat by the band now. The official administrator of that forum is on tour with them now. However, the forum is very dead.
It's not nearly as sick as mygnrforum.
He's actually a moderator on the mygnrforum, and I actually report news on there. I don't do much. We have another one of the moderators coming down now.
There are over 20,000 registered members. I don't know how many actual members. I'm sure there are more than that. There are a lot of active members and a bunch of different sections. What's going on, topics that are a little sensitive, different line-ups. Axl himself has visited that forum and has chatted with us. This was like 5 years ago. December 16th, 2008. Right after Chinese Democracy came out. I think he hated it.
Basically, he had fun but a lot of people in there asked him other questions he either didn't want to answer or had a hard time answering. He made a couple of news articles happen.
Bumblefoot has visited more recently and he just got destroyed. People absolutely tore him apart. This is why we can't have good things.
I'm surprised at the idea of Axl Rose on a forum.
His name on the forum was actually Dexter after the TV show. He is a big Dexter fan. That's also the name of his cat. One of his cats. People always post pictures of his cats and stuff. Instagram.
Axl Rose uses Instagram?
He doesn't by himself. He used to use Twitter a lot by himself.
His Brazilian friends manage his stuff for him.
What do you mean?
Basically, he had his ex-wife's maid become his manager. And her son.
What?
They'd never managed a band before, but she was just such a good mother to him, so he said, "Why don't you manage my band? Why don't you book all my tours? And your son can help too." They don't have any real management.
Tell me a bit about yourselves.
I'm from PA. I guess we're about 4 hours away.
I'm from Allen Town, New Jersey. And we took the train here. All we brought is cash. We don't have our wallets.
I think you need ID to get in.
Why?
To like, drink?
Oh I don't drink. Not worried about that.
We're just big GNR fans.
Are you guys in school? Do you work?
I work for Comcast.
I work at a restaurant. I'm a waiter. I like to talk to people. I like GNR. I'm a musician as well I'm a singer. But none of my music sounds anything like GNR.
What does it sound like?
Right now I'm doing hip-hop music. My voice is kind of, I try to get scratchy like Axl. But that's about it. None of it's released yet.
Why did you guys get here so early?
Front row center.
Front row center. We've always got to get that spot. As soon as you've seen your first show front row center you can't go back.
Pretty much. As soon as you've seen your first show front row center and you show up a little later, you end up a little far right of the stage, one person back from the center, whatever, it's not the same. When you're used to front row center, especially for your biggest band, it's not the same.
They don't really change up the set list very much so its pretty much going to be the exact same show that we've seen, but we haven't seen it in a while. It's like watching an old movie.
What's the set going to be?
"Chinese Democracy," "Welcome to the Jungle," "It's So Easy," "Mr. Brownstone," "It's Strange," "Better," "Rocket Queen," and then I guess "Live and Let Die," Richard Forest Solo, "Blacklight Jesus of Transylvania," "This I Love," and then "Motivation." Then they start going into "November Rain" stuff. "You Can Be Mine" is after "November Rain." So it would be like "Another Brick in the Wall (Jam)," "November Rain."
Or is "You Can Be Mine" after that? It does get a little confusing around this part. It doesn't change but…
Oh no what happened to "Catcher in the Rye?" I skipped that. I don't know, who cares.
The first seven songs that we got are right.
That's embarrassing because I always say that I know the entire set list in my head. Oh and then they end with Paradise City. Patience Paradise City. Night Train is before that. Patience, Night Train. We are going backwards now.
Last question. What are your favorite GNR songs? You can only pick one.
We can't break it down by the album?
No.
I always tend to lean towards "You Can Be Mine." So I'm going to say that.
I don't know. I'll say one of the more… fine. "There was a Time." But I'll also say "Don't Damn Me." You know one of those deep cuts.
When people talk GNR they always pick the Appetite songs, but I think songs of the Illusions are better.
If you or someone you love work for Brooklyn Bowl and want to help these kids get in, email me and we'll work it out -
Drew Millard is a poser and his favorite GNR song is "Rocket Queen." He's on Twitter - @drewmillard