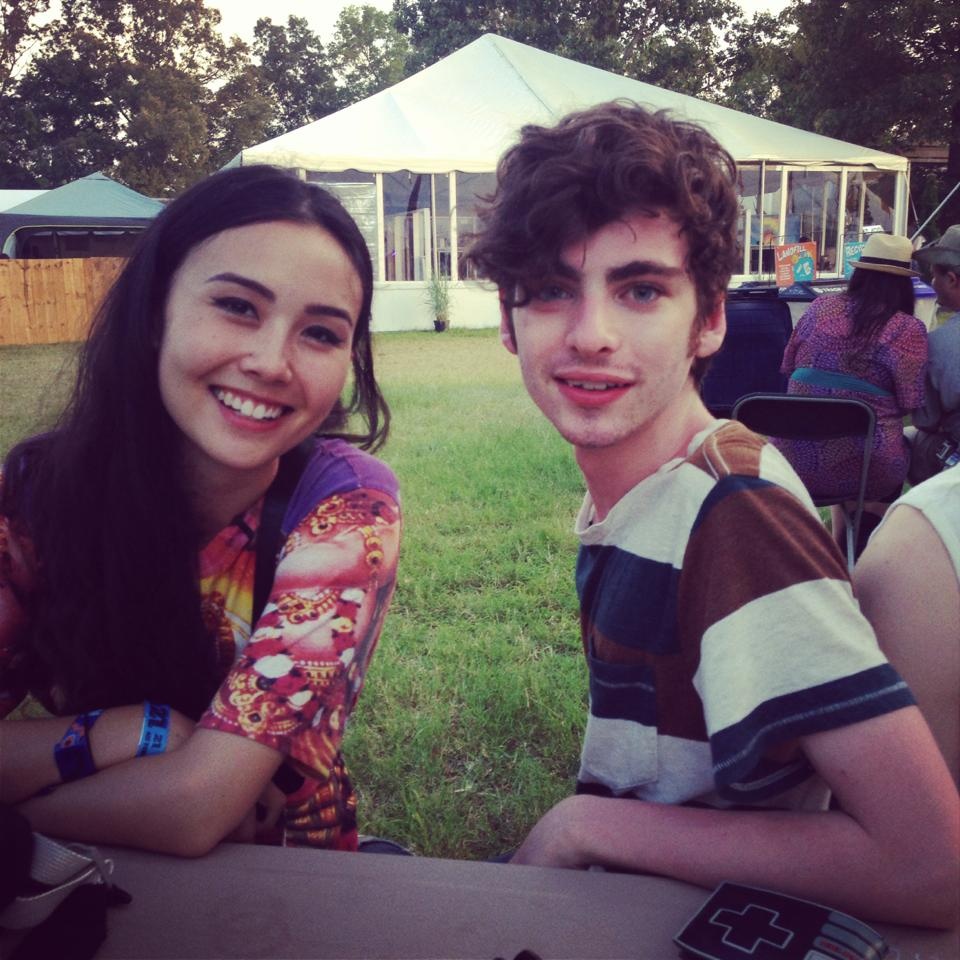 We scoured colleges across the country looking for two unknowns to host Headhunter, a show about music, hair, and style, shot at festivals this summer. Now we can finally announce our hosts…
Back in April, Noisey teamed up with Garnier Fructis to come up with a new show called Headhunter. The plan was, this summer we'd travel to music festivals across the country, seeking out the best hair and style trends. But we wanted to make it interesting, we wanted to get two total unknowns to host the show. So we traveled to colleges—from coast to coast—to find a girl and a guy who loved music, knew what looked good and what didn't, and crucially, were the kind of people you'd want to hang out with.
Over a thousand people auditioned and we eventually narrowed it down to Daryl Oh, majoring in photography at Tisch School of Arts, and Tate Gregor, a music technology student at NYU Steinhardt. They've been running around festivals like Bonnaroo and Firefly, talking to randoms, dancing with randoms, and checking out what people are doing with their hair and what they're wearing.
Here's a little teaser for what's to come once their mission is complete. Check back in a few weeks to see the full Headhunter show, plus read they answer a few questions below.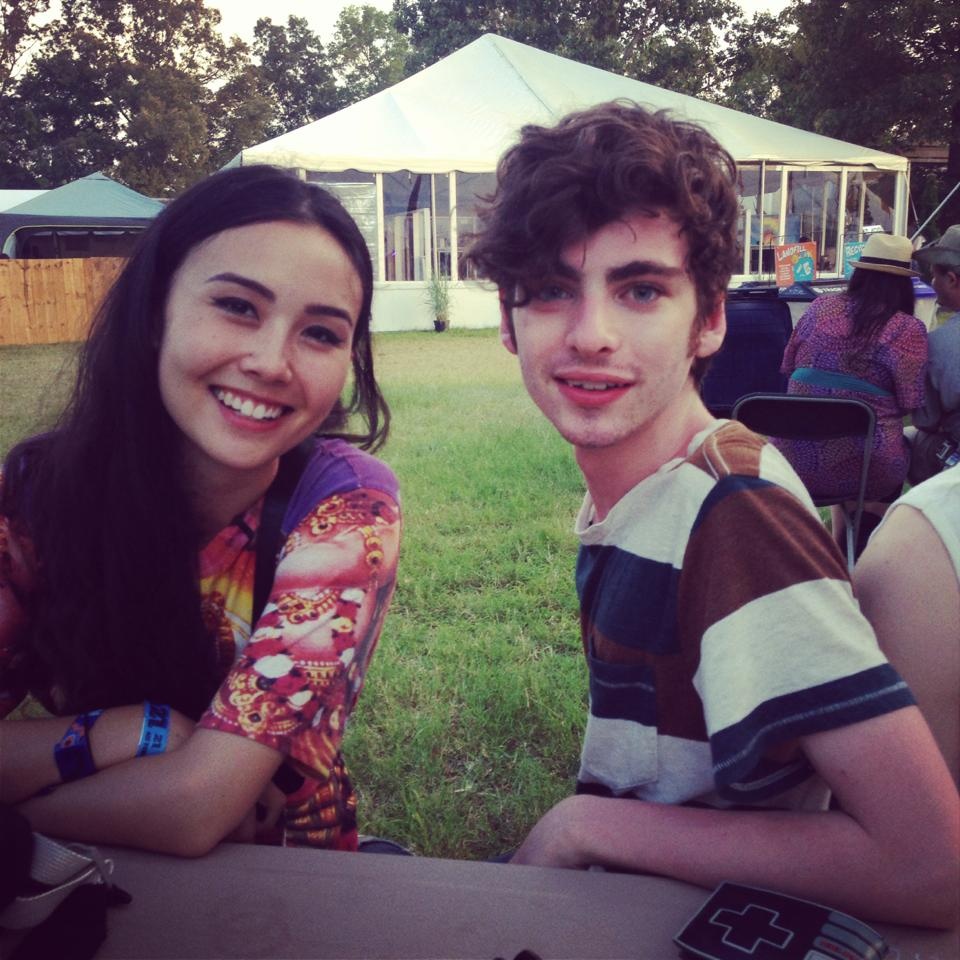 Daryl and Tate backstage at Bonnaroo.
Name: Daryl Oh
Age: 21
From: Bethesda, Maryland
Major: Photography
College: Tisch School of Arts
Name: Tate Gregor
Age: 20
From: LA-born, Chicago and NYC-raised
Major: Music Technology
College: NYU Steinhardt
What was your reaction when you found out you were chosen?
Daryl: I've never won a contest like this before in my entire life, so I immediately didn't believe it. I thought there must have been a mistake. Once it all sank in I called my mom and was hysterically laughing the whole time.
Tate: I was totally surprised as I'd auditioned sorta spur of the moment. I didn't really think I had a chance, but I figured it was worth trying and now here I am! I couldn't wait to hit the festivals and was definitely looking forward to an awesome summer.
Who do you love because they sound great and look cool too?
Daryl: It's usually between Blondie, Gwen Stefani, and Solange. It just depends on what kind of mood I'm in when I wake up in the morning.
Tate: My biggest music icon is Trent Reznor of Nine Inch Nails, and as for a style icon, it's probably Prince.
Do you think music and style go hand-in-hand?
Daryl: Music and style have always gone together for me. I'm from Maryland and I used to go out in Baltimore, which is where I found out about Rye Rye and M.I.A. They introduced me to street style back in 2007.
Your first festival for Headhunter was Bonnaroo. Who was your favorite act?
Tate: By far the best act at Bonnaroo was Bjork. From her onstage style—a tight, spiky light-covered dress—to the amazing soundscapes she created utilizing a whole choir of almost-naked women. And there was a gritty EDM undertone too. It was probably one of the best performances I've ever seen.
Daryl: I was never a huge fan of her music, but after seeing her whole act live with her whole ensemble I was floored. Big fan!
How did you find the experience of being in front of the camera and running around talking to strangers?
Tate: It was definitely really surreal. The combination of attempting to "look good on camera," while still engaging in conversations with random strangers was actually surprisingly difficult. But after a day of shooting, I definitely started to get the hang of it
What's the strangest thing you saw at the festival?
Daryl: Seeing how many families there were at Bonnaroo! At first I was a little concerned for the small kids, but then I realized how cool it would sound to say "I've been going to Bonnaroo since I was 18 months old."
Tate: Seeing the numerous "totems" that different groups carried. It was literally like a flag for each family/party, except instead of a piece of canvas, it was usually some kind of glitter-covered stuffed animal, like a sparkly monkey with a headband.
What was the favorite trend you've seen at the festivals so far?
Daryl: Flower crowns. They're like the universal symbol for a music festival. I don't think I have ever seen one outside of the festival grounds.
Festival do?
Tate: Bring a sweater! It gets cold at night
Daryl: Farmer's tan
Festival don't?
Tate: Forget to wear sunscreen.
Daryl: Farmer's tan
Is hooking up at a festival ever advisable, given that you will inevitably end up in a bush, field, or tent? Or, if you're really lucky, the backstage area…
Tate: I feel like the backstage area might be pushing it a bit, but in general there were definitely an ample number of places to hook up with people. Since the tents went on forever, I imagine there was never a shortage of hooking up going on. Ha!
Daryl: That's just real dirty, but whatever floats your boat!
Final words?
Tate: I've had a really good time so far. Shooting is a little exhausting, it was still an awesome experience and I'm really happy I was able to be a part of it!
Daryl: The whole experience has been really surreal and I've loved every minute of it. I just can't wait for Lollapalooza!
Style Stage is an ongoing partnership between Noisey & Garnier Fructis celebrating music, hair, and style.