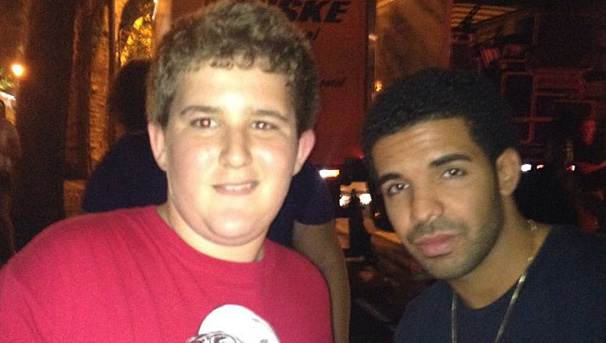 How does some 12 year-old have pictures with literally every single rapper? We interviewed him to find out.
Above is a photo of Rick Ross with a 12 year-old boy.
As a single artifact, this is beautiful for the distinct pairing: this goofy-grinned young kid with Maybach Music Group gear head to toe, with Rick Ross. The weird thing is the 12 year-old doesn't look uncomfortable or really even starstruck. That's because this is the day-to-day in the life of Nathan Schwartz, aka @natedoggschwartz, current middle-schooler, aspiring rap mogul, and Rap Instagram Game Zelig.
Anyways, here are two pictures of him with Lil Wayne:
And here's one of him with Kendrick Lamar.
And oh, why not? Here's one with Kanye.
Nathan is the Secret King of Rap Instagram. He's managed to get shitty Instagram photos of himself with everyone from Meek Mill to Snoop Lion to Nicki Minaj to DJ Khaled. The list goes on and on, like his own personal Top 40, and it is fascinating. This future human meme is the Internet's number-one rap superfan, building his own Instagram autograph book empire, one backstage photo-op at a time.
On the surface, he's just a kid with new Lebrons who likes the Baltimore Ravens and plays drums in school because "it was the only good elective." Deep down, Nathan is pursuing the American dream through apparently just heart and effort. He doesn't have a social media team. He doesn't have a marketing strategy. I'm not even sure if he has armpit hair. But he does have a bodyguard and a rolodex with tons of rappers' phone numbers in it because he probably just texted DMX to go play mini golf.
It was batted about on some undernet forums that he's the son of Peter Schwartz, a vice president at a bigwig talent representation company called The Agency Group. But the Schwartzes—both Nathan and Peter—confirmed to me this is untrue. "Who? No." was all Peter—who reps people like Juicy J, Big Boi, Method Man, Trinidad Jame$, Wiz Khalifa and many others—wrote to me. The two are, by all accounts, not related. "Erryone asks bout Peter idk him," Nathan wrote to me.
Here's an abridged version of a weeks-long conversation I had with Nathan over Kik'r, which is a chat program for smartphones I didn't know about until I wanted to talk to him. He said he was chill with me quoting him.
Even after all this time, I'm still trying to solve the mystery of how young Nathan makes his dreams come true.
Noisey: Where do you live?
Nathan Schwartz, Secret King of Rap Instagram: Miami.
Have you ever met Will Smith down there?
Yeah. He wasn't in the movie but he was at the premiere of Takers. I was there with T.I.
Have you ever smoked down with Wiz Khalifa?
Dude I'm 12 years old! I've been with him while he smoked. But I ain't smoke.
Why do you have a bodyguard?
Better be safe. I've gotten a lot of threats so it's better to be on the safe side.
What kind of threats?
Like, "if you don't get me to meet Wayne imma fuk u up" and stuff like that. It's a cold world out there.
Do people leave mean comments on your posts?
All the time, but you gotta respect the haters.
What do you mean?
You gotta have the haters to get to the top. I'm just trynna make a name for myself in this music business.
Do you want to be a rapper?
No. A record executive.
Do you have a revenue stream?
No.
Are you super popular at your school because of this?
Yeah.
Do you have a ton of girls chasing you?
Yeah.
Have you seen Head of State?
No, what's that?
It's a movie where Chris Rock becomes president and Nate Dogg does these sick interludes wearing American flag patchwork overalls.
No, but I've definitely heard the soundtrack.
What's the best show you ever saw?
Probably the last T.I. show before he went to jail. It was just the crowd's reaction to every song and how hype he was and it was just the real moment that people officially called him the king.
What's the worst show you ever saw?
Trinidad Jame$ in Tampa. He's just a boring performer. And the crowd is made up of all swag and YOLO types of people.
What's wrong with YOLO and swag?
Nothing's wrong with the words, just people who say it a lot are annoying.
Is it like a subculture all itself now?
Yeah. It's stupid AF.
What's the weirdest thing you've ever done with a rapper?
I went to Six Flags with Drake.
Which Six Flags? Does Drake like roller coasters?
The one in Atlanta. Yeah, he does.
What's your first rap memory?
Being at a Lil' Wayne concert when I was six.
What's your favorite rap record?
Right now: Dreams and Nightmares by Meek Mill. All time: Straight Outta Compton, just because it's such a classic.
What else is cool about your rap life?
I don't know we've covered mostly errythang.
Except: How do you make this happen?
I got connects.
But you're 12.
Let's just put it as if you're a big rap fan who goes to lots of concerts since you were six years old people see you. It's easy.
Why were you at a rap concert when you were six? You didn't take yourself there.
My dad took me. And I was not just at one show I was at like 50 in that same year.
Is your dad like a sound guy or something?
My dad isn't under control of anything it's not through him. He bought tickets and took me. He didn't like just get free tickets. It's all recognition. When you're at shows and you're young and you have been at shows before and you were close and you know all the words their clique will remember you next time. Did you post the thing bout French and Trina breaking up? That bullshit was a lie.
No. Are you close to Trina?
Yeah just because of French. She gave me a shoutout too.
Do people think you're a little young to know all the words to, say, a Trina song?
I'm not necessarily a huge Trina fan just because I know her. Trina ain't in my top 20.
Sure. But doesn't a lot of rap have mature themes?
I'm very mature for my age.
Find Dale Eisinger on Twitter - @daleweisinger