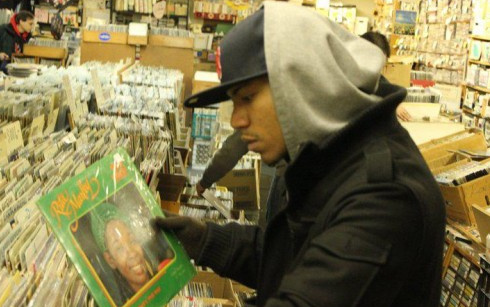 He's the best rapper you've never heard of, and he's really conflicted about leather pants.
Photo by Robert Adam Mayer
Charmingly Ghetto is standing in the basement level of an Old Navy in Manhattan, holding a pair of leather pants and debating their merits. It's December first, the day before the Boston Music Awards—the city-wide celebration of local music which had nominated CG as one of Boston's best rappers in 2012—and he was trying to complete his wardrobe, augmented by some free swag from Brooklyn retailer Ferris.
After repeated pleas from an Old Navy employee (and me) to rock the leather, he disappears to the dressing room, only to re-emerge minutes later holding the pants and shaking his head vehemently. "They were dope, but I couldn't fit into them," he says, putting them back onto a shelf. "Maybe one day when I get some more money, I'll learn how to put them on."
I first met Charmingly Ghetto over a year ago, walking into the smoke-choked green room in the basement of the now-shuttered Southpaw in Park Slope, Brooklyn and immediately got drawn into a heated discussion about the mechanics of the music business. He was prepping to release his Study A'Broad mixtape, and was unloading question after question about how to get his music out; blogs, promotion, doing the whole thing himself (not that I was much help). But later, after I heard the tape, his flow and delivery over laid back, soul-infused beats had a classic feel, sometimes bringing an edge that pushed the track to a more energetic place, other times bumping along languidly on top of the beat by way of introduction ("My name is Charmingly Ghetto and yo it's nice to meet you/I light an L and wipe my feet when I'm about to greet you" from "Pursuit of Happyness"), it felt good, like something you could bite and dig deeper into, deciphering the wordplay and clever storylines that embellished his everyday life-style street poetry. He has an ability to make you want to hear more, to listen harder, to understand more fully what he's talking about, the makes you bump his music over and over.
Since then, there've been a whirlwind of highlights for the Dorchester-born, Boston-bred rapper with a serious passion for the Celtics and a gift for spreading his stories around the world. Case in point: Study A'Broad united producers from as far away as New Zealand (The ENOvator), Iceland (Abstrakt Idea), the U.K. (Cypria), Sweden (Pajozo), Germany (SmoothKingBoehm), Spain (JC_BeatZz) and Atlanta (Introspective Minds) for a cohesive project that opened his music up to listeners on three continents. He followed that up with two projects later in the year—the soul-drenched Scotland Yahd (with Cypria), and the swampy SuaveHaus with ATL crew ThumbsUp—and found some time in between to win the Show and Prove showcase at the Brooklyn Hip-Hop festival in July, which put him on the main stage opening for a Busta Rhymes-led Leaders of the New School reunion.
So the Boston Music Award nod, while an honor, was not totally unexpected considering the wave CG has been building since 2011 on the strength of his street-conscious storytelling and near-constant hustle. And on his latest project, the seven-track EP Kickz-N-Starez, recently released with TheMadBloggers.com and HeyDay Footwear—he's continuing the narrative of the outcast struggling to make it in a world that pushes him aside, the kid from Dorchester who found an audience in the world of Boston's collegiate community, the Boston rapper who broke outside the city limits to find inspiration (not to mention production) the world over.
It's a narrative so ingrained in him that it's reflected in his name, Charmingly Ghetto, a line spat derisively by Dean Cain in How High that nonetheless represents the duality of his life. Duality is such a part of him that you can apply it to almost every facet of his life: on stage, he's a formidable, at times aggressive performer, towering over his audience while offering glimpses of a smile, while off stage he's soft-spoken, yet almost bubbling over with an earnestness that betrays a musician's age-old ability to be wildly misunderstood. When he's talking, he's asking as many questions about his own music as he's answering—What do you think about the lyrics? What do you think about the stage show?—but when he has a mic in his hand, the insecurities melt away.
Kickz-N-Starez also continues CG's propensity to look to the Internet as his oyster, grabbing production from Pipol (France), Daschade (Germany), Sauce Fonda (California) and Def Soul (New Jersey), as well as bringing in LA-based MC Lyric Jones and Brooklynites ScienZe and Maya Azucena for features. He released a video for the track "Catching Feelings" (shot by Boston-based Decriminals) as a present to his fans over the holidays, and is grabbing positive responses the world over.
"I would say that this project is probably my most well-timed… it has all the different elements that I've been trying to cultivate," he said while sitting on the balcony of a friend's 22nd floor apartment on Manhattan's East Side, casually puffing on an L as he pontificates. "It has the visuals, feedback internationally, the ability for me to work with some people that I really have a lot of respect for that were just down. Everything was real smooth.
"I'm finding that my passion for hip-hop has allowed me to communicate that I love music… I'm allowing the musical journey to take its own course, and just embracing it with lyrics," he said. "I think that time will tell, as it has now, that people will continue to embrace [the music] and come closer to it and wonder what it is, and help me create it."
His production largely sticks to soul-centric, key-based, laid-back grooves, which complement his ability to craft a story, taking lyrical inspiration from the likes of Common and the cadre of backpack or "conscious" rappers that tend to operate just below or on the cusp of the major label bubble. He's got his own Rick Ross grunt—an attention-grasping "Yao!" that kicks off many of his verses—and riffs on racial issues and the plight of the ordinary person in day-to-day life, bristling against social and economic distinctions in a way that invites the listener to take up his indignation and vibe with it. It's hard to find many of the trappings in his lyrics that make much of hip-hop feel stale and forced. Instead, he's a part of the growing wave of Boston hip-hop—alongside Moe Pope and Rain (who won that Boston Music Award the next night) and Dutche ReBelle, among others—who are pushing the boundaries of the city and itching to break out.
"I hear [the music] getting sharper," he said, discussing his evolution as a rapper since his debut mixtape Overstanding in 2011. "I just feel like I'm telling stories with more confidence, with more command."
With Kickz-N-Starez, CG is continuing his musical evolution, developing his own style without hemming himself into any boxes, whether they be musically, lyrically, or geographically. Maybe, if all goes well, it'll even lead to his first pair of leather pants.
Dan Rys drinks sake on a Suzuki because he's in Osaka Bay checking his phone because he's addicted to Twitter - @danrys