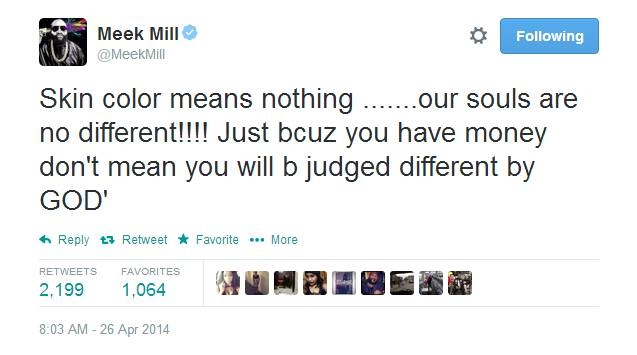 "Just because you have money don't mean you will be judged different by GOD."
Last night, news broke that Donald Sterling, the racist owner of the NBA's Los Angeles Clippers (as well as racist LA real estate tycoon) was on tape saying some blatantly racist shit to his girlfriend about why he doesn't want her to bring black people to Clippers games or to post pictures of herself with black people on Instagram ("It bothers me a lot that you want to broadcast that you're associating with black people"). A lot of people were justifiably upset, including Meek Mill, who weighed in on Twitter.
He then turned his focus to Las Vegas, which, ever since an attempted ban on hip-hop concerts circa 2005, has had a fraught relationship with rap. Because casinos, like a lot of stuff, are run by old, rich, white dudes, who are frequently racist. Anyway, in a week that saw a lot of old, rich, white dudes saying racist shit, shouts out to Meek Mill for speaking out about racism. Fuck racism.