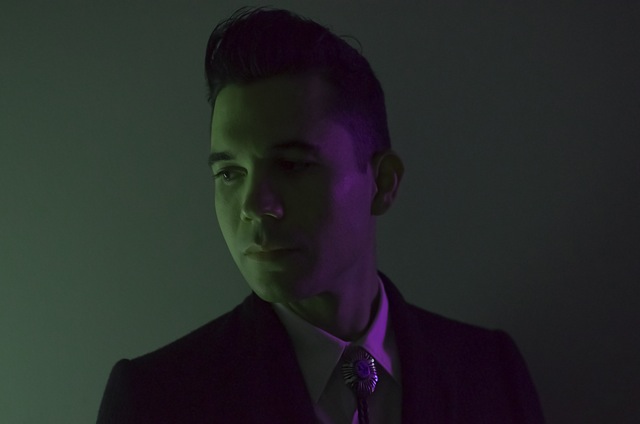 The man of many guises talks to Noisey about crossing over to the mainstream.
The prolific Matthew Dear, who has produced some of the best tracks of the past decade under various guises, is back with new record Beams on his label Ghostly International this August. Matthew never fails to make tunes that make you move. This record is no exception, replete with funky, intelligent, deep dance tracks. Matthew's productions always tease a little, quietly sophisticated yet a little dirty underneath. He has a mastery of rhythms and beats that's almost unparalleled and his voice is just plain seductive. All-in-all it combines to create the perfect record for partying through summer nights.
Look out for the new video for lead single, "Her Fantasy", premiering this Monday 2nd July on Noisey YouTube.
Noisey: Listening to Beams it's instantly a lighter record than Black City, even the name conjures very different imagery. Did you feel compelled to head towards a brighter place?
Matthew: It's easy to say that it's the optimistic older brother of the last album and it is in a certain sense. The last LP, Black City, when you have to talk about an album you have to market it and sell it whether it's the label or myself you end up telling stories about the songs and what they meant to you and Black City represented this entrance into New York City and just the tale end of a lot of touring and traveling that I'd been doing for 10 years, and it was a very intense time in my life that a lot of these things were written for good and bad and I think Beams is definitely the funnel out of that madness so there's definitely a bit more clarity and resolution. Resolution amongst the madness I guess.
How do you begin writing your songs? Do you start with beats or melodies?
I usually start with instrumentation or the rhythm, that's a big part of where I came from in dance music so I tend to work on odd little quirky loops and see how the day pushes me. Sometimes I'll try on a certain style or get a sound out of the synthesizer that will dictate the next step it's a very building block process. I'm not the type of writer who writes a song from melody as a base, I usually find the melody much later on the process.
Did you work any differently on the production of this album?
I made everything in my home studio and just did it all myself as before, but I took this record to a mixing studio for the first time, Rare Book Room Studios in Brooklyn and I just kind of stripped it all apart and ran the tracks through a mixing board, reinterpreted the sounds and frequencies and made everything sit more a bit more gently within the song. A few things came up there like new synthesizer parts.
When you write do you think about how you'd like to affect people listening, or do you write to experiment? Did you think about how it could evolve live?
When I write in the studio it's mainly for myself, coming from how I feel that day, but it's also for people at home and more of a quiet listening experience. The songs are quite intimate and when I go live it kind of opens it up for a totally different experience.
I've had a lot of people come up to me and say they did not even recognize the songs till they heard a certain lyric, so yeah, live is a totally different thing. It wasn't intentional in the beginning but once you bring in all these instrumentalists and live drums, live bass, live trumpet player, none of this stuff exists in the album it changes in a good way.
I could have just done the same thing I did on the album and just go up there with some samples and sing very quietly and just try to recreate it but I feel people deserve a little bit more. I like that there's this total juxtaposition between what you hear on the album and what you hear live. You give someone in the audience a little more to take home with them.
I also couldn't be happier with the new band and the way that things are going. Adding the 5th member and the percussion. It kind of upped the energy level. We've just been having a great time.
Do you hope this record might find a slightly broader range of fans? Maybe cross over to the mainstream?
The simple answer is, I'm not against reaching more and more people that's totally fine. What it takes to do that. I don't know. There's tonnes of artists that come out of nowhere and get signed for a deal with hundred thousand dollars to tour and then they tour the hell out of it for 2 years and then they're on that plateau. With me I've just been doing what I do and hoping that certain people just come round to when they do. I'm fine with the pace that I've been at. I'm here just to make music and work with very creative people and meet very creative people. I'm very happy with how it's gone and I'm just hoping that it can continue as it is.
Do you feel that the new software and tools available are helping creativity? Or are people being channeled to narrower ranges to styles by it? Any advice for up and coming producers or Djs?
There's so much we can do now, that used to be very difficult, and people had a lot of fun figuring out how to do that, but now everything's been laid out for us on these nifty little channel strips in the software a lot of the fun has been taken out of the creativity. As an artist don't be afraid to make it a puzzle. Trick yourself and make it difficult and try to figure out weird ways of doings things.
If you do that you'll create your own sound and that's the most important thing. You have to have a unique vision as there's so many people out there doing this. That's a great thing. Creativity is just crazy right now, in all art forms. There's so much we can do now affordably but that also makes it easy to do the same things as a lot of other people are doing as we all have the same tools.
There will always be genius that shines through, and you'll get be people that completely strike out on their own path and those people will always exist and I'm really happy that there will always be people like that.
TOUR DATES
06.30 Chicago, IL @ Montrose Beach (DJ Set)
07.14 New York, NY @ Le Poisson Rouge (DJ Set)
07.20 Washington, DC @ U Street Music Hall (DJ Set)
07.21 Long Island City, New York @ MoMA PS1 (DJ Set)
09.29 Seattle, WA @ Decibel Festival
11.17 New York, NY @ Webster Hall