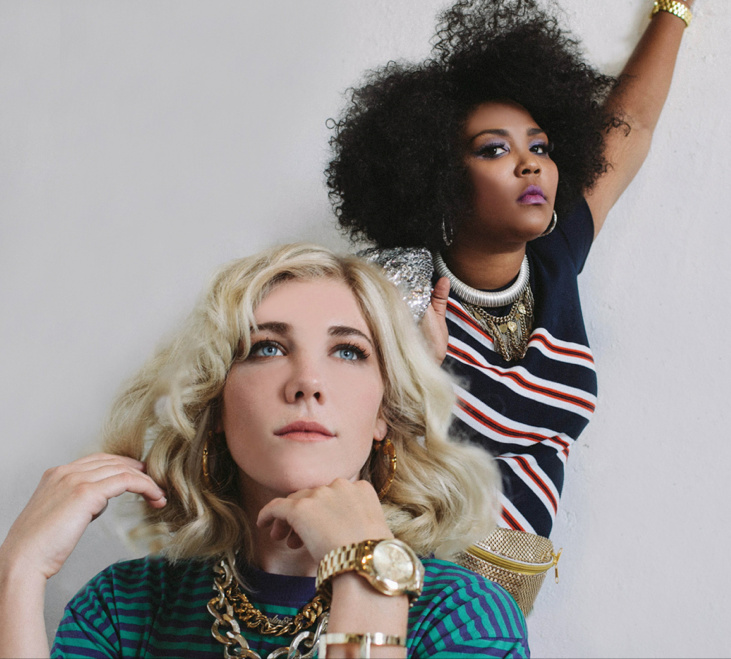 This. Is. The. Jam.
Over the summer I flew out to Minneapolis and St. Paul to be nosey about the local music scene, to find out about its history, but also to see what was popping off now. What I found, alongside director Lance Bangs who documented the whole thing, was a genuinely vibrant music community and Lizzo—the lady behind the unbelievably brilliant "Batches and Cookies"—was the consumate tour guide and freakin' hilarious host to hang with. At the time she introduced to her ladies GRRRL PRTY, plus fellow singer Caroline Smith, and the gold-lamé-wearing, penis-flashing funk machine that is Tickle Torture, who has since become a firm favorite here at Noisey.
So we're super-stoked to premiere the video for "Let Em Say," a shit-hot collaboration between Lizzo and Caroline Smith (which Tickle Torture co-wrote with the ladies). It's the ultimate Do You and Fuck That Noise synth-funk anthem.
Lizzo had this to say about the video shoot: "Me and Caroline Smith had so much fun shooting the music video for "Let 'Em Say." We didn't want to over think it. We wanted to do something fun and simple and something that showcased our personalities. We like to walk down the street, have a great time, and we hope everyone can have a great time with us.
Caroline adds: "When we were shooting, we were like, 'Lord, I hope this doesn't look cheesy.' But we were literally doing what we do when we hang out: being goofballs and drinking vodka lemonade out of styrofoam cups. So what are you gonna do?"
The pair have been so busy with their solo projects that it's a miracle that this single and their live shows, this Friday and Saturday at First Ave in Minneapolis, are happening.
"Lizzo and I had been really looking forward to the moment when our schedules could line up for us to work together on something, anything. As soon as we booked these shows together at First Avenue, our brains just started coming up with other ideas rapid fire, like doing a song together, doing a collaborative set, and shooting this music video," explained Caroline. "I mean that's why I love working with that bad bitch, because she ramps me up so much and together our productivity is ridiculous."
GRRRL PRTY Presents TAWST (DJ Shannon Blowtorch and Sophia Eres) with performances from Lizzo and Caroline Smith at First Ave & 7th Street Entry this Friday and Saturday in Minneapolis. GO SEE THEM!
Kim REALLY LOVES THIS SONG. Can you tell? She's on Twitter - @theKTB