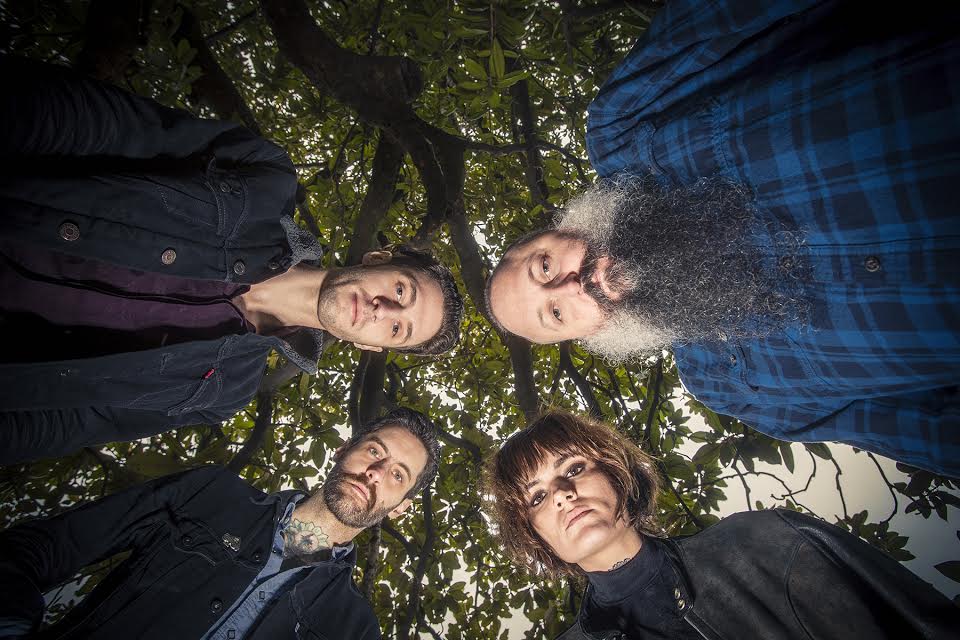 The soulful Atlanta hard rockers will release their smoldering new album, 'Wick,' on 4/7
Royal Thunder has never been a metal band (and certainly isn't one now), and yet most of their career has been littered with efforts to characterize them as such, mostly because they're signed to a metal label and they wear a lot black. The band has always played rock 'n' roll, albeit a heavy, mystical form of it, and now, fingers crossed, this new record will finally lay to rest the thought that they're anything but that. Wick is their least metallic effort to date—and arguably their best. It sounds as though the Atlanta four-piece has finally found their sound, after years of being pushed and prodded towards what other people thought they should be, and the end result is sublime.
Today we're premiering the album's last single before release day, "Plans," whose piano-driven, heartfelt stomp is a thousand times more Delta blues than Darkthrone. Mlny Parsonz's soulful, rough-edged voice has always been the band's emotional lodestar, elevating its sprawling, prog-tinged hard rock into unexpected heights—and she flaunts her range on "Plans," as the song's gospel harmonies and measured percussion add gravitas and heart to the smoldering, psyched-out 70s riffs that make up its backbone.
As Parsonz told us, "This is a song about taking chances. You can sit on your plans or pursue them. Sometimes, the outcome is not always that which we desire. And sometimes life surprises you and places another stepping stone on your path, hopefully leading to happiness. Either way, even in the pain of loss, there is something to gain. It's in choosing to find the good in all things that we walk away with our chin a little higher. This song, for me, was me processing my loss. At the end, the lyrics, 'Come back...' will forever echo in my head for that loss. Some things never die. But you still have to live." 
Listen to "Plans" below. Wick is out 4/7 via Spinefarm, and the album is available for preorder here and here.
ROYAL THUNDER TOUR DATES:
WITH BRANT BJORK + BLACK WIZARD:
4/9: Sacramento, CA @ Blue Lamp
4/10: San Francisco, CA @ Slims
4/11: Portland, OR @ Hawthorne Theater
4/12: Vancouver, BC @ SBC
4/13: Seattle, WA @ El Corazon
4/14: Boise, ID @ The Shredder
4/15: Salt Lake City, UT @ In The Venue
4/16: Denver, CO @ Marquis Theater
4/17: Kansas City, MO @ Riot Room
4/18: Chicago, IL @ Beat Kitchen
4/19: Cleveland, OH @ Agora Ballroom
4/20: Baltimore, MD @ Soundstage
4/22: New York, NY @ Le Poisson Rouge
4/23: Boston, MA @ Middle East
4/25: Atlanta, GA @ Masquerade
4/27: Austin, TX @ Barracuda
4/28: Dallas, TX @ Gas Monkey Bar & Grill
4/29: Albuquerque, NM @ Launchpad
4/30: Mesa, AZ @ Club Red
5/1: Los Angeles, CA @ Echoplex
Kim Kelly is burning the candle at both ends on Twitter.