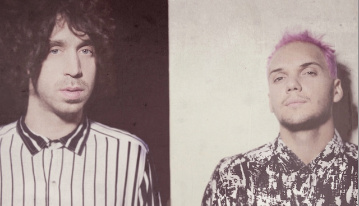 A Venn diagram composed of Peter Gabriel, Talking Heads, The Police, a shitload of synths, some nostalgic 80s sonics, and the occasional reggae groove.

Not sure what to name your band? Ask a six year old. That's what Ghost Beach did. Smart guys: kids are way more creative than grown ups. Ghost Beach's Josh Ocean (yes, that's his real middle name) and Eric "Doc" Mendelsohn make up the NYC-based duo. Self-described as "tropical grit pop," in part, Ghost Beach are the Venn diagram of their influences—Peter Gabriel, Talking Heads, The Police, and Daft Punk—and then some, thanks to a shitload of synths, some nostalgic 80s sonics and even the occasional reggae groove. The sound is unmistakably their own.
Below is the premiere of "Without You"—a tune originally intended for RAC, which, due to timing, Ghost Beach ended up keeping for themselves. With complete creative control the album's closing track, is something of a departure, showcasing, in particular, their love for Ace of Base and UB40. We talked to the guys about focusing on the spiritual rather than the supernatural, collaborating with Betty Who, and the irony inherent in their imminent LP, Blonde.
Noisey: You guys are currently in London, right? How is it over there?Josh Ocean:
It's great. Today was our sightseeing day! We walked along the river, saw Big Ben, Westminster and had dinner in Shoreditch. Now we're just enjoying a few nightcaps at this place called The Pineapple. It's near where we're staying. It just seems like the appropriate place to hang out.
I mean if there were a pineapple in the name, I'd be there too. How did you guys meet?
Josh: We met a few years ago while we were in New York working on other music projects. We had another band with some other people.
What band?
Josh: [Laughs] It was just another shitty band that we don't really talk about, that will go nameless. We wrote a bunch of songs and started producing them in our buddies' attic. It felt like its own thing, so we decided to stop everything else musically and focus on being an electronic duo. That's how we started and became Ghost Beach.
What's the story behind the name?
Josh: The funny thing was, once we decided to start the duo, we got together with our friend Nick Hart who is a producer friend of mine. We were working with him on some songs for a while. He was helping us get started in the programming sense of things. We didn't have a name. We worked on music with him for six months and we had no name. One day, it got to the point where he was like, "What are you going to call this, what are you going to call this?" We were just like "We don't know." So, he played our music for his six-year-old daughter and she said we should call it Ghost Beach. We were like "Okay, sounds good."
I think all band should ask a kid to come up with their band names. How did she come up with that?
Josh: I don't really know. He said kids are really good at coming up with band names. He said my daughter could come up with band names. I was like, "No, we're gonna think of this." It makes sense though, my middle name is "Ocean" and I grew up on an island. And Doc is spooky. Just kidding.
Did you have hippy parents?
Josh: Yup. I did not make that up. I had super hippy parents that lived on an island. I was born on an island with no roads: Fire Island. Have you heard of it?
Yeah! I've wanted to go out there.
Josh:If we have a party out there, you should totally come out.
I'll take you up on that! When I saw Betty Who, she said she worked on a track with you guys called "Lovin' Start." How did that happen?
Josh: Betty has become a good friend of ours. We crossed paths over the summer and instantly had a connection, so when she asked us if we wanted to collaborate we were excited. She's a super fun person so naturally the session was exciting. We all kinda got to geek out on some guilty pleasure influences that we funneled into the track. We love it. We are excited for it come out!
[Read Noisey's interview with Betty Who here.]
How did Blonde become the title of your record?
Josh: We didn't really think about it too much. We knew we needed to come up with a name for the album. We sort of woke up with the idea of calling it Blonde, which is an interesting idea—it's a state of mind, a hair color, which is a superficial thing. It has so many stigmas attached to it. Our music is bright and people associate it with this bright, poppy and happy thing. When Doc and I write music, it doesn't come from a very happy, poppy place most of the time if you listen to the lyrics.
Doc: I think that what Josh said, Blonde is an idealized image in our culture. It's an idealized state of being: blonde and carefree. There's an irony there when it comes to superficiality. I think that we equate it to something like that.
You guys said that even though the lyrics sound happy, they don't come from a happy place. What kind of topics are your referring to?
Doc: I think a lot of our lyrics come from a place of longing for self-growth and an idealized state of feeling re-connected and in control. There's a lot of growing up, living and growing older in this world. There's a lot of managing what you can and can't control: that juxtaposition to scenarios. Whether or not we meant for it to be, the places we were in caused us to end up writing songs about that feeling.
Josh: Just to expand upon that, our song "Miracle," which is one of our more popular songs, people hear the main chorus as "It's a miracle I'm in love again." That song is really about being at such a low point that you have nowhere to go, but up. It's like, I'll take another breath, I'll see inspiration again. I think everyone has those moments from time to time. We wrote that in our tiny rehearsal space, and there were dead roaches on the floor. I think what Doc said was perfect.
Without a doubt. I guess a lot of listeners might take that in the literal sense though, for sure. Are there any supernatural aspects to your music?
Josh: I think when music is done right, it comes from another place. When Doc and I connect on writing a song, it's a very easy process. In that sense, not to sound stupid about it, but that's a sort of supernatural thing: being hit with the right song. For example, the song you're going to premiere, "Without You," Doc brought a brand new Volkswagen camper van. We drove to the top of this hill and wrote the song in 15 minutes.
Doc: It was like an hour.
Josh: It felt like 15 minutes. That's an interesting thing. Whatever. The short answer is, no we're not inspired by spirits. The spiritual answer is, yes we're all connected to the spirits.
Blonde is out on 3.4 via Nettwerk Records.
Ilana loves peanut butter and banana sandwiches and good good music. Follow her on Twitter -@lanikaps.