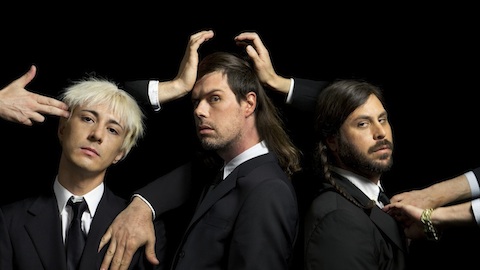 The NoCal trio talks break-ups, make-ups, and roughing it to produce their most daunting album yet.
With every record Liars produces, they strive for a paradigm shift within their own creative processes--one that always results in an epic, dark, intense, and ultimately quite brilliant long player. There doesn't seem to be another band out there that creates quite as complete a world within the soundscape of their recordings. For their sixth studio album, WIXIW, out on Mute on June 4th, this world is as edged with menace as ever, but with the addition of electronics that switch from pinpoint glimmers to thunderous bass (and seemingly every other possible sample in between), the game has been changed deeply for the listener once more.
In creating WIXIW, Liars switched up everything possible in their writing and recording habits, ditching instruments in favor of computer programs, looking inwards for inspiration and holing themselves up in a cabin in the woods of North California to write this record as "one."
The process seems to have left them supremely happy, chill dudes who are simultaneously a little terrified of their creation. I caught up with Aaron Hemphill to discuss mastering electronics, the cathartic benefits of total emotional disclosure, and gruelling wax-dipping sessions.
When did you decide you wanted to create this album using electronics?
After Sister World, we wanted to do something where it was less microphones, more direct into the computer. That was our first idea. The second one that also contributes to the sound of the record is that we wanted to use more electronic instruments and computer programs--one of which is Reactor. We got our hands on that and that just opened a whole array of instruments and techniques for us to learn as far as recording and composing... I mean, we've used electronics before, but it was in a different way where it was less about intellectually learning these programs. How we utilized these things in the past was much more visceral and immediate, like miking drums for effects. That's a fairly primitive way of doing things.
I heard you snuck off to a cabin to write?
That's true. Angus and I rented a cabin in the mountains, in the snow and forest. We went there for a month and began collaborating much earlier on in the process, so we began sharing ideas from the start. Normally, on the other records, we try to actually finish the songs as best we can to try to impress each other then the collaboration would begin. However, this time, we opened ourselves up much earlier, and it was pretty terrifying, but so much more rewarding. It was very meaningful in that sense as we were very critical of each others work, so when something worked out or we liked something, it was such a great feeling.

"No. 1 Against The Rush"
The lead single from WIXIW is "No.1 Against the Rush." This track sort of sounds to me like it was born of heartbreak. What sort of place where you in when writing?
Angus had entered a very serious relationship and I just ended a very serious relationship at the time that we began writing this record. The common feeling of that is this sense of sort of loss and doubt and confusion really; one being that when you begin a relationship, you sort of give yourself so fully to the other person, you lose yourself in a good way, and in exiting one or ending a serious relationship, you lose that huge part of yourself. So it's a kind of odd way to express both of those. It is very surprising to find how both those situations that are polar opposites can generate similar feelings within you.
Your last record, Sister World, was about what a mess the world was in back in 2010. Were you consciously turning away from external themes on WIXIW as a reaction to how much shittier things have gotten since?
You know, it was just more about us--just more internal and how we fit in with our lives or with ourselves, and that expands slightly into how we feel as a band or "musicians" in the scene of music, so it was more reflective in that sense. I don't think any of the songs are about the world or what's going on. It's genuinely just more reflective on our feelings and those of our smaller group.
Does that make it a lot scarier to release?
Most definitely, I think it does. And again, the fact that we collaborated so early and we're sharing such ideas with each other made it more frightening, but so much more rewarding. I can't stress enough how incredible the experience of making this record was for me and notice that when I talk about this record I can't help but get somewhat emotional. It is much more personal.
Did you think about how a couple of tracks on this record such as "Brat" and "Octagon" are perhaps more suited to being dropped in the middle of a techno set at 3am than a played in a regular gig venue?
They can, it's up to us to shove them in there. But that's so abstract to us at this point, it's hard for us to imagine how they'd fit or how they sound to other people. It's kind of scary. It just seems that we try to make the best music we can and if we're genuinely excited about it that's really how we connect to people. We don't like to imagine what people want to hear or how it's heard.
Having made a record with a much less physical process--through programs rather than instruments--were you dying to get your hands on the actual product? Looks like it was pretty fun too. [Liars spent a day hand-dipping a limited 12" run of WIXIW in black wax.]
It was so exciting to see it finished and to come up with the idea to do that and to have executed it, but it was a pretty gruelling process, although it's fun that we all got together and pulled it off. It wasn't to contrast that--as you said--less physical, hands-on element of not spending the day banging a drum or playing a guitar. I think we were probably more exhausted after making this record, because it was more emotionally and mentally draining. I mean, learning all the programs to make these sounds when normally we were just used to hitting a guitar string. We felt like we made a pretty physically demanding record at the end, and it was more to do with having some sort of tactile element to a limited release. I think for this record we just wanted to do something a little different, and I think, in a lot of ways, it captured what the record captures and what it sounds like and just what it's about. It really turned out better than what we could have imagined. As novice as we are at dipping things in wax is as novice as we are at computer programs, so it encapsulates our approach to many things.
The video for "No.1 Against The Rush," directed by Todd Cole, sees the band being systematically murdered by a seriously, creepy old dude. Grim. Watch it here:
"We've really enjoyed giving directors complete freedom in executing a visual interpretation of a Liars song entirely based on their own reaction, free from any factual references or creative input from us. We were really won over by Todd Cole's enthusiasm for "No. 1 Against The Rush." Despite being wrapped head to toe in plastic, being dragged through broken glass, and being strangled to the ground, we had the easiest job to do on the set and we eagerly look forward to any new forms of punishment that can be inflicted upon us in making the next video."
WIXIW, with artwork designed by John Weise, will be available on CD, deluxe vinyl (with CD) and limited edition vinyl with silk-screened embossed covers hand-dipped in black wax by the band on June 5.
Album pre-orders are available on Liars' site.
Liars live dates, June 2012
2 – Field Day, London
4 – Forbidden Fruits Festival, Dublin
7 – Nouveau Casino, Paris
8 – Tivoli De Helling, Utrecht
9 – AB Club, Brussels
10 – Roter Salon der Volksbhne, Berlin
12 – XOYO, London
15 – Ruby Lounge, Manchester