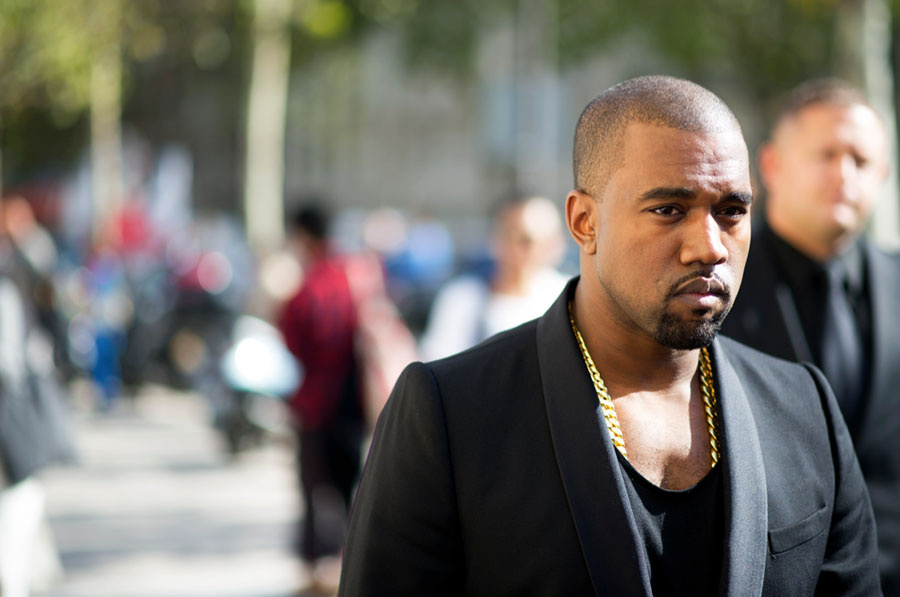 'Rich Black American' is NOT the new Kanye West album and Lord Jamar sent a homophobic diss to Kanye.
Kanye West is a bloggers wet dream. He's the crop on which the internet farms almost every day. No matter how minuscule, such is the Louis Vuitton Dons presence, everything and anything connected to the world of Yeezy gets pasted on to the web. Whilst we eagerly await the arrival of a sixth solo album, various sites have been fetishising the idea of a Cruel Winter record. Why? Because, Kanye West. That's why.
Common and Hit-Boy have (thankfully) both put bullet holes into the aforementioned Cruel Summer follow up, so, we're on to the next one.
Rich Black American
Yesterday, a bunch of sites posted an apparent link to a leaked track list from a new Kanye record. Did they not learn from the other week's Vampire Weekend trolling fiasco? What happened to checking sources?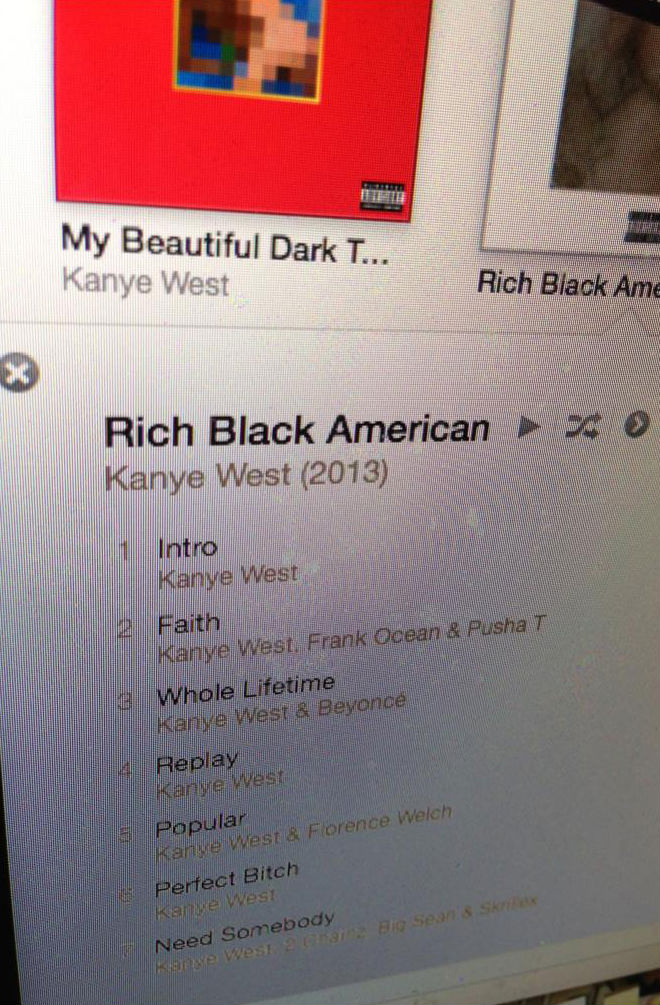 Oh. Wait. The leaked picture doesn't even have a source. C'mon guys, I could have made this myself. All I'd need to do is change some of the track names on my iTunes, take a shoddy "leaked" photo on my iPhone and send it off to Complex. The supposed leaked shot is so blatantly faked that it kind of hurts my heart to have seen it posted on so many sites. Sure, it's got the previously mentioned Kim K love-in track "Perfect Bitch" but aside from that, is it really believable that Kanye and Florence are about to release a track together? Or, that someone other than Yeezy is bumping this on their iTunes?
In other news...
Lord Jamar Sent For Kanye
Kanye is ~into~ fashion. He's interned at Fendi and designed his own collection, so, was it really a surprise when he added a kilt to his wardrobe? Apparently, if you're Lord Jamar, then YES, it is a surprise AND wearing a kilt is akin to killing hip-hop. He insists that he doesn't call Yeezy gay - UM, #halfafag? - but instead, decides to slur out a load of homophobic stuff related to the newfound metrosexual take on hip-hop.
What's up, Jamar? Is someone feeling a little butthurt that they don't have a single Grammy to their name, compared to Kanye's stronghold of eighteen?
Kanye may not be gay - Yo, Jamar, he's having a baby with Kim K, you know that, right? - but we've got people like Le1f, Frank Ocean and Syd Tha Kyd releasing proper music, proving that homosexuality has nothing to do with anything anymore, ever.
As for the fashion side, Kanye may dress a like he's just covered himself in PVA glue and ran through the nearest Margiela store at times, but compared to the Lord Jamars of the world- Cruel Summer not withstanding - who's really helping push the genre forward?
Go figure.