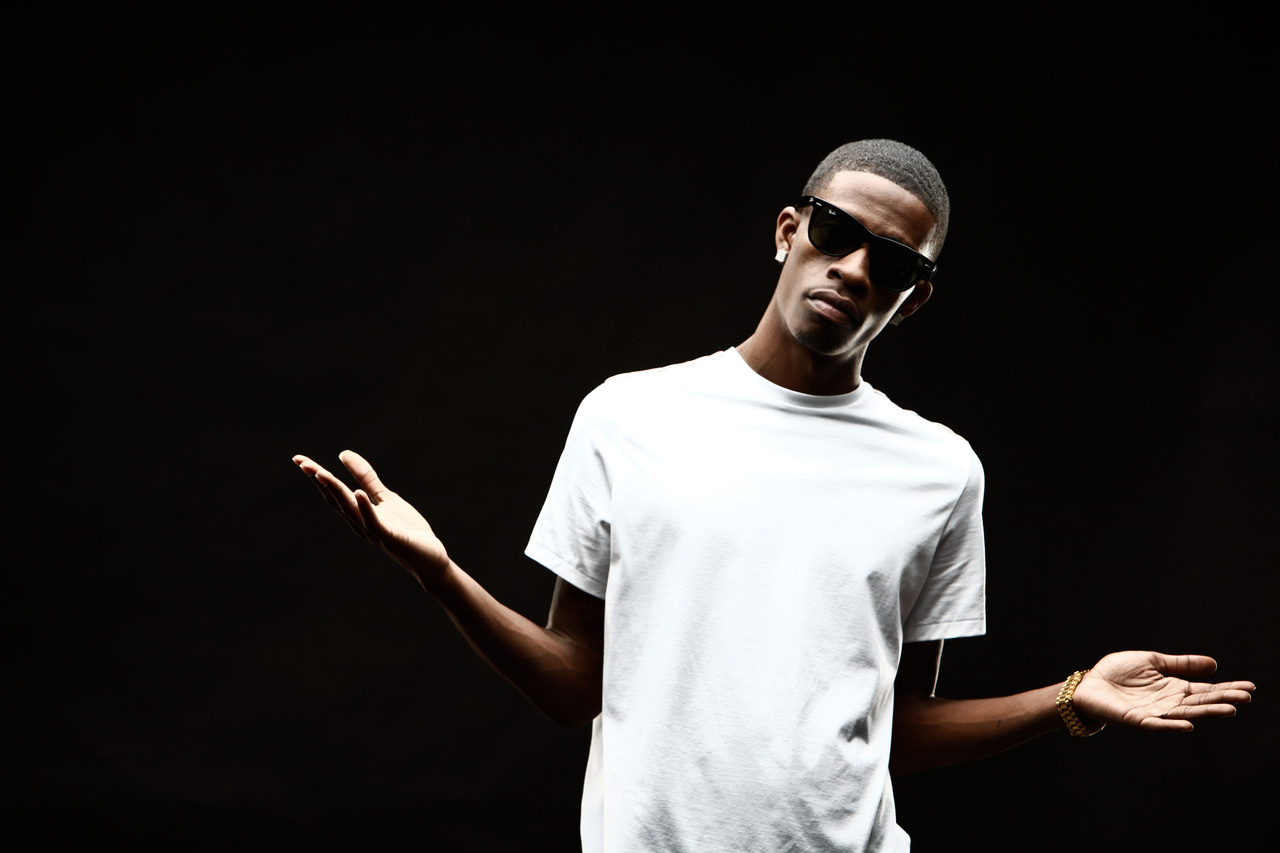 We spoke to Rich Homie Quan, one of the hottest rappers in Atlanta.
Rich Homie Quan is on fire. In the past few months, this Atlanta goon-crooner who talks like Boomhauer has been able to establish an international following on the back of his extraterrestrial anthem "Some Type Of Way," a song that almost forces you to do invisible gym exercises and has caused the general rap audience to label him a Lil Boosie/Webbie hybrid. The similarities are certainly there, as Quan writes songs with infectiously catchy hooks in a voice that sounds like it's not meant to sing, but stubbornly does so anyway. However, what sets Quan apart is just how quickly he's been able to leak into the mainstream after being released from prison after serving 15 months. He used his time away from society to hone his writing craft to where it's almost effortless for him to create realistic and melodic songs like the ones packed on his Still Going In mixtape. The musical inspiration flows through Quan like he's some sort of tattooed and vulgar garden hose—and after being pinched for 15 months, he's ready to explode into the rap game.
Congrats on the video.
Yeah, man, I wanna shout out Motion Family. I love the video, man. It shows it like it is, it's real footage.
My biggest question is, "Where can I get a pair of those pants?"
Polo made them. You can go to Polo Ralph Lauren to get them.
Does your business card actually say Mr. CEO?
Nah, but it does say Rich Homie Quan's business. I wish it said Mr. CEO.
Now that you're getting a lot more popular, have you had any thoughts on changing your name to something shorter?
Nah, man. I'm Rich Homie Quan. It's not about the length, it's about the story behind the name. It's like "Rich" as "rich in spirit;" "Homie" as in "brother and loyalty;" and Quan, that's me. I really like my name. I feel as if it stands out; it's different. It's not like any other artist.
If Rich Homie Quan had his own cologne, what would the name be?
I would name my cologne Savoi. I think it's a Greek word, but it's almost like the love of music. I be trying to do a lot of stuff based off of real stuff, so I would name my cologne Savoi because it has a meaning.
When did you go to jail?
I went to jail 2010, came home 2012. 15 months.
What was it like adapting when you came back out?
Adapting was the hardest part, because my brain had gotten adjusted to being locked, incarcerated, so when I came home to get my feet muddy in this music thing. When I came home, that was really the first time I started taking music seriously. That was my first time getting in a real studio, my first time really getting that real vibe. So after my first times in the studio, I wanted to do it again. 'Cause I been getting better at music, and as I got better, I began to drop good music, but I was still kinda shy and timid of how people would react to me. Being that I'm coming from the streets, my album is gonna sound like that, but melodic.
Where did that actually come from for you? That whole melodious way of rapping?
It's always been in me. Even if you go back and do research on me. Like, I have a Myspace page that had music on there from before I got locked up. The melodic way, I feel like that was gonna be my secret to the game. To try to bring something new. But I feel like it's the way I go in on the beats, even as far as my adlibs go. I just want everything to be noticed. That's why I try to take my time on every song I do. As far as "Some Type of Way," we didn't even write it; I freestyled the whole song 'cause it came off a feeling. It came off a feeling. I'm not much of a crunk person, but the reaction you get in the club, man, people just go crazy. I think it's more so the feeling that the song gives you that I like, it's the feeling you get when you listen.
So let me just ask you, is it true that you and Future are not cool?
No, that's a lie. I don't know where people get that from. I've never met Future a day in my life, never had an encounter with him whatsoever. I listen to his music. We're from Atlanta. I don't know why I get compared to him. It's someone's opinion, but at the end of the day, I can't help how I sound. But I can control what I talk about. The contents of the music are totally opposite. We rap about totally different things. The way I talk normally is the same way how I sound on my songs. I don't even use Auto-Tune. But I salute Future. I'm doing my thing, he's doing his thing. This is my comment: I've never met him. I've never met him.
So there's no animosity? If you bumped into him in the studio tomorrow, everything would be cool?
I've never met him. Even a 'hey' or 'bye', I've never met him, never seen him. I don't know where that came from. But at the end of the day, I salute him. He's doing his thing, I'm doing my thing.
Getting back to prison, when you came out, what made you want to do music? Did you look at the landscape, like I could do better than all this?
Nah, it was the soul of me. Really, it's the process of elimination. Before I want to jail, man, in high school, I played baseball. I was Mr. Baseball. I played baseball from four to 18, so baseball was always kind of like my dream. While I'm in jail, it's a process of elimination—basically asking myself, what am I gonna do when I come home? So I start think about what I was good at, or what type of way do I gotta hustle? But I know that by hustlin' I can't get me no legit money ever. So I thought I could try my voice. Being locked up, I wrote every night, man. I wrote every night. Even if it was a hook, if it was a verse, or even if it was a paragraph. I wrote something every day, to complete my craft. So by the time I came home, I had like 100 songs. But when I'm coming home, I'm not talking about nothing that the other active rappers were talking about, I'm rapping about a lot of stuff that I thought of being in jail. So I couldn't use a lot of those songs, but I went back to them, I kept critiquing my craft, I stayed in the studio. So what I gotta do is, just try to use my voice to the best I can. We dropped a mixtape, I go in on every song. I did that mixtape myself. Every song I dropped in my room, I was mixing myself. Even as far as Still Going In, some of those songs dropped in my room. I didn't have an investor, I invented it myself. I didn't go to no studio. I had bought my own equipment. I got on YouTube and watched how to learn how to mix. Because at the end of the day, nobody gon' want it as much as I want it. That's the mentality I have, so I try to push myself 150 percent. So then, once the music started getting around in the street, we didn't have to pay the DJs 'cause it was good music. I critiqued my craft so hard, I wanted to be ready. Like, even before I went to jail, I coulda tried to rap then, but I don't feel that I would have been where I'm at. 'Cause I feel as though God makes no mistakes. At the time, I didn't have a story to talk about. When I came home, I had been through feelings, so I put everything down on paper. Now I got a story to tell. And all I do is tell my story, stick to the script. I know no one story is like my story.
So is your goal to be a great story-teller or to become the best entertainer-rapper possible through telling it?
At the end of the day, I do want to become the best entertainer, the best rapper. But what's more important to me is just getting the story out and then touch the people, man. I never grew up saying "When I grow up I wanna be a rapper" or whatnot. I knew I could rap. It started with poetry. And it went from poetry to a verse, from a verse to a chorus, from a chorus to a song. I go in on every song, I go in on every song, and I'm still going in—and look where we at now.
Has writing music become easier for you since prison?
Yeah, that's what I'm saying. I feel as if I wrote so much in jail, when I came home, I haven't picked up a paper since I been home. Everything out of jail I've dropped has been straight off my mental, off my brain.
They say after you do something for 10,000 hours, you become perfect at it.
I wouldn't say I'm perfect 'cause I have a different way of performing, but I'm comfortable with what I do. I didn't look to be no rapper, I'm glad I am a rapper, and I'm glad that my story, my art, is touching people and having an effect. You have to think, like, before Some Type of Way dropped, I wasn't get any major radio spins or whatnot, but I was still doing shows. And the response I get from the crowd, man, you have to see it. I'm not a sex symbol. But the girls go crazy though! 'Cause it's so real. You feel me? It's so real.
One of the themes of a lot of the younger artists is the fact that the old guys have to move out of the way for the new guys to have a place. Do you feel that it's still true in Atlanta, or is Atlanta so welcoming of all its acts that it never really feels like anyone overstays their welcome?
I'ma tell it like this, man: I was born and raised out of Atlanta my whole life. Atlanta is funny when it comes to music, man. And the greats, like T.I.'s, the Jeezys, the Gucci Mane—the Atlanta greats, man. It's a new era that's coming out of Atlanta. You got the Trinidad James, you got me, you got the Migos. What I've been saying in a lot of my interviews is, I really feel as if we're trying to bring that Atlanta back—like Outkast shit, the Goodie Mobs, like I said—the T.I.'s, the Jeezys. We wanna bring it all back at once and move together. But they have been welcoming, man. I got new material with Jeezy. I talked to T.I. on numerous occasions more so as a mentor. I get a lot of advice from Gucci. And all they do is give me great advice on how not to mess up my career, how to situate myself around the right people, or how I will continue to succeed at what I do. So, yes, they have been welcoming. And like I say, it's a new experience, it's a different world, but it's something I'm content with, and I'm glad God has me in the position he has me in.
How did you go about meeting someone like a Gucci?
We're from the same hood. We're from Zone 6, I'm from Gresham. Gucci's from Gresham. He knew a lot of my family, so once he heard about me, he pulled up at my grandma house, and we had an instant bond. After I met him at my grandma house, we got in the studio the next week. We did like seven songs the first day I got in the studio with him. What you gotta think, I'm young, and I learn a lot from him. 'Cause these are the greats, these are my favorites. So when I'm in the studio, I don't even start saying anything. I just sit back, I listen, and I learn what he did. But I learned a lot from Gucci, man. His work ethic is crazy. Craaaazy.
What's the best thing you learned from Gucci?
Like I said, his work ethic. When I first got in the studio with him, the first night, we did seven songs. I had never did seven songs. He had already did like three, four songs prior to that. So that'd be like, what, 11, 12 songs in one night. It's like an album. It showed me, it motivated me. Every song doesn't have to be a hit, Quan, but you can aim for it to be a good song. In spite of what it sounds like, drop material! Make yourself better! You can quote every song. Every song has quotes. And that's what I learned from Gucci. He's a great, man, a great mentor, great music. One of my favorites.
I think a lot of your music's so interesting because it is a little bit poppy, and it stays in your head, but at the same time you're saying something that's actually real.
Exactly. It's contact music. Every song, I try to write like it was a book. Every book, the objective is to get your point across. Every song, I try to give a moral. It's a moral to every song I make, I don't wanna just drop a song to drop a song. It's a reason why I dropped something like "The Difference Between Me and You." It's something you gon' be feeling forever. "Some Type of Way"—you gon' be feeling "Some Type of Way" ten years from now. So I try to make songs not just for the time, but something that can last— like Tupac. You got people that play Tupac to this day. Even when I started rapping, I want my legacy to live forever. So I don't wanna just make in-the-time songs. I wanna make songs that last forever, man.
Who do you listen to right now as a fan?
I listen to Meek Mill, French Montana, Rick Ross. I'm a big fan of Drake. YMCMB. I wouldn't say I'm a hip-hop head, but I'm a fan of good music. I listen to R&B, I listen to oldies. I listen to all types of genres of music. But Meek, French, Wayne, Ross—top of the list.
I know you've said that you want to go independent. But what if Birdman just comes to you with a number that you can't say no to?
I really leave it in God's hand. I've talked to Birdman. Birdman's a real good dude. Right now, I'm not focused on a deal. I just wanna keep focusing on making my fan base bigger. Not saying that I would never sign a deal, but right now, I just wanna keep making this fan base bigger than life, so when I do sign a deal, I know it'll be on some real money. I don't wanna be here today, and no one hears about me next year. I wanna have a long career, man.
Slava Pastuk stacks paper in Canada. He's on Twitter - @SlavaP