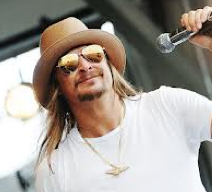 THIS IS FUCKIN MURICA!! WE DRANK BUD LAHT AND LISSNA KID FUCKIN RAWK!!!!
[Ed. Note: The Kid Mero is a Bronx-based writer and comedian specializing in #KNOWLEDGEDARTS and #COKEDREAMS. Most importantly, he's our new Reviews Editor over at Noisey. He sent us an all-caps email threatening to "GENTLY KARATE CHOP [US] IN THE BREAST" if we changed any part of his reviews, so we'll be running them unedited on a daily basis from here on out.]
"THIS IS FUCKIN AMURICA NIGGERS!!! IN IF YEW DOAN LAHK IET YEW CAN GIT THE FUCK AWNDIN CAUSE THIS IS FUCKIN MURICA!! WE DRANK BUD LAHT AND LISSNA KID FUCKIN RAWK!!!!"
THIS SHIT IS AUDIO RACISM B. THE ONLY THINGS YOU CAN DO TO THIS ALBUM IS BEAT YOUR WIFE UNJUSTIFIABLY OR CALL A BLACK GUY A "NIGGER" BETWEEN CLENCHED TEETH WHEN HE IS OUT OF EARSHOT. KID ROCK WENT FROM BEING A SHRIEKING WIGGER IN ADIDAS SUITS TO BEING JOHNNY CASH IF JOHNNY CASH WASN'T RACIST BUT PRETENDED TO BE. THIS IS AN ALBUM OF COMMERCIALS B. IT'S LIKE THE NIGGA WENT INTO THE STUDIO LIKE "AIGHT YO LETS BANG OUT THIS "DETROIT" JOINT FOR AN INSPIRING CHRYSLER COMMERCIAL…THEN WE'LL FINISH THAT NASCAR COMMERCIAL SONG I WROTE LAST NIGHT AND UHHH I WANNA REDO THE VOCALS ON THAT SHIT I WROTE ABOUT REDNECKS IN THE ARMY AND LETS CHANGE THE TITLE FROM "REBEL KING EAGLE" TO "ARMY STRONG" OK?" *SNIFFS LINE OF DECENT QUALITY COCAINE* I GUESS THIS IS A GOOD LOOK FOR HIM BECAUSE WHITE PEOPLE LOVE BEING INSPIRED BY ROCK'N'ROLL. CONVERSELY I'M INSPIRED TO DO A NUDE FLYING KARATE KICK INTO MY COMPUTER WEARING TIMBS JUST FOR CONTAINING THIS MUSIC RIGHT NOW. OD LEVELS OF TWANG ON THIS SHIT B. I CAN'T DO TWANG YOU NIGGAS CAN GET THAT TWANG SHIT THE FUCK OUT MY FACIAL FOREVER.
I GIVE THIS SHIT 2 PILES OF DUTCH GUTS OUT OF 5 BECAUSE THERE'S A SONG CALLED "COCAINE & GIN"
STANDOUT TRACK: "COCAINE & GIN" …I AIN'T LISTEN TO THIS SHIT TO BE HONEST BUT I'MA PUT THIS ON A TSHIRT AND SELL IT ON KARMALOOP FOR LIKE $45